Home
Motorsports
Malaysian Rally 2009: Cody & Emma secure 1-2 finish for Motor Image
Malaysian Rally 2009: Cody & Emma secure 1-2 finish for Motor Image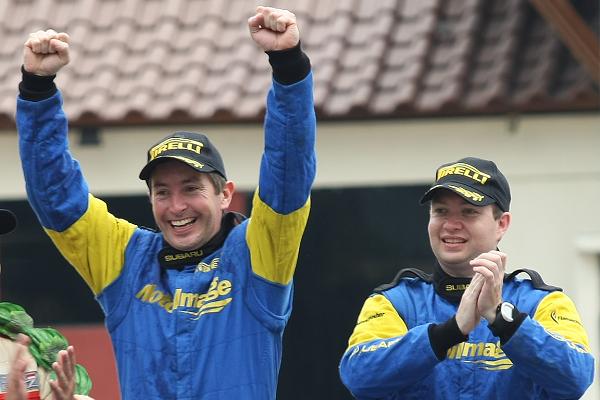 It was a weekend to celebrate for the Motor Image Racing Team as Cody Crocker and Emma Gilmour occupied the top two positions of the FIA APRC Rally Championship ANCOM Malaysian Rally 2009 (MR9). Crocker, driving a Subaru Impreza WRX clocked a provisional time of 3:16:22, comfortably ahead of Gilmour at 3:21:11. Indonesian Rifat Sungkar of Pertamina Prima XP Rally Team completed the podium places, finishing 14:18 behind Gilmour.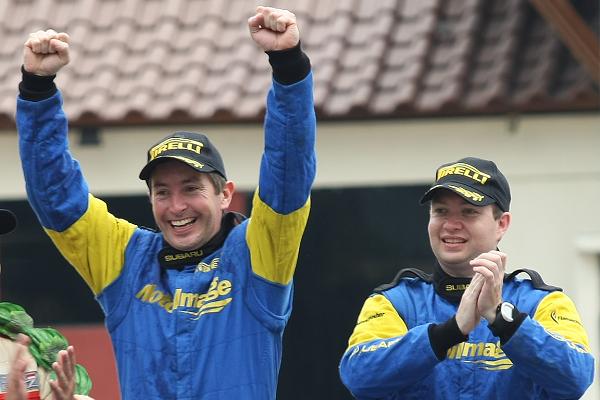 Cody Crocker and Ben Atkinson of Motor Image Racing Team on the podium after winning the APRC MR9
"I am very happy just to have finished the race today. The SS were very demanding.  We took the stages one at a time, kept our heads down and did the job. We kept to a pace that meant we didn't allow any mistakes to creep in," Crocker said.
Katsu Taguchi of MRF Tyres had pushed Crocker all the way during the first leg until he lost control of his Mitsubishi Lancer Evo IX, crashing it into a ditch at Special Stage 7 (SS7). Then in the second day, Taguchi once again finished the race prematurely, driving his car into a ditch at SS 11.
Speaking after their accident at SS7, Mark Stacey, Taguchi's co-driver said, "We didn't realize that corner was as slippery as it was. Our momentum carried us off the edge of the road, into the gutter sideways and we had no traction to get out."
With this setback, Taguchi, placed second in the Championship standings going into the race, has opened the door wide for Crocker to seal the 2009 Championship, having also been winning it the past three years.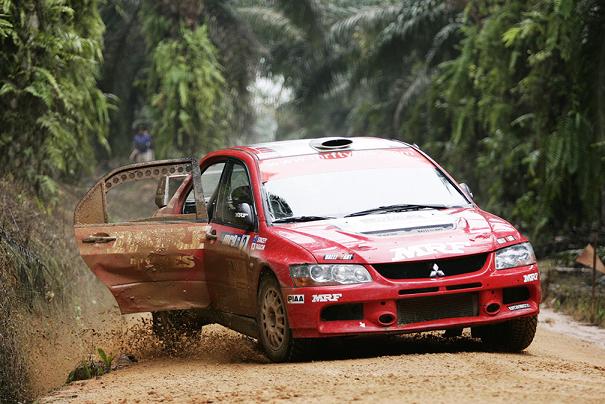 Taguchi damage after hitting tree in SS3 but continued till SS7
Taguchi's team mate, Gaurav Gill from India, fared slightly better. He did not finish Leg One, but came back in Leg Two, clocking the fastest times in four Special Stages in his Mitsubishi Lancer Evo X.
"I've wanted to push hard since I arrived in Malaysia," Gill said.  Earlier in the day I missed a few junctions and in SS10 I had brake problems, but once we changed our setup we managed to win a lot of Stages," Gaurav said.
Like Gaurav, Malaysian Karamjit Singh also had a bad first day, with his Proton Satria Neo S2000 having to be towed out from a ditch.
"In SS1 we stalled many times and we had to reverse many times so we lost more than a minute.  Then in SS2 we were doing much better but unfortunately I clipped a corner too early and ditched the car," Karamjit said.
However, the local champion came back the next day and fared much better. Speaking after the race, Karamjit said, "Today was good because we got to practice Slowly slowly we are getting faster, so hopefully by next Rally (Indonesia) the car will be right-hand drive and we'll be much faster."
Running concurrently with the APRC was Round 3 of the Malaysian Rally Championship 2009 (MRC), where Saladin Mazland of the Felda Rally Team emerged victorious with a time of 3:39:01, taking home the trophies for both the 4WD and P12 categories. Gunaseelan Rajoo of the GSR Pennzoil Racing Team finished second, just 00:02:47 behind Saladin.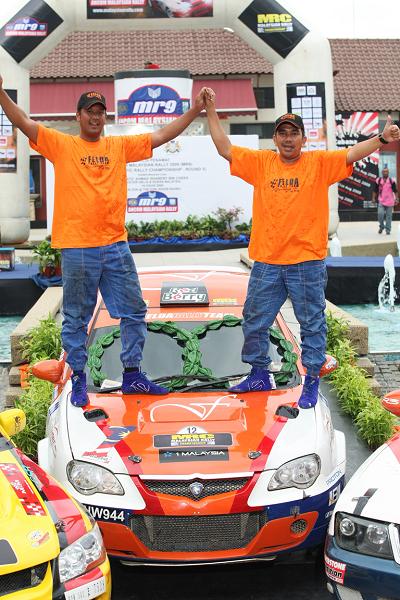 Saladin Mazlan and Arish Qutb Khan from Felda Rally Team celebrating their first podium finish in MRC09
"We were fortunate to get a good lead over Guna yesterday because our rear disc broke in the second last SS today and we had to cruise to the end," said Saladin.  "We have learnt a lot and have improved the car in the last two events, so now the car is very strong. The Pennzoil team had better watch out from now on!" he laughed.
Guna said he tried to catch Saladin in the last few Stages but the gap was too wide.  "We pushed harder towards the end but our focus was really to ensure we finished the rally and score points for the team," he said.
Faidzal Alang, of the reality TV series Zero.2.Hero fame, was first in the 2WD and P10 categories, clocking a time of 4:14:18. After the race, Faidzal said, "This was the toughest rally I have ever competed in. It was a true Malaysian rally with the rain, slippery tricky stages and heat. It was very tiring and I found it difficult to keep my concentration.  I am very, very happy that I finished so well."
See also:
– 'Flying Singh' to race Neo S2000 in APRC
- APRC ANCOM Malaysian Rally 2009 Kicks Off!