Review: Gophers QUATR-O GPS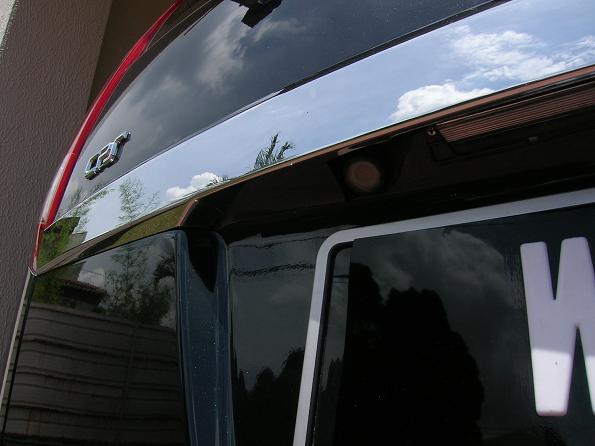 Following up on the release of their TRI-O GPS system, upcoming Malaysian GPS maker Gophers is now stepping up their game with the introduction of a new model called the QUATR-O. Not to be confused with products from Audi, the Gophers QUATR-O is available in two variants – DRIVE and PLUS. The back of the QUATR-O may be stamped with "Made in China" stickers, but rest assured, this is as good as being a local product. It is designed in Malaysia, by Malaysians, for Malaysians.
The QUATR-O DRIVE retails for RM738, with an additional RM60 charged for Singapore maps. It comes complete with a windscreen mounting cradle, battery charging cables (3-pin socket and in-car both given), and a 1Gb SD card for storage of data. The QUATR-O PLUS, meanwhile, costs RM1,298, with Singapore maps set to cost a premium of RM100. The additional money paid for the PLUS also gets you a wireless reverse camera thrown in.
We were given a unit of the QUATR-O DRIVE for an extended review. However, as the DRIVE does not come with a reverse camera, Gophers helped us secure a Proton Exora from a customer who fitted the PLUS to his car for us to briefly test this feature. In addition, our recent demo unit of the Chevrolet Captiva was also equipped with a unit of the QUATR-O PLUS customized specifically for Chevrolet. As such, we were able to get closely acquainted with both variants of the QUATR-O.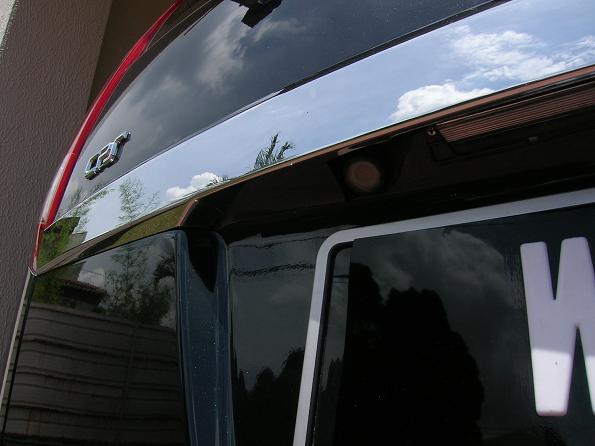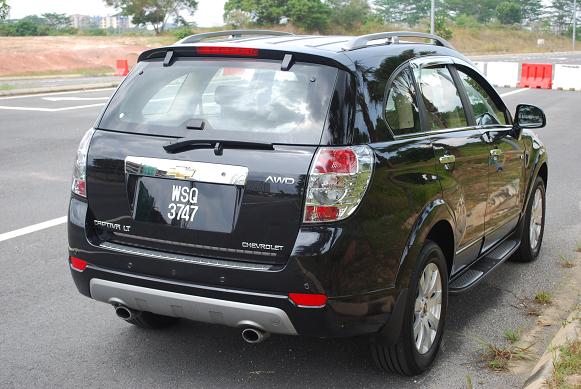 Reverse camera of the QUATR-O PLUS mounted on a Proton Exora(left). In the Captiva, it's mounted through a hole drilled through the bumper.
Setting up the QUATR-O for the first time in your car would take a few minutes. You need to click the cradle and windscreen mount together, and stick the resulting assembly onto the windscreen by means of suction. The tricky part is to snap the GPS unit (or as Gophers calls it, Personal Navigation Device) into the cradle. In order to make the QUATR-O durable in our hot and humid weather, Gophers has specified some pretty tough plastics to manufacture the cradle. To the uninitiated, the solidness of the cradle makes it difficult to get the PND snapped into it.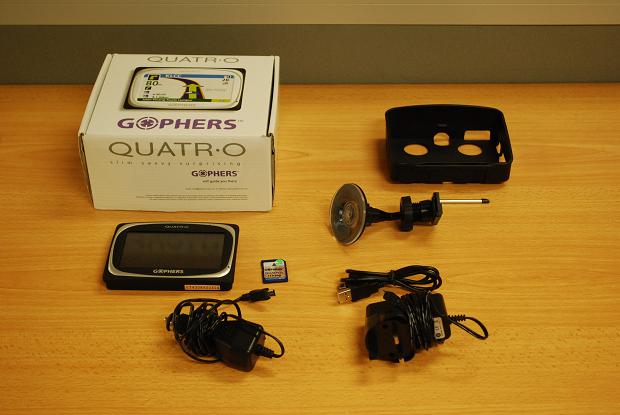 All the things accompanying your Gophers QUATR-O GPS unit.
Otherwise, the cradle is actually a well thought-of design. It completely encapsulates the PND inside its maw, protecting it from mild shocks in the process. The top part of the cradle has a hood-like feature to prevent sunlight glare on the screen. To enable easy snapping and unsnapping of the PND into and out of the cradle, the hood feature should be pushed upwards by both thumbs with the unit slowly eased in or out of place. Uniquely, the stylus for the PND's touchscreen is actually mounted in the cradle rather than the PND itself. Getting it out also proved tricky until we realized that it needs to be pushed out from behind.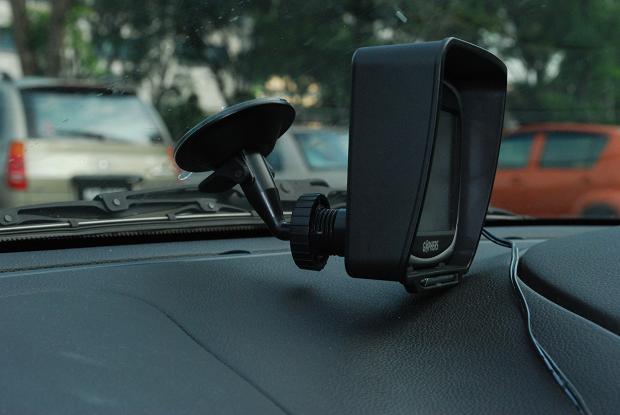 The unit mounts solidly on the windscreen. Cradle designed to block glare from sunlight as well.
As far hardware is concerned, the QUATR-O loses marks initially for being a little unintuitive to assemble, but claws back the deficit with the overall sturdiness and solidity of the unit. Those who opt for the QUATR-O PLUS will need to have the reverse camera installed either professionally or by themselves. In addition, cars with strong tints will require an externally mounted antenna worth RM80 due to interference of the satellite signals generated by the tints themselves.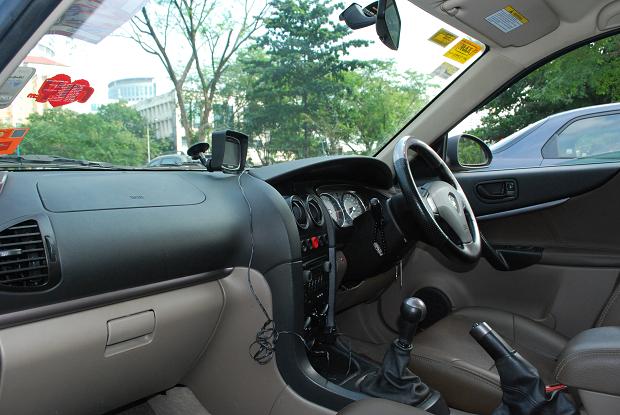 Setting up the QUATR-O in your car.
On to the software. Like the TRI-O before it, the QUATR-O uses maps programmed by MapKing and Malsingmaps, which are claimed to give good coverage of both Malaysia and Singapore.  Like all GPS systems out there right now, the maps are a continuous work in progress receiving constant updates from various contributors. We did not have time to fully test the comprehensiveness of their map's coverages, but we have yet to travel on a road that's not in its database. We have, however, come across landmarks (for example, our office Wisma Jobstreet) that have yet to be programmed into it, or so we initially thought.
In order to search for a specific location, you need to first determine which category that it belongs to in the database, and also narrow down its location to the right state. So, while determining which category that Maybank or Petronas belongs to is easy, how do you determine which category does the Sepang F1 Circuit belong to? Building? Leisure? Transportation? The trick here is to just use the "Find POI" function, with POI standing for Points Of Interest, for an across-the-category search. The routine, select "Find POI", and then type out the name of the building you wish to go to. It turns out that Wisma Jobstreet.Com is there after all.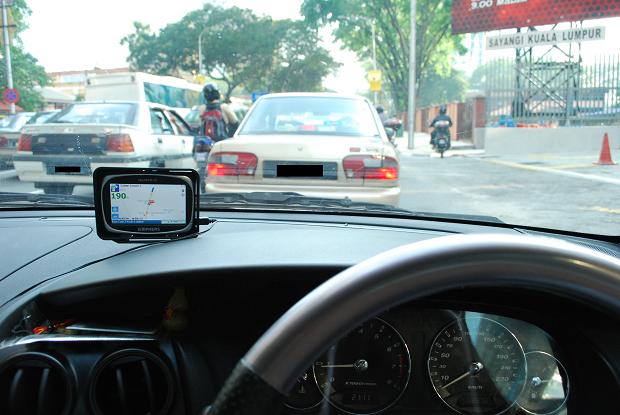 The QUATR-O in action in downtown KL. Central mounting did not adversely affect visibility.
Speaking of name typing, here comes a big issue with the MapKing's search function. For example, if you want to find where is Kampung Baru, typing "Kampung Baru" into the search will lead you nowhere if the place you're looking for is spelt "Kg Baru" in the system. Worse is when you attempt to find numbered roads of housing estates, where the system cannot see that "SS 3/6″ and "SS3/6″ could actually mean the same road. You're better off typing just "3/6″ and then filter out all the "PJU3/6″, "13/6A", "3/66″ etc and then filtering them out one-by-one.
On the move, the QUATR-O was able to tell us our speed and location with remarkably good precision. Its digital speedometer tallied well with my car's speedo throughout the time, while the indicated position on the map is reflective of our actual position. There are times that the system gets confused, though. One of them is when driving on one of two parallel roads that are too close to each other. Another is when just moments after switching the device on, it still thinks it is at the previous position where the device was switched off. It usually reorients itself once you get on the move.
The device proved remarkably accurate when we hammered our Captiva test car at the corners on the winding roads of Balik Pulau, Penang. Although we did not use it to find our way to our destination, it helped us anticipate upcoming corners, and we were able to better execute our braking and gear changes with its guidance. Think of it as a real-life version of the radar function of arcade racing games.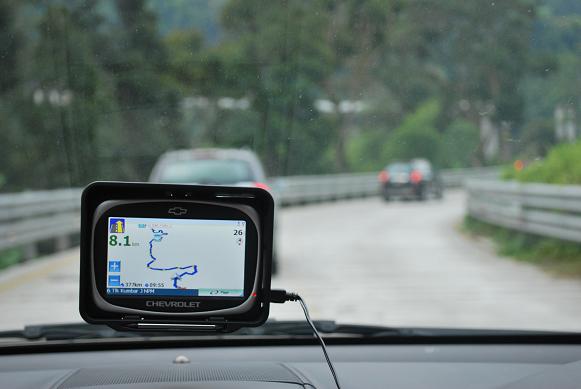 Ever played Need for Speed? In real life?
On its core business of actually getting you places, the QUATR-O/Mapking does a reasonably good job. Information displayed on the screen is comprehensible and not too cluttered, unlike its interface. The map itself auto-zooms in or out, depending on the junction you are coming on to. On the top left corner, the distance from which you make your next turn is displayed, giving you ample time to prepare with your lane changes.
The effectiveness of its guidance depends on how well-programmed is the section of the map you are travelling on. Hence, you're best advised not to follow its instructions too rigidly. Should you miss its suggested turns (intentionally or not) the GPS would quickly recalculate an alternative route for you, so you'd still reach your destination. Only problem is that when you intentionally skip a suggested turn, the system would guide you back to the road you purposely missed and so that you can continue from there.
Besides its GPS function, the QUATR-O is packed with a variety of other features such as audio/video playbacks, dictionaries, and a digital speedometer to keep the gadget freak occupied. For us, the ones that we found most useful were the bluetooth handsfree function and the reverse camera available in the PLUS. The reverse camera is a wireless unit which transmits its signal to the PND. It is wired to the circuitry of your car's reverse lights, meaning that it self-activates the moment you engage reverse gear. In the Exora loaned to us, the camera transmitted reasonably good quality images to the PND, but occasionally gets undone by mysterious interference. These rare moments aside, however, it is adept even in less-than-bright multi-storey carparks.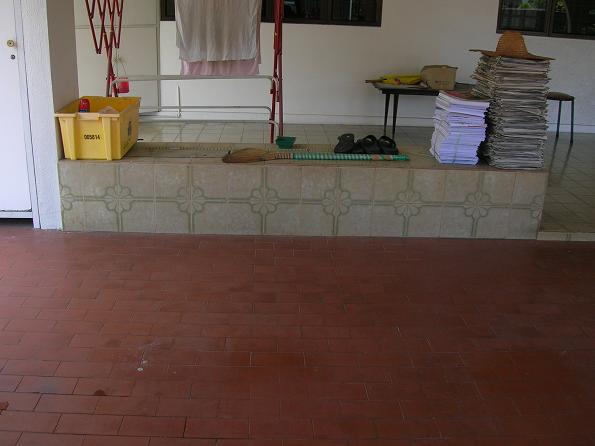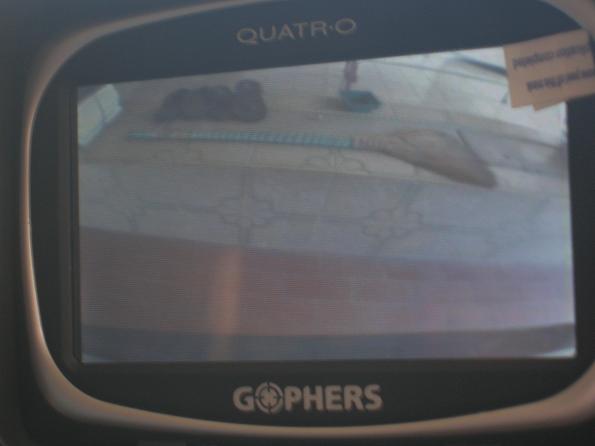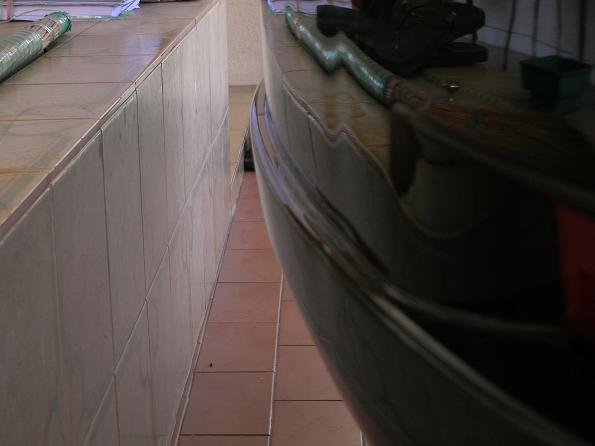 Reverse camera makes life easy reversing the Exora.
As a product, the Gophers QUATR-O GPS still has plenty of room to improve, but it is competent and reasonably priced. Its weakness actually lies mainly with the poor interface of the MapKing software itself, which we know are also used by several other GPS systems out there in the market. The QUATR-O wins back points in the overall solidness of its build quality and also the extra features thrown into it.
KON
Specifications: Gophers QUATR-O DRIVE GPS (taken from Gophers' official website)

Price: RM738.00 (add RM60 for Singapore maps)
Description: 4.3″ widescreen, Bluetooth Handsfree. Plays multi-format Audio and Video including MP3 and MP4, Preloaded with Mapking maps of Peninsular Malaysia AND MalsingMaps of Peninsular Malaysia and Sabah, Sarawak.
Product Specifications
* OS Microsoft Windows CE 5.0
* SiRF Atlas III 400mHz GPS receiver
* Memory: Flash 64MB, SDRAM 64MB
* ready for external TMC receiver
* Bluetooth handsfree phone connection
* USB 2.0
* Built-in high sensitivity GPS antenna
* Jack for external GPS antenna
* 1100mAh built-in rechargeable Li-Polymer battery
* Built-in high volume speaker
* Size 188mm x 152mm x 17mm
* Weight approx 180g without mountings
Navigation Features
* MapKing R12 customised program
* voice : English, Malay, Mandarin, Cantonese
* Interface : English, Malay, Mandarin
* Automatic day and night display
* Automatic zoom display
* Search by road names, locations, POIs, favourites
* Trip computer
* 2D and 3D map display
* Multiple route options
Package contains:
* Gophers QUATR-O Drive
* 1G SD Card with preloaded software, My maps
* Windscreen mount, sunshade/cradle, stylus pen
* In-car charger
* AC charger
* USB cable
* CD and User's Manual
Optional Accessories available for this model (purchase from 'accessories' page)
* External GPS antenna
(+): Maps have comprehensive coverage. Sturdy build. Reverse camera (QUATR-O PLUS only) and bluetooth headset very useful additions.
(-): Interface lacking in user-friendliness – Gophers and MapKing must improve this in order to seriously compete with the market leaders.
Verdict: A competent unit on the whole, but has plenty of room to improve. Interface is its biggest Achilles' heel.