Tan Chong Launches "I'm Nissan Crazy" Campaign.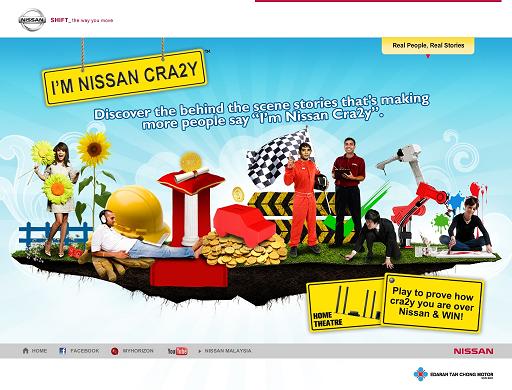 The Nissan lineup is perceived by many to be sturdy, but otherwise unspectacular cars, with little to entice the enthusiast. While products like the GT-R and 370Z provide physics-defying excitement, offerings like the Sentra, Latio, Sylphy and Grand Livina are sometimes ridiculed as "uncle's" cars. It is a perception that local Nissan distributor Tan Chong wishes to change with the launch of the new "I'm Nissan Crazy" marketing campaign, with massive amounts of advertisements to be swiftly accompanied by a swathe of marketing activities.
Central to this promotion is a newly setup website www.iamnissancrazy.com.my, which has a wide variety of interactive content for the users to engage themselves in. Upon opening the website, you would be greeted by a diaspora of images of people and various objects on a small piece of land floating on air. Moving your mouse over the images enables you to access various titbits of behind-the-scenes information on how a Nissan car is developed, manufactured and eventually sold the public.
"Transparency equals trust, and as such we have created an online platform to showcase how passionate we (Nissan and ETCM) are to produce and deliver high quality vehicles" said Dato' Dr. Ang Bon Beng, Executive Director of ETCM.
At the bottom right corner of the site is a link to the "I'm Nissan Crazy" online game contest, with three rounds to put your sight, memory and hearing to the test. The novel part of the game is that you get to specify what would be the first, second and third prizes that you would be inline to win. You first start with a "Spot the Difference" contest, before moving on to a "Sight and Sound" quiz, where questions and answers are based on a played audio/visual clip. The final test, to differentiate the true Nissan fans from the rest is to arrange 12 Nissan models from the oldest to the latest.
Then, and this was how it all started, at the top right corner of the main site is an innocuous link labelled "Real People, Real Stories". Clicking on this opens you to the real life (claimed to be) unedited testimonies of six Nissan owners to talk about the passion they feel for their Nissan cars. Our favourite of the six is En Azmizan Ali from Dungun, who had a mattress custom-fitted to fit into his Grand Livina with all its seats folded down. The idea here is that if you think Nissans are for dull and lifeless people, you need to think again.
"The "I'm Nissan Crazy" Campaign enables public at large to interact with the Nissan brand in different ways. As a result, they can engage with a series of activities and most importantly to build their trust, loyalty and love with the Nissan brand!" added Dr Ang.
Finally, in conjunction with the campaign, Tan Chong is also running a Nissan Crazy contest for all customers who purchase a Nissan car in the period starting from 1 June 2009 and ending 31 March 2010. Customers taking delivery of their cars between 1 June and 30 September 2009 are in the running to win a Grand Livina 1.6(A), while those getting their cars between 1 October and 31 December 2009 will be entered into the draw for a Sylphy. Finally, the prize for the contest period 1 January – 31 March 2010 is a Murano 3.5.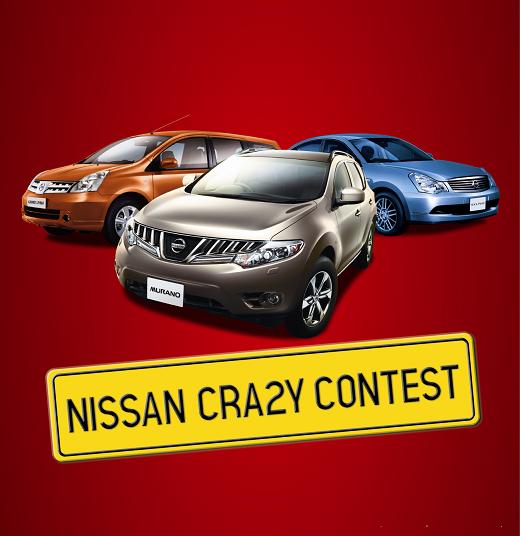 KON