Ford Launches More Powerful and Fuel Efficient 7-Seater Everest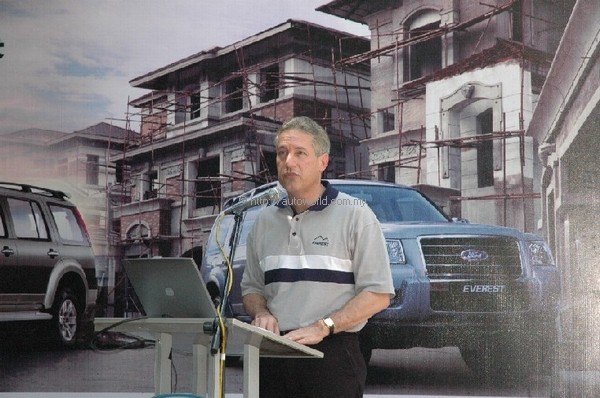 Petaling Jaya, 6 September 2007 – Ford Malaysia launched a more powerful and more fuel-efficient Ford Everest 7-seater SUV to the media at the Sunway Lagoon Theme Park today.
The new Everest comes with an option of two engine sizes and two levels of trim. Customers can opt for the 2.5 litre or 3.0 litre common rail diesel turbo engine and go for the standard trim or the 'Limited' version that is more luxurious. Customers can also opt for either the two-wheel drive version or the 4WD versions of the Everest.
The front mask is similar to that of the new Ranger model launched a few months ago, and the rear has some subtle changes, but all the improvements are under the skin, so to speak.
The new engines feature DOHC (Double Overhead Camshafts) design, and are Euro II compliant. The 2.5 litre diesel engine, exactly the same as the one used in the Ranger, is 22 percent more fuel-efficient, and also 22 percent more powerful. The 2.5 litre engine has an output of 141 bhp, and 330 Nm of torque, while the 3.0 litre engine is good for 154 bhp and 380Nm of torque. A variable geometry turbo charger eliminates turbo lag, making the Everest more responsive to throttle. The engine and transmission control units run on a 32-bit system versus the 16-bit of the old Everest.
Also new to the Everest is a 5-speed automatic transmission, which makes the driving smoother, wile contributing to overall fuel economy.
Prices (on-the-road without insurance):-
Everest 3.0L TDCI 4 x 4 LTD Automatic RM172,488
Everest 2.5L TDCI 4 x4 XLT Automatic RM158,288
Everest 2.5L TDCI 4 x 2 XLT Automatic RM145,188
Everest 2.5L TDCI 4 x 2 XLT Manual RM145,188