Lexus LS 460L – Everything You Ever Wanted in a Luxury Saloon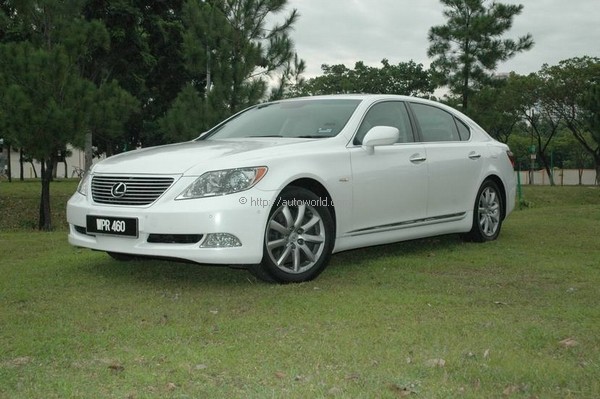 The Lexus LS 460 L, the flagship of the Lexus range, is some car. Why? This is a car that has everything you ever wanted in a luxury car. The Lexus brand has always tried to be above all else, and of course, their main target is to be one up on the two famous German makes. That probably explains why it has elements from both of them, even in the lines, the size, and overall shape.
The LS 460L has been around for a few months now, and there is this particular white company registered car that has been going the rounds with the motoring media; finally, our turn has come, and we got it from the very nice Lexus people, and (thankfully) complete with a petrol card and a Smart tag to go with it
With a keyless entry system, the driver door unlocks itself when you get to within a metre or so of the door. The keyless entry feature itself is not unique to the Lexus; in fact many of the stuff you find in the Lexus is not unique, but as a package, it is a car that has practically everything and anything that other luxury cars may have, but more. It is the package that impresses.
One might even term the Lexus LS 460L as 'gimmicky', with so many features, but the design people and the marketing people at Lexus wanted to build a car that has everything for the one willing to pay for it.
I remember the first Lexus well. It was the LS400, introduced in the early 1990's, and I was fortunate enough to be given the chance to 'try' it out, driving it from Petaling Jaya to Ipoh for the Ipoh Motor Show. With an acceleration time of 7.9 seconds for the zero to 100 km/h sprint, it made our other show car, the Celica 2.0 GT look like it was standing when we both pushed off from a traffic light on the way up north. I remember the other driver saying that he was pulling 7,000 rpm in each gear, but I was leaving him behind with the automatic Lexus. Well, the new one is even more impressive, with a zero to 100 km/h time of only 5.7 seconds, which technically means it can leave many high performance sports cars behind when push gets to shove.
When my team saw the new LS 460L for the first time, exclamations came in the form of, "Wow! it's so huge!" It is, at 5.15 metres long, 1.875 metres wide, and 1.465 metres high. It's got 18-inch wheels fitted on it, but you wouldn't think that they are oversized; in fact you might not even realize they are 18's unless you looked closer. In fact the car is huge enough to warrant the engineers putting a reverse camera in the rear, which they did.
Inside, it is all about luxury. The soft leather upholstery really pampers you to the full, and you will feel no fatigue sitting in them even on long journeys. The rear seats are something else too; they are built for two people only, the centre being occupied by a huge console, complete with a retractable table, and a control panel with fingertip controls for all the creature comforts in the car. In addition, the rear left seat, electrically controlled, reclines and stretches out like a business-class lounge seat in an airliner, and has a built in massage system for 'de-stress' purposes. If you like, you can watch your favourite movies with the DVD player, or chat with your friends through the car phone. Al this in the comfort of the 4-zone climate control air-conditioning which allows each of the four occupants to set his or her own desired temperature.
Riding in the Lexus LS 460 is an experience in itself. It rides over the bumps and ripples so smoothly that you hardly feel anything at all. Having said that, I must point out that there are many other luxury cars that can do the same or even do it slightly better, but it is only the Lexus that has the total package.
On terms of performance, from a driver's point of view, the Lexus is a little bit of a mixed bag. Engine power, from the huge 4.6 litre V8 with VVTi (Variable Valve Timing and Ignition), is a whopping 380 horsepower, delivered swiftly and surely in response to throttle demand, and torque is a massive 493 Nm. Top speed is 250 km/h, which we managed to hit just once. The climb up to 240 km/h is very linear, and it does not take very long to do it. Cruising at between 180 km/h to 200 km/h is easy, but anything above that speed gets a little 'hairy' as the suspension is really on the comfortable side of firm. In this respect, the Lexus LS 460 L takes a different path from its European competitors, who tend to go for a firmer setting to cater for the high-speed Autobahn (German highway) where there are no speed limits. Active suspension could possibly be the answer, and I bet they are already working on it.
Traction control, VSC (Vehicle Stability Control) ABS, EBA, EBD, hill start assist, park assist, you name it, the Lexus has it all, plus active headlights that turn with the steering movements. In addition, the Lexus LS 460L has an 8-speed (no, this is not a typo) automatic gearbox, one speed more than the nearest competitor, and is more than what a F1 car has. There is a manual shift option, but with your foot flat on the pedal, there really is not much point invoking it, or else you would be changing up every two or three seconds. In any case, the Transmission Control unit (TCU) does a better job than any person relying solely on judgment can.
The entire package that makes up the Lexus LS 460L comes at a price though. If you buy it as an individual, you get back a little bit of change from RM800k, and under company purchase, it would cost you RM17k more.
One thing is for sure, though; the Lexus LS 460L is not a car that you will see every day on the road, so if you have it, flaunt it!