ALL-NEW RIO EXPECTED TO BOOST NAZA KIA SALES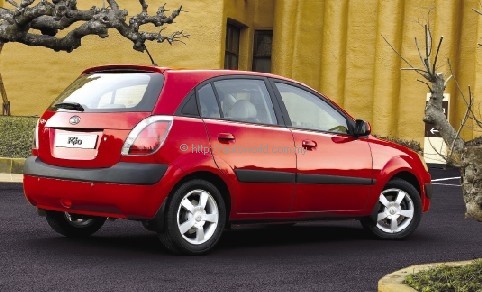 ALL-NEW RIO EXPECTED TO BOOST NAZA KIA SALES
Subcompact Car offers Value for Money – Better Power,
Larger Interior Space, Smoother Ride & Improved Handling
KUALA LUMPUR, 7 September 2005 – The all-new subcompact Kia Rio, launched today by Naza Kia Sdn Bhd (Naza Kia) in association with Kia Motors Corporation (KMC), is expected to boost Naza Kia's sales and help the company to achieve its overall sales target of 35,000 units this year.
The all-new Rio is a 5-door hatchback, and features a longer wheelbase, a wider track and more horsepower than its predecessor for better handling, a smoother ride and improved performance.
Naza Group of Companies Group Managing Director Tan Sri Dato' Seri SM Nasimuddin SM Amin said, "With improved quality, fresher appearance and better power, the new Rio will definitely meet the rising expectations of customers who expect more from Kia."
He said that the new Rio was styled to attract image conscious, modern consumers and was a car that perfectly matches Kia's 'Power to Surprise' brand aspirations.
"The 5-door hatchback segment is one of Malaysia's largest, accounting for more than 24 per cent of total 2004 Non-National Passenger Car sales in Malaysia."
"We believe Kia Rio will boost Naza Kia sales and we are confident of achieving the overall sales target of 35,000 units," said Tan Sri Dato' Seri SM Nasimuddin.
The new Rio is designed and engineered to offer customers more space, more power, higher performance, better handling, a smoother ride and enhanced fuel economy.
It is a 'next-generation' Kia that builds on the enormous progress Kia has made in the last two years with the Sorento, Picanto, Cerato and new Sportage.
In addition, it is a high-quality rival to match or surpass the best products from famous European brands in its segment. Kia has created a superb compact car that is more stylish, practical and more enjoyable to drive than its predecessor.
A Distinguishing New Look & Sportier Finish
Designed to stand out from the crowd in the entry-level segment, the all-new Rio's European-inspired exterior design radiates a youthful personality.
Built on a new platform with a longer wheelbase (+90mm) and increased overall width (+15mm) and height (+50mm) compared to its predecessor and most of its competitors, the new Rio offers a spacious interior package, with a boot space of 448 litres, extendable to 1405 litres with the rear seats folded down.
The all-new Rio's exterior design refinements is claimed to provide a more athletic stance and a more significant, yet modern appearance to the vehicle.
Changes to the front of the Rio include an aggressively styled black mesh grille, swept-back headlamps and bumpers with black inserts.
A distinctive black body side molding runs the length of both the front and rear doors and ties into the black inserts on the bumpers creating a unified look with a subtle wedge shape. Sculpted arches at each fender contribute to the Rio's wide, assertive stance.
The new Rio will be available in a choice of four exciting exterior colours – Midnight Black, Sunset Orange, Sapphire and Polar Silver. It also comes equipped with a Kenwood WMA/MP3 CD Tuner.
In addition, customers in Malaysia will enjoy the ownership of a special themed 'Sporty Pack', which means the Rio comes with sporty mesh fabric seats and metal trim pedals.
Improved Performance
With increased horsepower and torque with reduced emissions from the previous generation vehicle, the all-new Rio offers improved class leading performance, due to its new 1.4-liter DOHC 16-valve engine, producing 94PS at 6,000 rpm and a maximum torque of 12.7 kg-m (124.5 Nm).
Matched to this engine is a 4-speed electronically controlled automatic transmission
Stopping power is improved over the current model by the inclusion of larger diameter ventilated front disc brakes and solid rear disc brakes. It is also equipped with Anti-Lock Braking System (ABS) and Electronic Brake Distribution (EBD).
Better Handling, Smoother Ride & Safety First
Suspension consists of independent front MacPherson struts and a semi-independent torsion beam rear. Tuning of the suspension supposedly is a balance between a comfortable ride and responsive handling.
Rack and pinion steering is standard issue, and front and rear stabiliser bars help to keep the handling decent.
The Rio's wider track and longer wheelbase should provide a better stance and better handling characteristics over the previous generation Rio. The longer wheelbase also means more space for rear seat passengers.
Brakes are ventilated discs in front, and solid discs at the rear. With a curb weight of 1,101 kg, the claimed fuel consumption is 7.2 litre per 100 kilometres, with a high of 9.9 litres per 100 kilometres for urban usage. Zero to hundred time is claimed at 14.5 seconds, and top speed is 168 kilometres per hour.
Price on-the-road: RM75,000.00