New Mitsubishi Colt – The Return of Mitsubishi to Malaysia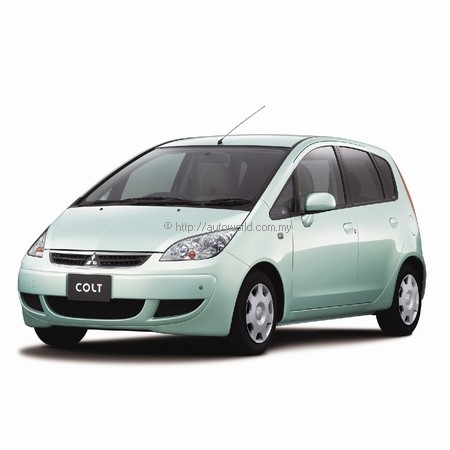 New Mitsubishi Colt – The Return of Mitsubishi to Malaysia
Having recently made a comeback to Malaysia, Mitsubishi, through their local distributors, Mitsubishi Motors Malaysia, a joint venture between DRB-HICOM Berhad and Mitsubishi, is offering, amongst other models, the very interesting Colt, a small MPV-like city run-about that features the latest 1.5 litre Mivec DOHC engine and CVT.
The new Colt was, created in Europe, (in collaboration with DaimlerChrysler, part owner of Mitsubishi), with what Mitsubishi describes as a 'one-motion form', which flows smoothly from the front bumper to the rear. In layman language, it means the Colt is basically a two-box shape made to look line 'one-box' by smoothening out the transition between the engine bonnet and the rest of the fuselage. The overall effect is pleasing to the eye, although I personally think larger wheels would make it look more balanced.
In terms of size, it is a super-mini, with an overall length of 3885mm, overall width of 1680mm, and an overall height of 1550mm. Wheelbase is 2500mm, with a track of 1460mm at the front, and 1445mm at the rear.
The Colt is a 5-seater, although the rear would be a bit cramped for the middle passenger. To be fair, the seat arrangements are very flexible, and they can be split, folded, and tucked away in many configurations to allow for storage of long and bulky items. Upholstery is fabric. The seats themselves are quite comfortable, and are contoured somewhat to help hold the occupants, but of course our test-drive was a little too short to really feel them.
For those who travel around a lot, there is some good news. The Colt's interior fittings incorporate many thoughtful features; an under-tray compartment under the front passenger seat for stowing stuff, cup holders and bottle holders, pockets for knick-knacks, a handy hook for hanging shopping bags, and yes, there is even an illuminated glove box.
In terms of safety, there are two SRS airbags, and built-in impact absorbing features in the frame help to protect passengers in the event of a collision. The power windows are 'anti-trapping', meaning that they will stop and reverse if the glass encounters an obstruction while closing.
For couples with little children, the rear seats are fitted with ISO-FIX child safety seat anchors.
Powered by an aluminium 1.5 litre MIVEC (read variable valve timing) DOHC 16-valve engine, the Colt delvers a respectable 105PS at 6000 rpm, and 141Nm of torque at 4000 rpm. This power is transferred to the road through a CVT (continuously variable transmission).
On the road, the engine feels very responsive; driven sedately, the CVT is a smooth and seamless gearbox, its constantly variable ratios adapting to stop-start situations and varying loads extremely well. However, over exuberant drivers may find it somewhat disconcerting to have the engine holding 6000 rpm consistently as the CVT builds up the speed. My drive partner and I managed to hit 180 km/hr before we ran out of road.
One glaring point about the Colt is its gearshift lever, which is located to the left of the steering wheel, attached to the steering column. It has the standard auto positions for Park, Reverse, Neutral, and Drive, and does not have any option for manual shift. Clearly, this model is for the 'family' type, even though it has a Mivec engine.
Suspension is independent McPherson struts in the front, and a torsion bar at the rear, a set-up that is quite popular in cars in this range. There is a stabilizer bar both at the front and rear. Brakes are ventilated discs at the front, and alas, drums at the rear. The wheels are 14-inch with 175/65 R14 tyres. Steering is rack and pinion with power assist.
Handling is quite good, but getting to the limit of the 14-inch tyres is very easy, and they start protesting before long. I would go for 15s if I ever bought one of these. The Colt retails for RM120k.