Land Rovers in Dubai – Of Sand Dunes, Desert Heat, Castles and Kings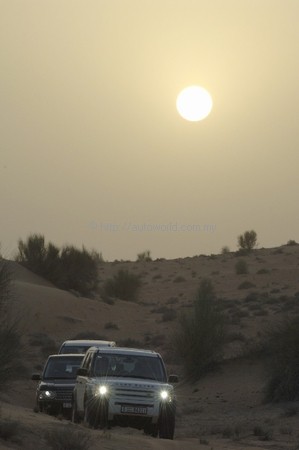 Land Rovers in Dubai – Of Sand Dunes, Desert Heat, Castles and Kings
"How would you like to drive a Range Rover through the desert in Dubai?" asked the representative of Land Rover Malaysia. "You will get to drive the new Discovery 3 and also the Range Rover Sport at the same time. In addition to that, you will also get a cruise on a luxury yacht, stay in a palace, and get a helicopter ride back to Dubai," he added.
That was like asking a cat if it would like to have a juicy fish. Of course I said yes, and before I knew it, the day arrived, and I was on my way. There was just two of us, myself, and another 4WD veteran from a well-known local publication.
Only when we arrived did we realize that this Land Rover experience would be shared by motoring media from Singapore, Taiwan and Hong Kong too. All of us flew from our native countries into Dubai, the commercial centre of the UAE. Although we arrived at midnight, we found Dubai airport teeming with activity. We were promptly whisked to the Grosvenor House hotel, a tall and imposing building along the coastline, new, but already being threatened by newer and taller buildings sprouting up beside it; there is so much development going on in Dubai, it looks as if every one is trying to outdo each other. Dubai is growing at a pace that has to be seen to be believed; 80 percent of the residents are foreigners, brought in for the construction of new malls, houses, hotels, office buildings and whatever else that needs building, and then some. Walk into any restaurant, or mall or hotel, and you will note that most of the employees are foreigners, and you soon learn that asking a person where he or she is from is a swell way to strike up a conversation. Such is the draw of oil money, that people from the surrounding areas such as India, Pakistan, Africa, and from faraway places such as New Zealand, America, Europe and Asia are flocking over to get a piece of the pie.
Construction is everywhere, so much so that it seems a game of rich Middle Eastern billionaires swimming in oil money trying to spend it all before they run out of space to keep the cash that is pouring in by the barrel. It is here too that Land Rover have their third largest market for Land Rovers and Range Rovers, because of the high affordability level that these luxury SUVs require. And the sand of the desert is their playground. It is here that Land Rover want us to sample the lifestyle, the rich and opulent lifestyle of the insanely rich. We even passed by a sign at a new housing area that proudly proclaimed, "From Sand Into a City".
Bright and early next morning, we get up and have breakfast; I had mine in the coffee house, and it was a grand affair, with an international buffet spread. I had a typical English breakfast, bacon and eggs, fried mushrooms, and tomatoes, toast and butter, and of course English tea. And yes, there was a non-halal section, as the Grosvenor House is an international hotel. Little did I know that the Land Rover-arranged breakfast was in another room, and paying the bill of 95 Durhams (about RM95.00) was the punishment.
We step out into the courtyard where the Land Rover staff are standing by with a whole bunch of luxury Land Rovers, and the first thing that hits you is a wall of hot air; it's like stepping into a hot oven. Your sweat evaporates as fast as it comes out through your pores, so you don't get your shirt wet like in Malaysia, and our hosts tell us to drink plenty of water or else we will dehydrate and die.
Trust me, you don't want to stand around arguing about anything; you get into whatever vehicle you are allocated, and feel thankful for that little thing called the air-conditioner. Our first vehicle was the brand new Range Rover Sport, and to me the most important part of the vehicle was the air-conditioner, without which I probably would have melted. Throughout the day, I think the engine was not ever switched off, including the time we stopped for lunch.
After approximately an hour of driving (in convoy, and at 80 to 100 km/hr, yawn!) we arrived at the Al Maha Desert Preserve, a vast expanse of desert, fenced off to retain its original form, much like what we do here with our forests, except that here, you see nothing much other than sand. It was here that we got to drive for one and a half hours over sand dunes and little wadis.
We took the scenic route, and it is here that I learn from our very pleasant guide, James Burns, a direct descendant of the famous poet Robert Burns, who hails all the way from Scotland, that in order to get traction when following in another vehicle's tracks the best way is to put your wheels a little to one side of the tracks made by the vehicle in front. This is in contrast to what we practice when moving in convoy through muddy patches in our rainforests. Here, we are taught to follow in the tracks of the vehicle in front so that our tyres can gnaw at the solid ground under all the muck.
After much fun, with vehicle changes along the way, it was all too soon that we arrived at the Al Maha Desert resort, a hotel built in the middle of the desert preserve. It must be for tourists, because we know the locals have all flocked to Batu Ferringhi in Penang since it is now the height of summer, and temperatures are in the high forties or fifties, and that's in the shade.
Lunch was a traditional Turkish affair, with breads, kebabs and other spicy foods, topped off by sweet desserts and fruits.
After lunch, it was back on the road again, and this time it was our turn to take the Range Rover. The route followed a highway so straight that you could easily lay some sleepers and some rails on it to convert it into a railway. With a speed limit of 80, and a ticket if you exceed 120, and a lead car going at 90, (it's in km/hr), plus a no-overtaking rule, it was quite a chore keeping my eyes open after the lunch, and I was quite happy to give up the wheel at the next designated stop. The highlight of the hour was a short stop by the side of the road, which happened to have a whole bunch of date palms, with dates on them. Date palms are commonly planted along the roads, and since these were only a few feet tall, it was fairly easy to pluck a few and eat them on the way.
The next rest stop was atop a man-made hill, bulldozed together from the desert sand and rocks to make a platform on which a reservoir is to be built. About a half kilometre away there is another one and another one next to it. Apparently there is a major plan to irrigate the desert and turn it into farmlands. We see some greens already planted in the distance. Surprise of the day is a Land Rover on top of the hill waiting to welcome us with Hagendas ice cream. Eating ice cream in the desert is a strange experience. Your body goes schizophrenic: you get brain-freeze from the ice-cream in your mouth, and heat stroke on your skin from the hot air blowing at you.
Changing cars again, this time to a Discovery Three, we soon reached the coast, and there it was, a luxury yacht waiting for us. It was goodbye to the crew and hello, skipper, and were on our way across the sea towards Abu Dhabi. The fittings in the yacht are top of the pile, and the owner must be worth quite a bundle.
After an hour or so, we go past a small headland, and there before us is the grandest hotel in all of Abu Dhabi, rightly called the Emirates Palace. We land opposite the hotel, and there to take us to the front entrance is our next mode of transport, the golf buggy. There is only one word to describe the hotel: opulent. I figure the break-even point on the investment would only come by in about three lifetimes. ROI probably really didn't matter; it's really about having the biggest and the best, perhaps for the bragging rights. Everything is first class; the welcome drink is a bottle of champagne, and all the drinks in the mini bar are 'complimentary', probably worked into the ransom it must have cost for the room. There is a personal butler for each room, and there was also an offer to run a bath with special therapeutic salts, herbs and flower petals added at 75 Durhams (about RM75), which I of course declined.
Dinner that night stretched for 3 hours, but I was so tired I retired just after the main course arrived about 2 hours after the start. It was an elaborate meal, which I was told could go on for four or five hours. The record is six hours. The next morning, I was told our dinner ended at midnight.
Next day, it was breakfast, and check-out, followed by a half hour ride back to Dubai in a Bell 412 helicopter, which landed within a stone's throw of the Grosvenor House hotel. We were given the afternoon off, and we spent it in a modern 'bazaar'-like shopping mall that turned out to be a tourist trap. We moved to a regular mall to look for some dates (the kind that grows on date palms), but found that most of the best dates were imports from Tunisia. They had a little tray that had 'fresh' dates, but they looked more like what the cat dragged in, being the remnants of a once full tray from which the best have been taken out. So it was imported dates that went into my rucksack for bringing home.
Back on the plane, I reflect, "So this is how the rich and famous spend their time and money and have fun driving their Range Rovers and Discovery Threes around eh? To me, it was a very interesting experience. I enjoyed the driving part, especially the part where I learnt how to crest a dune properly, and how not to get stuck by driving beside the tracks of the car in front and not in them. If I have any misgivings at all, the drive was too short. However, even the short stint has convinced me that the Land Rovers are all well suited for the job, and what you use would depend on which model fits the size of your pocketbook. Their off-road capabilities are real, not in any way diminished by the fact that they are highly appointed luxury vehicles. Here's looking forward to the next one, and thank you, Land Rover!