Kelab Volvo Klasik AGM at Federal Auto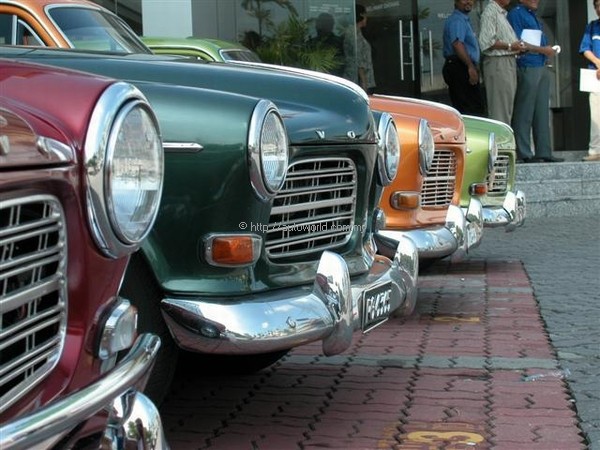 Volvo is a brand which many Malaysians are familiar with and the history of Volvo in this country is closely linked with that of Federal Auto; in fact, the creation of Federal Auto in Penang in 1960 was for the purpose of importing and selling Volvo cars, for which the company was appointed. Over the past four decades, Federal Auto and Volvo have thus been synonymous and with a network of 7 branches today, it is responsible for almost all new Volvo car sales in Malaysia.
Having been the only company selling Volvos in Malaysia for 44 years, it's a sure bet that all the cars of the Kelab Volvo Klasik which were gathered at the Federal Auto head office/showroom near MidValley Megamall in Kuala Lumpur on Sunday were sold by Federal Auto.
The classic Volvos were gathered there because their owners were attending the club's Annual General Meeting at the same venue. Around 25 members came for the meeting which was chaired by outgoing club President, Dr. Ahmed Anwar Ismail. The new team elected to lead the club were President – Simon Suresh (founder and first president), Vice President – Ishak Nengah, and Hon. Secretary – Idrus Bakar.
Members from various parts of the country drove their classic Volvos to the meeting. These well maintained vehicles included Volvo 121/122S (including the rare 2-door variant), 1800S/E/ES, 122 Stationwagon, and 123GT .
In conjunction with the AGM, a Gymkhana was also held for the members. Set up in the carpark, the event was a lot of fun for both the participants and the spectators. The participants had to complete an obstacle course in their Volvos in the shortest time frame, avoiding hitting obstacles which would cost them points. It was amazing to see how fast the cars moved considering that most were around 30 years old!