Treat for customers of Swedish Marque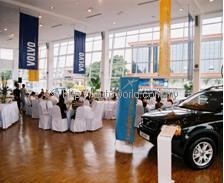 Swedish Marque feted its customers to a special champagne breakfast at its premises in Sungei Besi, Kuala Lumpur, recently to celebrate the company's upcoming delivery of its 100th Volvo XC90 and also to thank its customers for their strong support.
Some 250 guests, comprising mostly of customers who had bought Volvos from the dealership since it began operations in August last year attended the breakfast event.
Swedish Marque general manager Pang Cheong Yan explained that the unique breakfast party was to celebrate the milestone and to thank all its customers for their support despite the company being so new.
"We are very encouraged by the number of customers who have opted for our services. It shows that Malaysians appreciate good customer service. Our strategy of focussing on customer delight has created a lot of buzz in the market and is definitely the right way to go," said Mr Pang.
As a special tribute to Swedish Marque's very first customer, Mr Pang presented a bottle of 1995 Dom Perignon champagne to Richard Goh and a bouquet of fresh lilies to Mrs. Goh.
Apart from the flowing champagne and fresh fruit juices during the scrumptious breakfast, guests were also invited to discover various parts of the premises including the spacious workshop that includes a new body and paint section. The new section completes the integrated one-stop workshop where cars need not leave the premises as every possible repair, repainting or grooming job can be done under strict quality control under one roof.
Swedish Marque is the automotive retail (sales and aftersales) unit of The Wearnes Group in Malaysia. It has two flagship facilities in Kuala Lumpur, namely the first-ever concept car showroom in Malaysia on Jalan Ampang and the first-ever concept showroom and one-stop delivery cum service centre in Malaysia at Jalan Sungai Besi. It began operations in August 2003 with an initial capital investment of RM10 million.