Home
Motorsports
Team Breakaway – Tommy Lee out to win Proton Satria GTi Championship...
Team Breakaway – Tommy Lee out to win Proton Satria GTi Championship 2002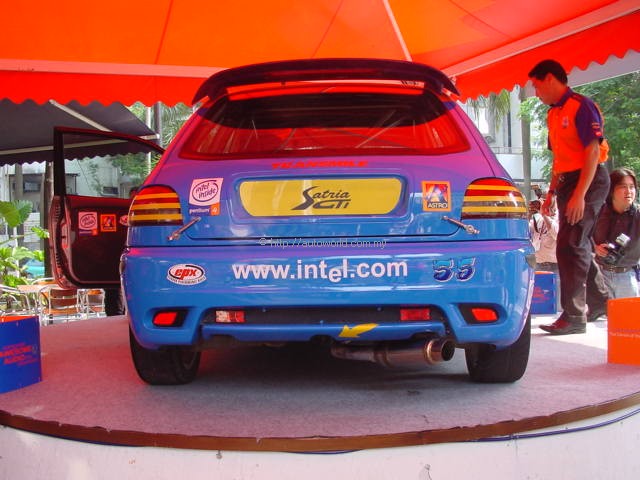 Team Breakaway, a newly formed racing team was launched in a simple ceremony last week in Kuala Lumpur. The main star of the team in Tommy Lee, a well-known local racing driver who has been racing for various teams in the past, now making a move into big-time.
At a time when the market is feeling the pinch of an economic slow-down, Tommy has done very well indeed to convince not only one, but a whole bunch of sponsors to put their money into motorsport. Perhaps this is a good time for other race and rally teams to offer a means of promotion that is very well accepted in the more developed nations of Europe and the Americas, but is yet to catch on locally.
What Team Breakaway has found is perhaps the right approach to their sponsors, playing their aces at the right time, and pitching it to the right people.
The team's main sponsor is Intel, and according to Tommy, Intel is in it for the association of speed with the latest Pentium 4 processor. By putting their names on Team Breakaway's car, Intel is making a statement. The team's other sponsors are the Transmile Group, a freight forwarding company, Astro, and EP manufacturing company. Ironically, EP Manufacturing Bhd is the maker of EPX bicycles. In addition, Red Bull supplies the drinks for the team, and Johnson Kit Car Care will make sure the racecar shines.
As an additional bonus to his sponsors, Tommy shall also throw in his Putra 4WD Turbo for the Silverstone Tarmac Rally championships, an 8 round event starting in the second weekend of May.
Tommy himself appears very confident that he will win the 12 round Proton Gti championship this year which kicks off on the May 4th weekend in the Sepang International Circuit. Unveiling the brand spanking new Satria Gti at the Chakri Whitehouse Restaurant in the heart of town, Tommy was all smiles standing beside his beautifully built machine. "We still have a lot of testing to do. The car is only two weeks old, and we have to sort out the suspension and engine, but the car will be on the start line for the first race," said Tommy. Testimony to the fact that the team means business is a fully welded in roll-over cage built by TVR Sports Malaysia. A welded in cage increases the rigidity of the chassis, resulting in better overall handling, but it also means that the car cannot be used for any purpose other than racing!
If his past performance is anything to gauge him by, Tommy is likely to be amongst the front-runners! Good luck, Tommy!