Stretched Waja Displayed in Alor Setar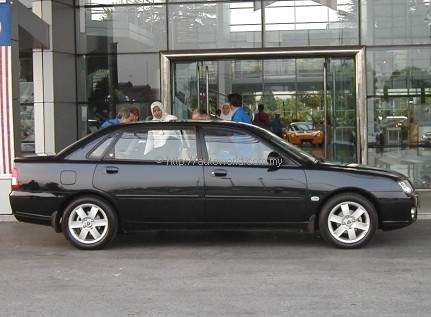 Residents in Alor Setar don't usually get to see prototype models because, unfortunately, the 'action' is usually in the Klang Valley. However, Proton has quietly been displaying a long-wheelbase Waja at an exhibition there but visitors have been unable to get any information on it – other than that it will have a 2.5-litre V6 engine.
A stretched Waja is not exactly a surprise, though, as AUTOWORLD.COM.MY showed pictures of the prototype when it was revealed during the roll-out of the 40,000th Waja. At that time, Proton CEO Tengku Tan Sri Mahaleel said it was just something the engineers were 'trying out' and that it had been built by Proton and not Automotive Conversions Engineering (ACE), the EON subsidiary which specialises in making the long-wheelbase Perdana and Wira. A peek inside showed it to be equipped for the executive on the move with a full complement of office equipment, including a fax machine, printer and video-conferencing facilities.
Now according to rumours, the 'long Waja' may go into production as a 'Waja Executive'. This could well be possible because, unlike the Perdana, the Waja is Proton's own design and it does not need Mitsubishi Motors' permission to make variants as production models. With the Perdana, this may not have been possible as Mitsubishi Motors would have wanted to carry out engineering work for a long-wheelbase variant and charge Proton an enormous cost for R&D. That's perhaps why the long-wheelbase Perdanas can only be done as after-market modifications by another party.
Last year, the prototype seen at the factory was said to have a 1.8-litre engine. However, now a 2.5-litre V6 is mentioned. While it has been thought that Proton would reduce its dependence on Mitsubishi Motors for engines and source some units from Renault to complement its own CAMPRO powerplants, it appears that the engine supply from its Japanese partner may continue for a while yet if the V6 comes from Mitsubishi.
It seems likely that it is a Mitsubishi engine and the one with that displacement is used in the Diamante flagship. It's the 6G73 unit and is a lean-burn GDI engine. Maximum power is147kW/200 ps at 6000 rpm with 250 Nm of torque at 3500 rpm, so it is a pretty powerful engine.
GDI engines have advanced technology and are not cheap so it is rather surprising that Proton is thinking of using such an engine. After all, the 1.8-litre GDI was at one point considered for the Waja but its cost was considered too high. The other thing is that GDI engines are known to be prone to problems in Malaysian conditions. It is believed to have something to do with fuel quality.
Anyway, there is a trend by luxury makers to offer lengthened variants as there is good demand to justify stamping the steel panels. Volvo first did it with the 960 Royal and Mercedes and BMW are now offering factory-made long-wheelbase versions.
And what of the long-awaited Waja 1.8? Rumours are that it will make an appearance sometime this year – but we heard the same thing in 2002. It is believed that there has been a delay due to issues with matching the Renault engine to the rest of the car. Not being a Mitsubishi engine, it obviously has different mounting points and a lot of other significant technical differences which need to be resolved.
The CAMPRO engine is supposed to begin production at the end of this year but it is not known which displacement will be available first. If it is one of the smaller ones, then we may see it in the Wira first – and there is much talk these days of a new Wira coming out this year too. A Waja fitted with the CAMPRO engine has been undergoing tests for a while and was shown to the media not so long ago.
Last month, there was also a rumour mentioned in the Business Times about Proton seriously considering a successor for the Tiara. The report said that the national carmaker is talking to an engineering outfit in Europe, which suggests that it is not another carmaker but a smaller consultancy which can provide body design for a platform developed by Proton.
Since the retirement of the Tiara in late 1999 and the failure to conclude a deal for the Citroen Saxo as the replacement, Proton has not had a representative in the lowest end of the market. It must feel that this is an important sector and though another national carmaker has been assigned the entry-level segment, Proton also wants to have a model to compete.
Another rumour heard in recent weeks has been that concerning an entirely new model which will be built at Proton City in the near future. The model is said to be based on the Daewoo Matiz, a small 800 cc hatchback which was designed by Italy's Giugiaro and launched in 1998. Interesting rumour, isn't it?
Clearly, Proton is racing as fast as possible to not only refresh its line-up but also broaden it. Given its volume of a few hundred thousand units a year, it may seem questionable to build so many different cars and reduce economies of scale but then again, our national carmaker may have a strategy that does not depend on this factor to survive.