Honda Aims for Fuel Economy Record with Insight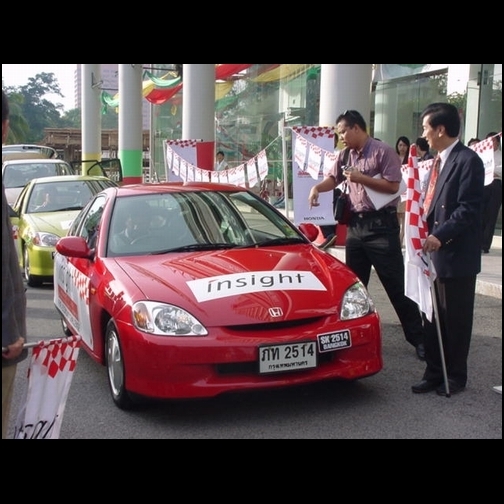 Since Monday (January 15th), a Honda Insight which has a hybrid powerplant (electric motor and petrol engine) has been driven on the road between Bangkok and Singapore. The purpose of the drive, done by 33 journalists from Thailand, Malaysia and Singapore, is to establish ASEAN's first 3-country fuel economy record.
Organised by Asian Honda Motor Co. Ltd, Honda's Bangkok-based ASEAN regional office, the 2,000-km drive is being observed by officials from the automobile associations of the three countries who will be able to certify the fuel consumption record as international records since they are authorised representatives of the FIA.
The Insight, which went on sale in Japan in November 1999, presently holds the title as the world's most fuel-efficient and environment-friendly production passenger car, achieving 35 kms/litre (about 95 mpg) in mixed urban-highway driving conditions as specified in Japan's 10-15 test cycle. Last year, this Honda broke a 7-year old fuel economy record in UK by completing a 6,012-km trip around the country with an average fuel consumption of 36.36 kms/litre (about 103 mpg).
Even more impressive is the result achieved by Thai journalists who last year drove an Insight nearly 2,000 kms and averaged 43.71 kms/litre (about 123 mpg)! The figure was officially certified by the Royal Automobile Association of Thailand.
On this week's drive, the Thai journalists who did the first stage from Bangkok to the Malaysian border – a distance of over 1,000 kms on ordinary roads – have achieved an average of 43.01 kms/litre (about 121 mpg). According to one of the officials, one driver had managed to get a fantastic 60 kms/litre (almost 170 mpg)! Considering that the Insight's fuel tank capacity is just 40 litres, that sort of consumption could mean a range of 2,400 kms – the average monthly mileage clocked by many AUTOWORLD.COM.MY forum participants.
The secret of the Insight's fuel-sipping character is IMA – Integrated Motor Assist. IMA is the concept of the hybrid powerplant which combines a super-efficient and super-light 1-litre VTEC lean-burn petrol engine with an ultra-thin 10 kW electric motor. But IMA is not the only thing that makes the Insight so economical; also contributing significantly are the all-aluminium body which is so slippery in the air that is generates a Cd of just 0.25 – the lowest of any car in production today.
Due to the many advanced technologies in the Insight, it is not a cheap car to produce and a Honda official admitted that, in this initial phase of sales, Honda is losing money on each unit sold. "But as production volume increases, we would naturally see that the cost would come down over time," explained Hiroshi Mikajiri, General Manager of Corporate Communications at Asian Honda.
Mr Mikajiri said that the Insight will be introduced in Singapore in March or April this year but the price has not been confirmed yet. However, as reported in AUTOWORLD.COM.MY earlier, the Singapore government is giving special rebates to buyers of environment-friendly cars such as the Insight in a move to popularise them. In Thailand, the Insight has been available since last year but no one has actually bought one yet and the reason is probably due to the high pricetag of 2.3 million baht which is largely because of import duties. In comparison, a Honda Civic costs around 800,000 baht.
On Wednesday night, Singapore journalists drove the Insight into Kuala Lumpur after a 13-hour journey from Hatyai. The average consumption figure has not been computed although it is known that at least one driver recorded 50 kms/litre.
On Thursday morning, an 11-member team of Malaysian journalists (including AUTOWORLD.COM.MY's Chips Yap) will set off on the 330-km drive to Johor Bahru.