A Truly New Toyota Corolla Generation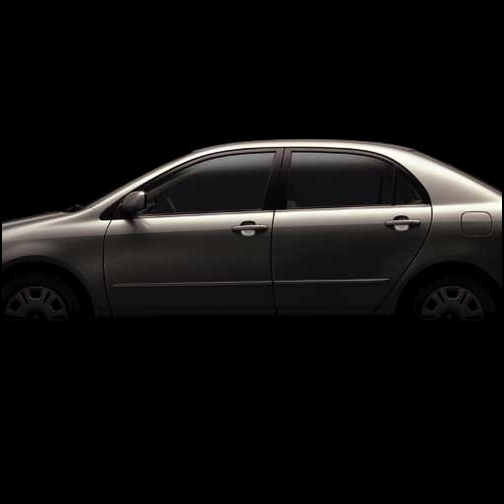 Traditionally, a new Toyota Corolla generation has been introduced in Japan during the month of May. But this time, for the ninth generation, the introduction date has occurred about ten months earlier in August. While Toyota has not offered any explanations, it could well be the increased competition that has prompted it to shorten the model life as well as the fact that the eighth generation – which had been developed in the difficult times of the severe Japanese industry downturn in the early 1990s – was not as well received.
Toyota could also have wanted to beat the new Honda Civic, an arch-rival, to the market knowing that Honda will launch its new Civic generation on September 13th. There is also the possibility that the North American market has influenced this earlier model change, as it is known. It normally takes a year to introduce the new generation in North America, where it is manufactured, and perhaps Toyota Motor Sales USA wanted the model in earlier.
The North American subsidiary, with its giant sales volume, is known to be quite influential; many years ago, it was even able to get the Japanese designers to make major alterations to the Camry design (the generation before this current one) that gave it looks like the Lexus sedan. Top executives of TMS had rejected the bland design (which was still used in the Japanese market) and were so firm about it being unappealing for Americans that Dr Toyoda, then the president of TMC, personally ordered his reluctant engineers to make the changes.
Hot seller
Anway, the new Corolla generation appears to have taken off in Japan as 15,000 orders (4,500 of them for stationwagons) were received in the first seven days. The company had set a monthly domestic sales target of 8,000 sedans and 3,500 stationwagons.
What has brought on this surge of demand? Quite likely the complete change of the model. Where the eighth generation had shared the platform with the seventh generation, the ninth generation gets a completely new platform (it is typical for a manufacturer to use the same platform over two generations, if not more) and refreshing new looks that seem to have some elements from the Prius hybrid-engined model.
Other major components – engine, transmission, suspension and 4WD system (available on certain versions) – have been redesigned and laid out in a body that is more compact but has a more roomy interior claimed to rival the cabin space of medium-size cars. Its design employs the concepts of the Toyota's New Century Vehicle (NCV) which defines the values of all new-generation models.
The chief engineer was Takeshi Yoshida who had been part of the earlier Corolla project teams and then did a stint as the chief engineer for the Toyota's Asian Family Car, the Soluna, before being re-assigned to the ninth generation Corolla.
Styling from Europe
The new car, styled in Toyota's European studio which also did the award-winning Yaris/Vitz. It would seem that Toyota has finally understood that the European studio's designs are more in tune with global preferences than those of the Japanese studios. In fact, the eighth generation sold in Europe was considered by most consumers to be more attractive but Toyota had decided that for Asians, its Japanese styled version (which is presently sold in Malaysia) was more suitable.
The new Corolla is taller and has a longer wheelbase and is 50 mm longer. The sedan has been given sturdier roof pillars, and thicker, more generous door cross-sections, for a more chunky look. The pillars have been stretched further apart at their bases, to create a three-box style and call attention away from the vehicle's height.
Inside, a two-tone colour scheme is adopted and the instrument panel curves gradually to connect to the door trim, creating a feeling of space. It is complemented by a wide centre console. Lower tolerances have been set for gaps between parts, and surface uniformity has been increased. Careful attention has been paid to the operational feel of the controls, creating a level of quality said to rival luxury mid-sized sedans. One example: air-cushioned restraints for the glove compartment opening/closing mechanism give a more elegant and firm feel.
New engine family
After some eight years, the Corolla gets an all-new engine family from the newly-developed Z-series. These engine have Toyota's version of variable valve timing (VVT-i). In the domestic market, the primary engine is the 1.5-litre 1NZ-FE engine but there is also a smaller 1.3-litre 2NZ-FE version. Then there are two 1.8-litre petrol engines, one of which is a high-performance unit with VVTL-i which, in addition to continuously variable intake valve timing, also controls the amount of lift of the intake and exhaust valves. This engine has a higher-rigidity aluminium block, shorter stroke, larger diameter valves and a higher compression ratio (11.5).
It is likely that for export models, a 1.6-litre version will be available. However, as the Z-series is still quite new, Toyota may not want to offer it overseas so soon and choose to use the older E-series engines. This was the case with the 16-valve 1.3-litre engine which was available as far back as 1988 but did not become available in export models for another generation.
All automatics use the compact, lightweight Super ECT transmission, with a high-efficiency Super Flow Torque Converter, for smooth and responsive shifting. Models with 1.8-litre engines have a gate-type shift lever, for more natural shifting.
The sporty Z AeroTourer version has an automatic transmission that comes with Toyota's 'Sports Steer Shiftmatic' feature, which allows drivers to shift without removing their hands from the steering wheel. Alternatively, it also comes with a 6-speed manual gearbox (nothing new as European Corollas of the eighth generation already had it).
New suspension
The front/rear suspensions have been redesigned and the front suspension has a new leading-arm MacPherson strut with a higher caster angle. The rear suspension is a new beam type (torsion-beam suspension with a toe control function). Working together with a new tyre size and highly rigid body, these new suspension designs are claimed to ensure ample wheel stroke, improving ride comfort and quietness and providing outstanding handling and driving stability.
An electric power steering system is available and among its advantages are a minimal number of components and compactness. It consumes power only when power steering assistance is required, helping lower fuel consumption. The assistance characteristic changes smoothly in response to information received from a vehicle speed sensor, providing very good feel for the driver.
Eco-friendly, very safe
As for environment-friendliness, the new Corolla meets all regulations and even exceeds most of them. It is also designed with high safety standards and like all new Toyotas, it meets Toyota's tough in-house safety standards known as 'GOA' (Global Outstanding Assessment). The body structure has passed a 40% offset front collision test at 64 km/h and a full front collision test and side collision test at 55 km/h.
A specially designed underbody and brake pedal attachment help prevent the brake pedal being forced back into the cabin during a front-end collision, thus reducing possible injury to the driver's legs. Shock-absorbing ribs in pillars and roof side rails ensure that the interior structure offers safety equal to that outlined in U.S. head impact protection standards. The front seat design of all models also incorporates the WIL (Whiplash Injury Lessening) concept, lessening the shock to occupants' necks during a collision from the rear.
All models have a front brake caliper size of at least 14 inches and the brake pedal ratio and booster characteristics have been changed for a better-defined, more easily controlled braking feel from the moment the driver steps on the brakes.
The new Corolla is claimed to achieve outstanding braking performance by correctly distributing the braking force to all wheels to match a variety of driving conditions (changes in load due to load shifting or deceleration). ABS with EBD (Electronic Brake force Distribution) has also been added as a standard feature on all models, along with a brake-assist function for increased effectiveness.
On the more expensive versions, customers get Vehicle Skid Control and Traction Control while a tyre pressure warning system is standard on most grades.
For senior citizens
Toyota also produces variants of many of its models that are specially designed for older travellers and those who may be handicapped. These variants are known as 'Welcab' and are included in the new Corolla line-up. Among the features are seats that can swivel to allow easier movement in and out and special fittings for wheelchair loading/unloading. There are also options with 60% lighter power steering for versions which are designed for drivers who are able to only utilise steering controls.
Malaysian market
Because the Corolla is a locally-assembled model, it will not appear so soon. There is usually a lag time for local development of certain components in order to meet the government's local content requirement and going by past practices, it takes at least 9 months before the locally-assembled version is introduced. Of course, since TMC has set this precedent of shortening the model life, UMW Toyota Motor may also catch the local market by surprise. And given the way Japanese car prices are going up, its price may also be an unpleasant surprise…