Home
Car Brands
Perodua Kicked Off The Chinese New Year With Selayang Hospital Visit
Perodua Kicked Off The Chinese New Year With Selayang Hospital Visit
Today is the fifteenth day of Chinese New Year (a.k.a. Chap Goh Meh in Hokkien dialect), technically the final day of the lunar new year celebrations. But not everyone was fortunate enough to spend Chinese New Year with their family and friends, and it is particularly more difficult for a child. So, at the beginning of the lunar new year, Perodua decided to bring a little CNY cheer to the Selayang Hospital paediatric ward.
This is actually a revisit as the company had also done so last year. The national carmaker's 10 volunteers and UFirst mascot, Ari, was there to distribute ang pows and hampers containing string bags and stationery to some 80 child patients, who were then treated to a delicious lunch.
"Delivering on Perodua's long-term charity commitment with Selayang Hospital's paediatric ward, we hope our humble contributions today managed to evoke the spirit of Chinese New Year in both the children and hardworking staff, who will not be celebrating at home this year.
"Last Chinese New Year, we presented the paediatric ward with three ambu bags (handheld breathing apparatus) and distributed hampers to all the children. We keep in constant touch with Selayang Hospital to learn what they need and want – just like we do with our valued customers.
"We have loads of activities planned for the children over the next few years, including puppet and clown performances, colouring and sing-alongs. Our volunteers will also help to maintain and improve the children's play area by buying more toys and books as well as decorating and cleaning it," Perodua President and Chief Executive Officer Dato' Zainal Abidin Ahmad said.
Perodua also gave the paediatric ward three pulse oximeters (oxygen measurement device) and six portable screens worth RM12,000 in total. Perodua Executive Chief Engineer, Mr Albert Ngu, presented the items on behalf of the carmaker to the hospital's Paediatric Department Head Dr Selva Kumar.
"As a People First company, Perodua wishes all Malaysians a healthy, happy and hearty Chinese New Year. Gong Xi Fa Cai! Ensure your vehicles are in good shape and drive safely, courteously and responsibly home to your loved ones," Dato' Zainal added.
In 2018, Perodua had committed to a sustainable charity programme with the Selayang Hospital paediatric ward until 2020.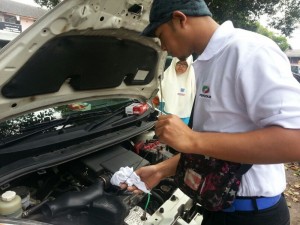 Perodua also encourages all owners to utilise Tweckbot, Perodua's free mobile vehicle inspection team, prior to festive season travel. The Tweckbot service had inspected 125 cars in the run-up to this Chinese New Year and it targets to inspect a total of 1,000 vehicles during festive seasons at selected locations this year.
Tweckbot has helped to ensure the roadworthiness of Perodua vehicles during festive seasons since 2011, giving free 50-point checks to nearly 7,000 vehicles to-date.