Mercedes-Benz E 300 BlueTEC Hybrid – One tank of diesel from KL to Bangkok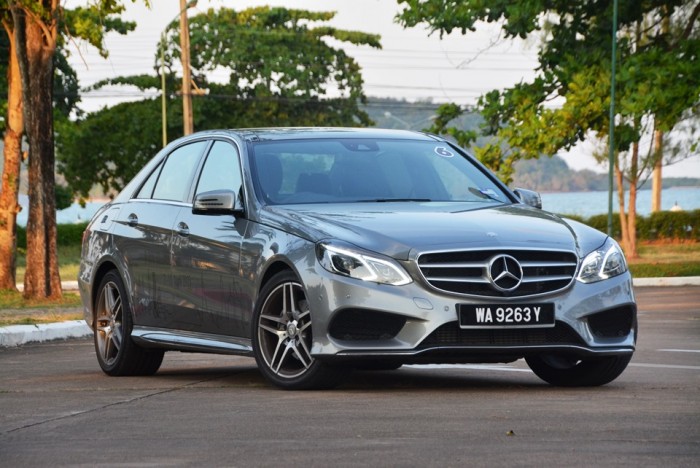 When Mercedes-Benz Malaysia organized the pre-launch preview of the E 300 BlueTEC Hybrid earlier this year, one of the key promotional messages lobbied at us was that one particular example of this model, guided by the expert hands of Autocar UK's Andrew Frankel, was driven, with the help of two ferry crossings, from Tangiers, Morocco to Goodwood, UK, covering a distance of 1,968km on one tank of fuel.
The simple reason why such a distance is possible, of course, is that the E 300 is powered by a diesel engine that is already fuel efficient to start with, and helped along by an electric motor to take care of chores such as stop-go traffic and standing-start accelerations. It features the 204hp/500Nm powerplant of the E 250 CDI coupled with a 27hp electric motor buried in the casing of its 7G-Tronic automatic transmission. Based on UK spec comparison, the 300's electric motor helps it simultaneously slash 0.4 seconds in the century sprint and 0.8 l/100km in the combined cycle off the 250 CDI's numbers. If you want percentages, the 300 is 16 percent more fuel efficient than the 250 CDI.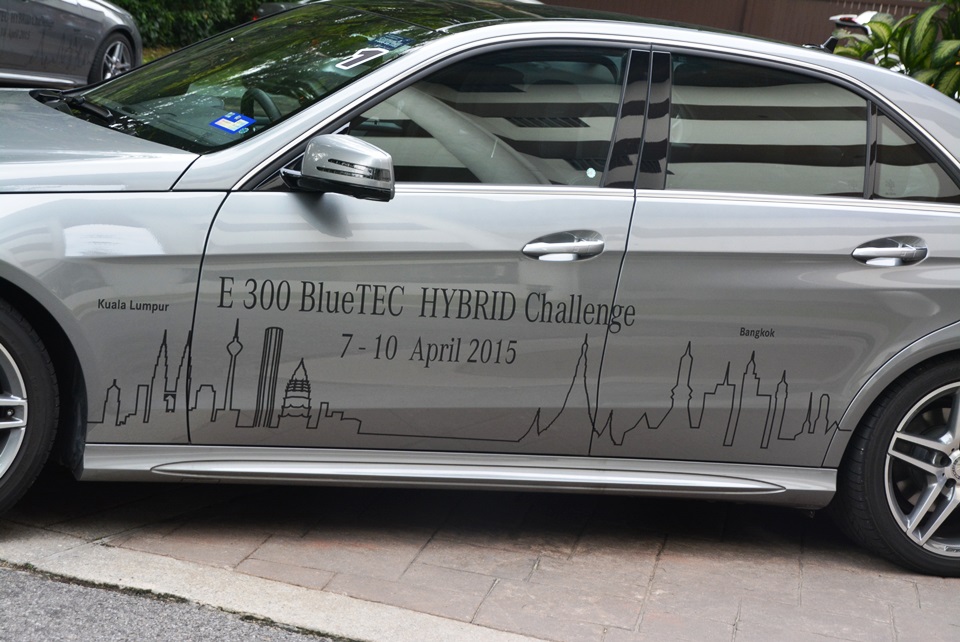 At the Q&A session that followed the unveiling, I then jokingly asked if MBM was game for us to repeat such an attempt; little was I aware that a plan was indeed put in place resulting in yours truly being amongst twelve Malaysian and Thai motoring journalists invited to have a go at bringing the E 300 BlueTEC Hybrid from Kuala Lumpur to Bangkok on one tank of fuel. A total of eight cars made the trip, with journalists paired two each to a car and the remaining two cars driven by MBM personnel.
Our 1,478km journey was, in many aspects, different from Frankel's trip. He had to make two ferry crossings, we had the long queue of the crowded Sadao checkpoint at the Thai border. His was a 27-hour non-stop journey; we spent 22 hours on the road punctuated by nights at Hatyai and Chumphon in between. We were also motivated by slightly different objectives – Frankel's aim was just to arrive in time before the start of the Goodwood Festival of Speed, our group of six media cars were competing amongst each other for best fuel consumption. We should also point out that Frankel had no issues driving with air-conditioning switched off – with external temperatures going as high as 41 degree Celsius at some stages, we were not about to suffocate ourselves in the car.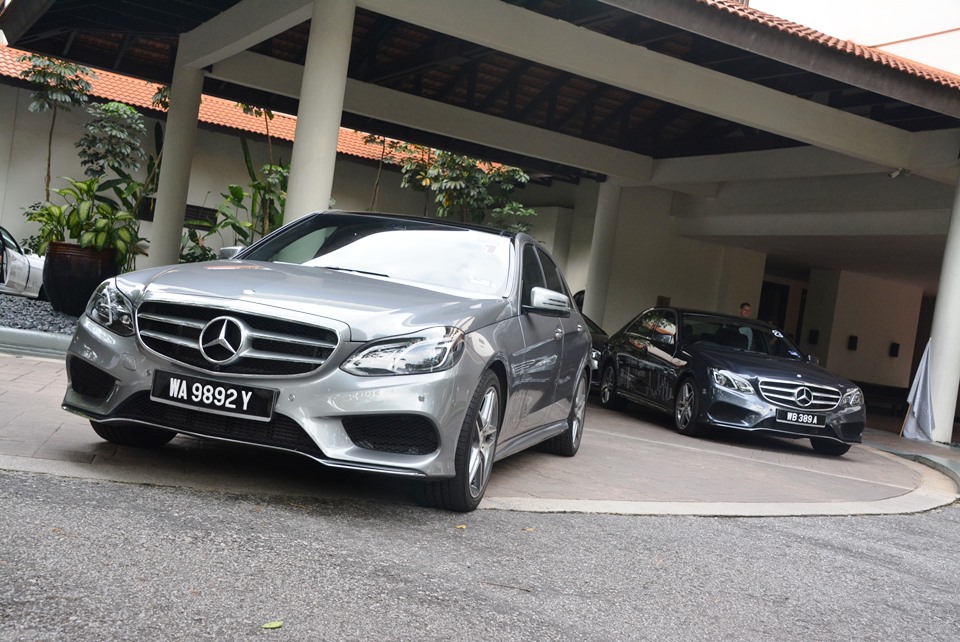 Aside from the logistical and geographical factors, minor but key differences exist between between the cars we used and the one that Andrew Frankel used. Our Malaysia-spec cars, assembled locally in Pekan, are the only ones in the world that feature a special Euro 2-enabled state-of-tune, as opposed to Frankel's Euro 6-friendly machine. Our cars, kitted with the AMG Sport package, ran on 18-inch AMG wheels; Frankel's car had standard 17-inch rims. All our cars had 80-litre tanks, standard fitment in our part of the world, but a £100 option in Frankel's car, which would otherwise have rolled off the factory with a 59-litre tank instead.
As you would expect, all eight cars were filled to the brim just before we departed with the simple maths telling us that we needed to average nothing more than 5.4 l/100km to accomplish our task. The car's official combined fuel consumption quoted by Mercedes-Benz is 4.1 l/100km; we were looking at 5.0 as the magic number that will bring us to Bangkok with some margin of comfort.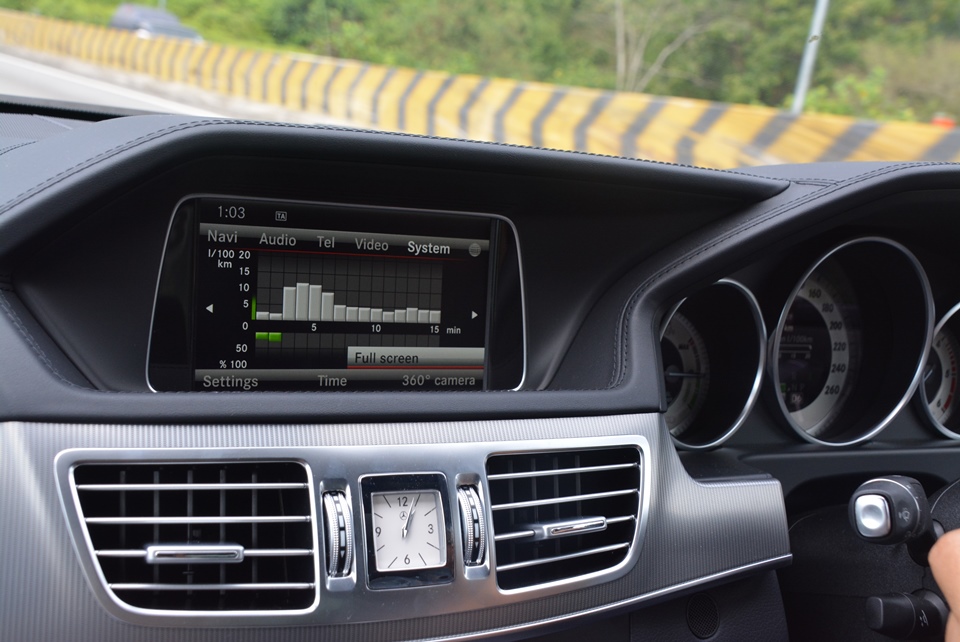 From past experience with similar challenges, there was very little doubt in my mind that the E 300 was up to the task we set it. Having read Frankel's account of his attempt as homework before the drive, I worked out that we needed to maintain at 85-90kph on the highways in order to keep the transmission in seventh gear. There was a lot of throttle-feathering, especially at stop-go traffic, in which we tried our very best to ensure that the car moved purely on electric power – the motor brings us only as far as 35kph, after which the services of the diesel engine will be called upon.
Initially we tried to coast on electric power as much as possible even on the highways, but we eventually came to the realization that it was better, even on downhill stretches, to maintain a small degree of throttle application in order to preserve momentum instead and minimize the need to accelerate, especially when the road begins to slope upwards – this minimizes unwanted peaks in the fuel consumption graph and actually contribute to a lower overall average.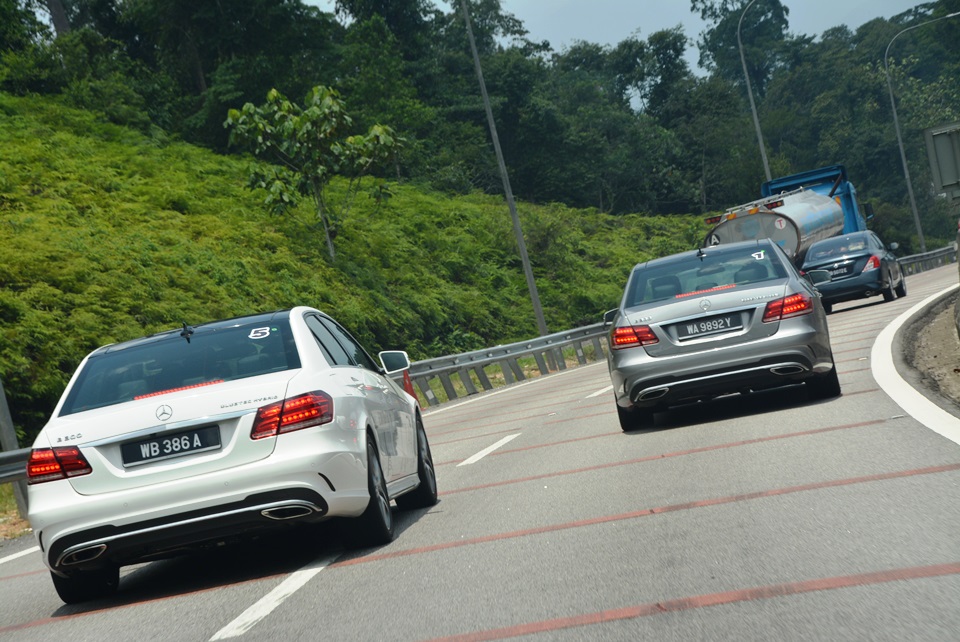 Most doubts on our prospects of reaching Bangkok without refueling were cast aside by the time we rolled into Hatyai for our first night's stop. Consumption varied across the eight cars; my car read 4.9 l/100km on the trip computer, and that was after a spirited run from Juru to Bukit Kayu Hitam had brought the average up from 4.5 l/100km achieved earlier in the day.
At the end of Day 2, with over 1,007km covered, our fuel gauge was pointing at the half mark with the trip computer calculating an average consumption of 4.7 l/100km and projected range of 650km. It was, at this stage, safe to assume that completing the challenge became a mere formality, and our objectives the next day shifted to competing on who could extract the best average fuel consumption from the trip computer at the end of the journey.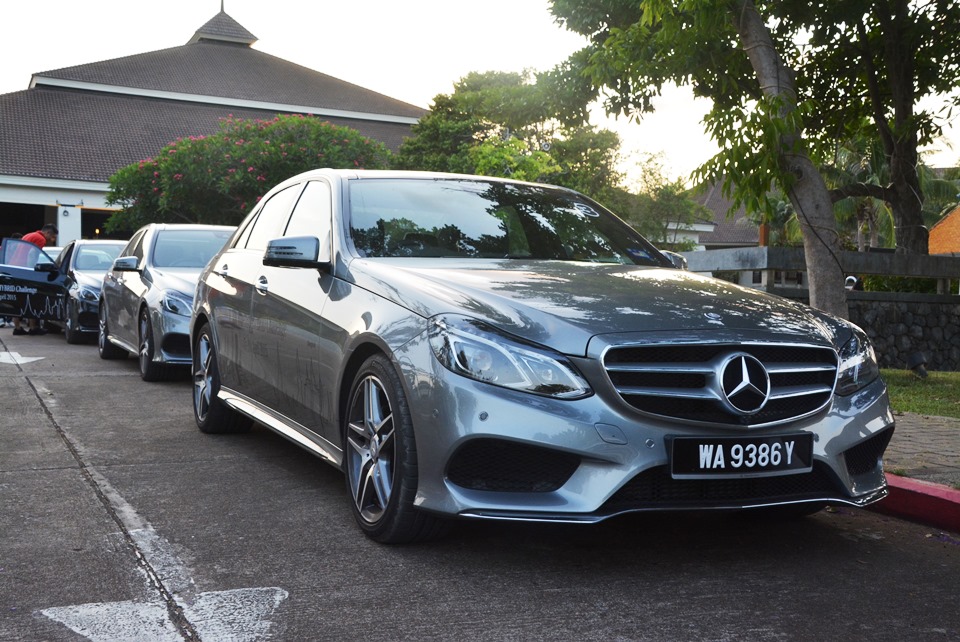 On the last day, we pushed on gamely on the last 500km going into Bangkok with a lunch stop at Hua Hin along the way. Having thoroughly familiarized ourselves with the car's behaviour by now and motivated by competitive desire to outdo each other, I was able to further lower our overall fuel consumption to 4.5 l/100km. According to the vehicle's trip computer, my car had in fact achieved 4.2 l/100km based purely on Day 3's driving alone.
We made it to Bangkok, and with plenty to spare – readouts show a projected range of 428km with the fuel gauge resting squarely on the quarter mark. Not all cars drove in the same competitive spirit as ours, and it is worth noting that all eight cars of the convoy reached Bangkok without needing to refuel – the highest recorded fuel consumption among the cars was 5.4 l/100km, and the said car rolled across the finish line with barely any fuel to spare. At the other end of the scale, the most economical car clocked in with an overall reading 4.3 l/100km.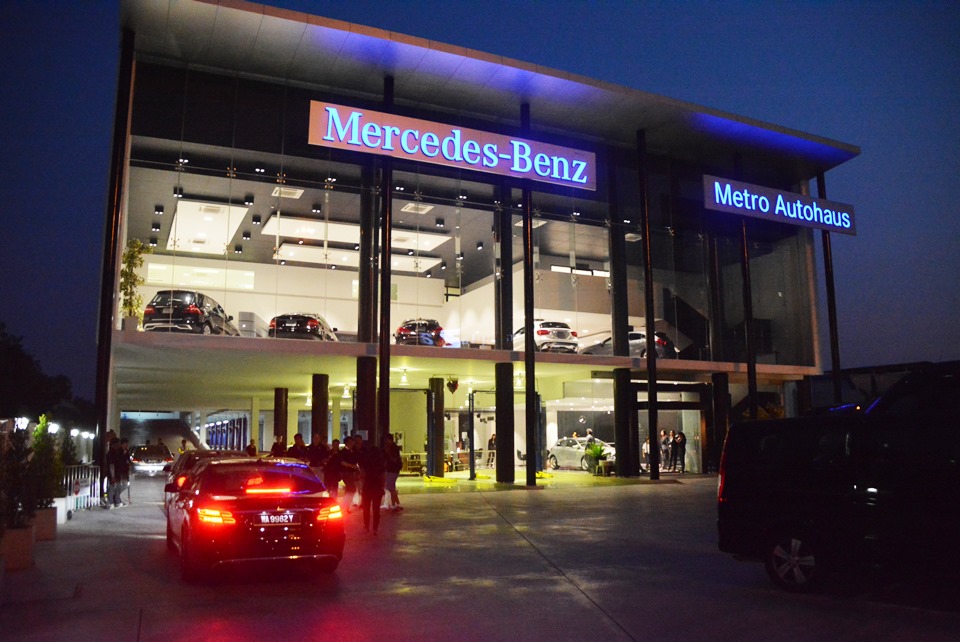 At the end of every fuel consumption challenge, the question inevitably posed is how realistic these achieved numbers are, and how can they be attained on day-to-day driving. Fair enough, we agree that it's highly unlikely that someone driving a Mercedes-Benz E-Class will crawl all of 1,500km averaging 90kph on a normal commute. Admittedly, the accomplishment of covering the distance between KL and Bangkok on one tank has greater use generating an attractive story title rather than having any practical relevance to real life.
In the real world, sub-5.0 fuel consumption numbers are probably too unrealistic to achieve on a regular basis, but with some smart driving, we reckon most users of the E 300 could effortlessly squeeze anywhere between 5.5 and 6.0 l/100km, which is good for anywhere between 1,300 and 1,400km between refills – that's phenomenal economy for a luxury saloon able to hit 250kph and complete the century dash in 7.1 seconds.