New Ford Ranger makes global debut at Bangkok Motor Show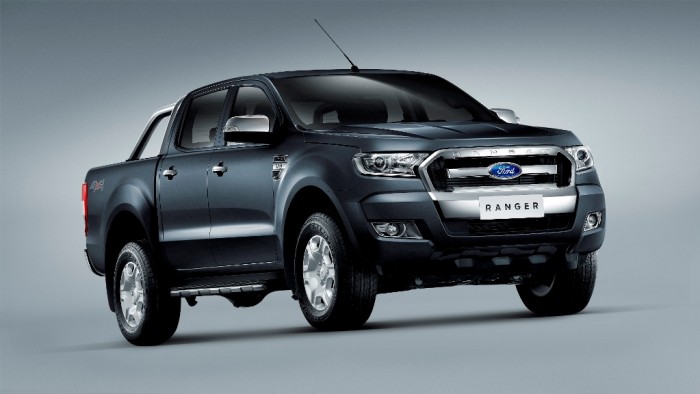 No one would argue that the current Ford Ranger is in need of much improvement at this juncture of its product cycle, but improve it Ford did. Just three years after its introduction comes a vastly revamped model that sports not only a new look, but an even bigger array of technology as well, building on one of the Ranger's already-strong key-selling points over its rivals.
The revised pick-up had its global unveiling today to the regional motoring press just ahead of its first public appearance at the Bangkok Motor Show starting tomorrow, and will go on sale in more than 180 markets worldwide later this year.
A completely redesigned front end adorns the new Ranger, with its headlight assembly moulded notably narrower and featuring the use of projector headlights. The front grille has been made chunkier too, its trapezoidal shape blending with a more muscularly-shaped bonnet. Little is changed back at the rear, however, as the existing tail carries over virtually unchanged.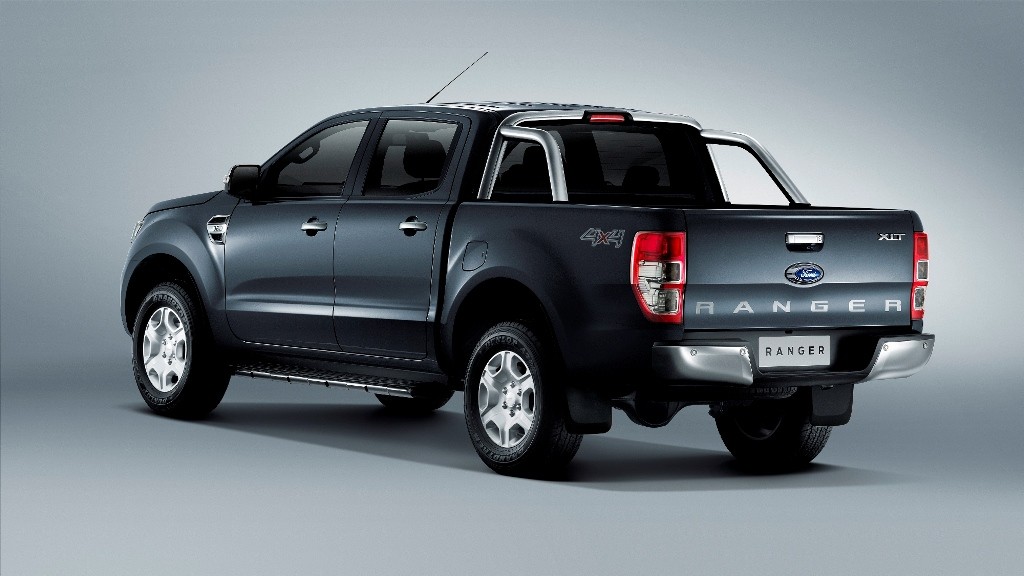 Inside, the dash fascia was given a once over as well, featuring an eight-inch central touchscreen operating the vehicle's infotainment system along with a dual TFT digital instrument cluster providing pick-up owners access to unprecedented modernity, even when compared to premium passenger vehicles. The latest generation of Ford's in-car connectivity system, SYNC 2, allows voice command to control features such as (depending on region and variant) air-conditioning, entertainment, and navigation. Also added to the cabin is a 240V power socket that is good enough to power a laptop on the move.
The current Ranger is already notable for being the only pick-up truck that offers electronic stability control as standard fitment, but the new one further ups the ante with an even wider array of active and even autonomous driving aids. This time round, stability control is supplemented with Adaptive Load Control, which adjusts the system's calibration based on vehicle load. Unusual for a pick-up truck, the Ranger will be available with Adaptive Cruise Control and Forward Alert, the latter system able to pre-charge the brakes if the distance from the vehicle ahead diminishes rapidly.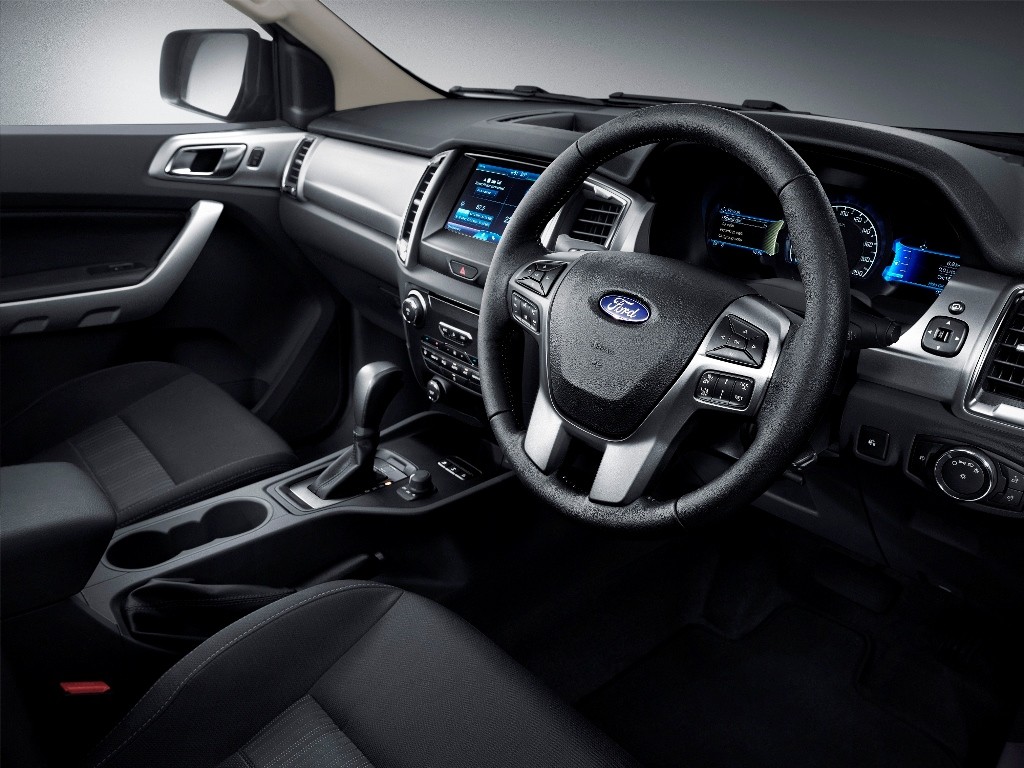 The new Ranger also notably comes with Lane Keeping Alert, which warns you with a vibration on the steering wheel if you stray off your lane, and Lane Keeping Aid, which actively pulls you back into the lane if you don't act on the warning. In markets where it is available, Emergency Assistance uses a Bluetooth-paired and connected phone to call local emergency services in the event of a serious collision. The system communicates details of the accident and your vehicle's location, and then opens the line to let you speak directly with responders.
Other features namely Driver Impairment Monitor (drowsiness detection), front and rear parking sensors, reverse camera, tyre pressure monitoring, Hill Launch Assist, Hill Descent Control, and Emergency Brake Assistance round off a very fine array of smart equipment.
The Ranger's existing array of engines carry on from the pre-facelift model, but not spared from improvement and notably incorporating auto stop/start. The range starts with a naturally-aspirated 2.5-litre Duratec petrol, not offered in Malaysia, pumping out 163hp and 225Nm. The more familiar 2.2-litre four-cylinder Duratorq turbodiesel is available in two states of tune – an efficiency-biased 129hp setup or a more potent 158hp version with 385Nm of torque, 10Nm more than the present model.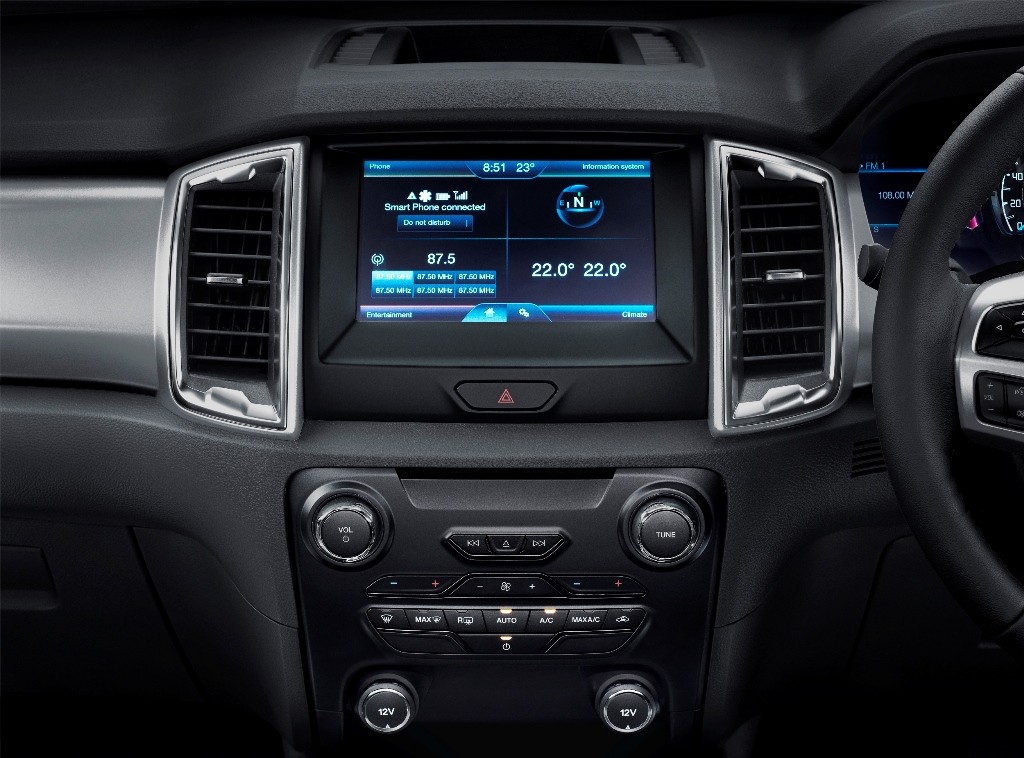 Meanwhile, the flagship 3.2-litre five-cylinder diesel engine gets an updated exchaust gas recirculation system to improve fuel efficiency by 18 percent whilst maintaining its existing outputs of 197hp and 470Nm. As before, all engines are available with a choice of two six-speed transmissions – manual and automatic.
A major mechanical alteration from the pre-facelift model, one that makes the Lane Keeping Aid system possible, is a shift from hydraulic to electric power steering. We have been anticipating to see an eventual transition into electric power steering for pick-up trucks, but for Ford to make that leap in a mid-life facelift, and one that is executed extraordinarily early in the model's life-cycle, is surprising to say the least.
As with the current model, Ford will manufacture the new Ranger at its AutoAlliance Thailand facility in Rayong, Thailand for distribution throughout Asia Pacific, its Silverton Assembly Plant in Pretoria, South Africa for distribution in Africa and Europe, and its Pacheco Stamping and Assembly Plant in Argentina for distribution in Latin America.
Pictures: Official Ford release.