Mazda CX-3 goes on sale in Japan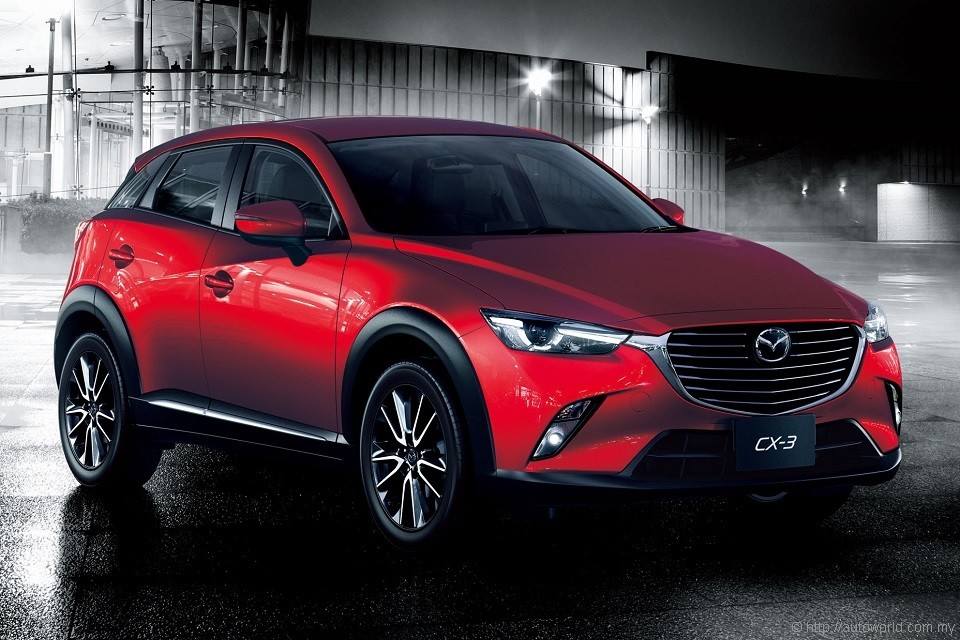 Mazda's much-anticipated compact SUV, the CX-3 which already being talked up by many quarters as being the challenger for Honda's HR-V, officially goes on sale in Japan today with a choice of three trim levels and priced from 2.376 to 3.024 million Japanese Yen inclusive of tax.
Coming after the CX-5, Mazda6, Mazda3, and Mazda2, the CX-3 now brings us to the fifth Mazda model to feature the full SkyActiv Technology and sporting the distinctive Kodo – Soul of Motion design language. Its platform is derived from that of the Mazda2.
Only one powertrain is being offered in Japan, and it is the newest engine of the SkyActiv stable, namely the 1.5-litre turbodiesel that was introduced together with the Mazda2 sedan at last year's Thai Motor Expo in Bangkok. Consumers can nevertheless choose between manual and automatic transmissions (both 6-speed), each in turn with a choice between front- and all-wheel drive.
Generating maximum torque of 270Nm and having a rated fuel economy of 25 km/l, the 1.5 SkyActiv-D mill is fitted with what Mazda calls the 'Natural Sound Smoother', a device claimed to reduce the characteristic knocking sound of diesel engines.
Measuring at 4,275mm long by 1,765mm wide, the CX-3 is amazingly narrower than the Mazda2 which it is based upon; stem-to-stern, it resides between the lengths of the hatchback and sedan. Against its competitors, it almost identical in size to the Ford EcoSport and slightly smaller than the HR-V. Overall height is closer to passenger car than SUV, however, as Mazda kept the CX-3 to just 1,550mm tall in order to fit into Japan's automatic multi-storey car parks.
Inside, the CX-3 seats five onboard with room for 350 litres of luggage. Like the Mazda2, the CX-3 features Mazda Connect, Mazda's new-generation car connectivity system. This system enables drivers to safely control music sources, including internet radio as well as vehicle information such as the GPS navigation system, and fuel monitor, while driving.
Pictures: Official Mazda release.