Second-generation Audi R8 ready for Geneva debut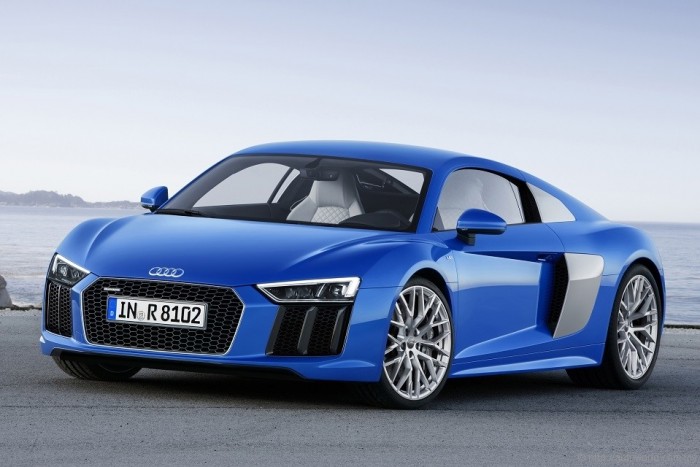 Ahead of its scheduled public unveiling at the upcoming Geneva International Motor Show, Audi takes the covers off its second-generation mid-engine supercar, the R8. Despite being a new development form ground-up, the new R8 retains many defining elements of its predecessor both stylistically and mechanically.
Manufactured at the new Bollinger Hofe plant dedicated to the quattro and situated near the main Neckarsulm plant, the R8's Audi Space Frame bodyshell is built with high proportions of aluminium and carbon fibre-reinforced plastic (CFRP). The latter material makes up the B‑pillars, the central tunnel and the rear wall whilst the front section of the vehicle, the roof arch and the rear section form a framework made from cast aluminum nodes and aluminum profiles which, in some cases, employ new alloys.
Outer body panels are fully made of aluminium with attachments such as the front splitter and rear diffuser optionally available in carbon fibre. Thanks to widespread usage of these advanced materials, the new R8's body shell weighs in at only 200kg (15 percent lighter than before), with the fully built-up vehicle tipping the scales at 1,555kg unladen. It's stiffer too, with torsional rigidity improved by around 40 percent.
Components that make up the all-new R8's underpinnings nevertheless follow a similar arrangement, featuring a midship-mounted large-displacement V10 driving all-four wheels. A further development of its predecessor's motor, the naturally-aspirated 5.2 FSI is offered in two distinct states of tune, pushing out 540hp/540Nm and 610hp/560Nm respectively, both mated with a 7-speed S-tronic dual clutch transmission. The quattro permanent AWD system features a multi-plate clutch differential on the front axle that is able to vary torque distribution to send the engines outputs entirely to either axle or anywhere in between.
Hand-built at Audi's engine plant in Hungary, the 5,204cc powerplant incorporates a number of innovations not previously available including cylinder deactivation and dual injection (direct and port) to further maximize both performance and fuel efficiency. Official numbers from Audi claim a top speed of 323kph, century sprint time of 3.5 seconds, and combined fuel consumption of 11.8 l/100km for the 540hp model; the 610hp model, which officially carries the 'plus' designation, manages 330kph, 3.2 seconds, and 12.4 l/100km.
Suspension layout of the R8 adopts to use of aluminium double wishbones all round, with variable adaptive dampers available as cost options. The regular 510hp model comes standard with 19-inch rims shod in 245/35 front and 295/35 rear tyres; 20-inch rims are also offered – optionally in the 540hp model and standard in the 610hp variant. Brakes are also unsurprisingly superior in the 610hp model, which receives carbon ceramic discs as opposed to steel discs in the lower model.
Besides the main petrol models, Audi is also debuting the all-electric R8 e-tron, which will actually go on sale offering a net system output of 456hp and 920Nm, enabling it to sprint from rest to 100kph in 3.9 seconds. Compared to the previous-generation R8 e-tron, a concept that was never sold to the public, the incoming model benefits from more advanced battery and charging technology, being able to fully replenish its in-house produced lithium-ion battery in two hours for a rated cruising range of 450km, up from 215km stated for the concept.
Flying the Audi flag in motorsports will be the new R8 LMS, which shares about half its parts with the road car, its V10 engine all but identical. Depending on regulations and restrictor requirements, the engine's output is pegged in the region of 585hp.
Sales of the new Audi R8 start in summer 2015. Prices are