Porsche Panamera Road Test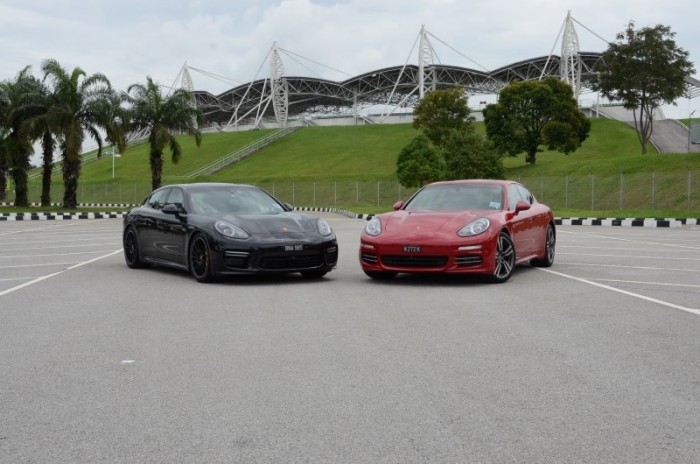 The Porsche Panamera is Porsche's go at the executive sedan segment – with four doors and performance to boot, it is pitching itself against the other two German makers, BMW and Mercedes-Benz, who have traditionally been the darlings of Malaysian businessmen when it comes to having a top executive car.
What the Panamera offers though, in addition to all the luxury of a luxury sedan, is the uncompromised performance of a Porsche, with different drive modes to suit every mood or situation, and of course the Porsche badge on the front bonnet.
If you are a businessman, yet need more than your weekly 'speed fix', then you might want to take a serious look at the Porsche Panamera. Simply put, it is a 4-door sedan that will give you a measure of executive respectability that allows you to drive sedately around town, yet allows you to let down your hair whenever you feel like it, because it is really an elongated version of the 911.
Recently, I got to test not one, but two of the Panamera variants – the Panamera 4S, and the Panamera GTS. Both cars were equally fun to drive. Base price of the 4S is RM1,020,000, and you can load it up another RM218K if you like. The GTS starts at RM1,130,000, and you can add anything up to RM200k onto it as well. The thing about a Porsche is you can 'build' your car from the base specifications with an unending list of goodies to your heart's content, and Porsche Malaysia will bring in the car for you. Some people don't like to wait, and so what Porsche has done is to bring in some cars already 'specked up', and if you like it, you can drive it a way immediately.
The Panamera 4S that I tested comes as a RM1,238,526.00 package, in Carmine Red, with a matching red interior. The engine is a 3.0 litre biturbo (read as twin turbochargers) producing an awesome 420 horsepower and 520Nm of torque. That is enough to propel you from zero to 100 kmh in 4.8 seconds, and hit a top speed of 286 kmh. Fuel consumption, according to the NEDC (New European Driving Cycle) Combined cycle, is 8.9 litres per 100 kilometres – bear in mind that there are certain parameters under which every car is tested, and you can use this number as a guide, because you aren't likely to get these numbers if you drive it like I did. As a rough guide, add another 30 percent for day to day driving, and add 100 percent if you want to drive it hard.
The V6 was derived directly from the classic V8 from Porsche and is part of Porsche's engine downsizing program; it improves the dynamic performance of the Panamera S and Panamera 4S, and not only by adding more power and more torque. Since this V engine, with its 90 degree cylinder bank angle, is significantly flatter than typical V6 engines with a 60 degree cylinder bank angle, it also lowers the vehicle's centre of gravity. As a result, the Panamera 4S offers the same superior road stance and agility as the previous V8 models. The low-profile engine layout also contributes to preserving the typical Panamera silhouette with a low bonnet on the V6 models. Because the V6 is shorter than the eight-cylinder, the vehicle's centre of gravity is also shifted further back than before. The V6 has a compression ratio of 9.8:1, and can run on RON95.
The Panamera GTS comes with a V8, 4.8 litre naturally aspirated engine for the Porsche die-hards who still want to hear the unique sound effect that only a V8 can provide. Power is 440 horses and 520 Nm of torque. With a compression ratio of 12.5:1, you will need a minimum of RON97 fuel.
The Panamera GTS accelerates from Zero t o100 kmh in 4.4 seconds, and can hit a 288 kmh top speed. Fuel consumption in the NEDC Combined cycle is rated at 10.7 litres per 100 kilometres.
Both cars share the same body, with an overall length of 5,015mm, overall width of 1,931mm, overall height of 1,408mm, and a wheelbase of 2,920mm. Seating is only for four adults as the rear seats have a centre console, which is a compromise because of the all-wheel drive components including the humongous sports exhaust system that have to pass from the front to the rear of the car.
Viewed directly from the front or the rear, the average person would be forgiven if he or she thought it was a 911 – it is only from the sides that you will see that it is actually a sedan, but a rather sporty-looking one at that. Inside, the standard trim is probably good as it is, (I never saw it with standard trim), but the specked up one is pretty good, with all the little 'classy' extra cost touches that help Porsche be the most lucrative part of the entire VW group business.
Both the Panamera 4S and the GTS run an all-wheel drive system (which makes it really safe in terms of positive traction all the time, be it wet or dry), and a 7-speed PDK (Porsche's version of the Dual Clutch transmission) and steering-mounted paddle shifters.
To a car lover like me, driving either one of the Panamera models was like an ice cream treat to a thirsty boy – for two hours, I was in seventh heaven. You have a choice of various driving modes, form soft cruising to all out sports mode, so you can choose whichever mode that best suits your mode, or the road and traffic conditions. During the drive, there was a stretch where it rained – it was an opportune period of time that allowed me to test the all-wheel drive 'stick-to-the-road' drive train – of course I didn't go all out, but that secure feeling of ultimate grip was there.
The fact that it costs over a million ringgit keeps the Panamera very exclusive, and in this segment of the market, it appears that it is a case of the more it costs, the higher the prestige. That is not to say that car makers should just raise their prices to up the so-called snob value – it must deliver value if it is going to appeal to the astute businessman. In the case of the Panamera, it is the prospect of telling your driver to sit in the passenger seat whenever you want to enjoy some driving.