Thai Motor Expo 2014 – Mitsubishi Triton launched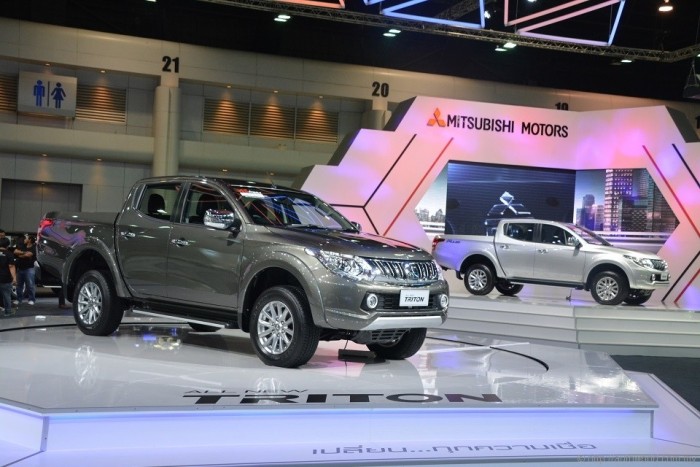 Shortly after its recent global debut, the latest generation all-new Mitsubishi Triton is officially launched for the Thai market at the ongoing Thai Motor Expo 2014. Tracing back a lineage that dates back to 1978, this Triton is Mitsubishi's fifth generation pick-up truck descending from the Triton/L200 family.
Thailand is the world's first market receiving the new model, consequent of Mitsubishi Motors Thailand (MMTh) being selected as the site to manufacture the pick-up. Mitsubishi plans to eventually have the Triton on sale in no less than 150 countries worldwide.
In line with segment norms, the all-new Triton is available with a choice of three bodystyles – double cab, single cab, and extended cab. The double cab version carries over the distinctive J-line separation between cab and cargo bed from its predecessor. A fully revised fascia adorns the front end, which in higher-specced models are fitted with LED daytime running lights and HID headlamps.
A total of three engine options have thus far been unveiled for the new Triton. The familiar 4D56 2.5-litre diesel and 2.4-litre 4G64 petrol engines continue service in improved states. The diesel is available in two states of tune – 126hp/240Nm standard tune for 4×2 models and a more potent 176hp/400Nm VGT version to be used in conjunction with 4×4 drivetrains. The multi-point injection petrol engine, meanwhile, makes 126hp and 194Nm.
Flagship engine, however, is the brand new 4N15 2.4-litre MIVEC turbodiesel generating 178hp and 430Nm. Featuring aluminium construction, variable geometry turbocharging, and operating with a low 15.5 compression ratio, Mitsubishi claims this engine is 20% more economical than the outgoing Triton's 2.5 4D56 VGT engine. Close proximity of this new engine's outputs with that of the 4D56 VGT suggests the possibility that the older engine might be one for low quality fuel markets like Malaysia.
Transmission options include the usual selection between manual and automatic gearboxes – the new 4N15 engine gets a 6-speed manual transmission whilst the 4D56 and 4G64 soldier on with the 5-speeder of the outgoing model. The 4N15 also gets the option of a 5-speed auto, whilst no auto option was mentioned for the two older engines.
The outgoing Triton's Easy Select 4WD system is carried forward to the new model, featuring the usual three operating modes – 2H, 4H, and 4L – with 2H-4H shift-on-the-fly up to 100kph; 4L mode now utilizes lower gearing than before for improved all-terrain performance. The Hybrid LSD system is similarly retained for improved handling, stability, and traction over poor surfaces.