Thai Motor Expo 2014 – Mazda2 Sedan Global Debut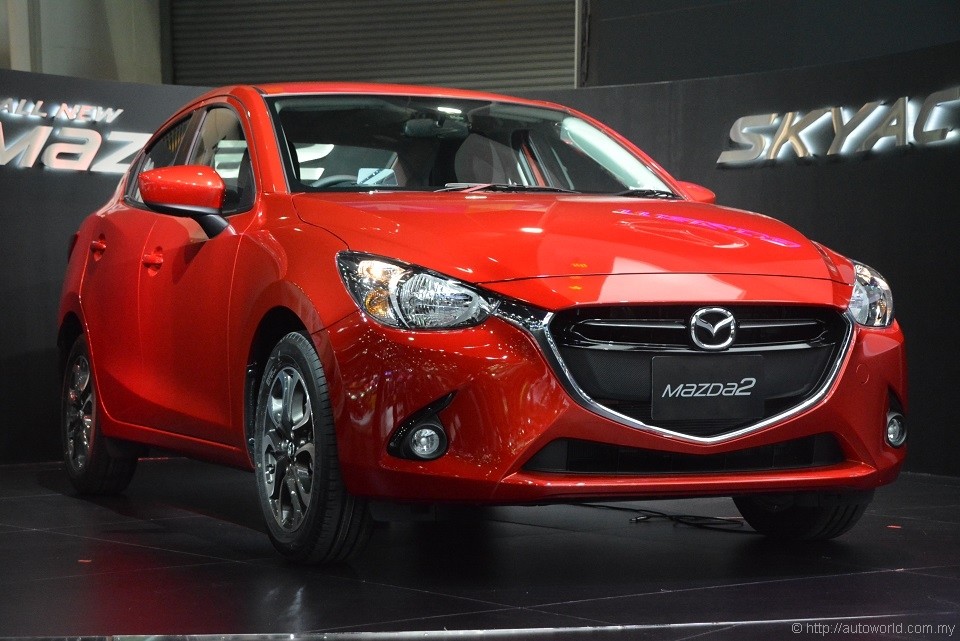 The biggest attraction, perhaps, of this year's Thai Motor Expo is remarkably a rather small car. The all-new Mazda2 Sedan makes headlines by having its world premiere today at the Impact Challenger Hall, Muang Thong Thani, in the outskirts of Bangkok.
The sedan's debut today comes nearly half a year after its hatchback sibling, and for the ASEAN market, both will be built at the AutoAlliance Thailand plant in Rayong. A new 1.5-litre diesel SkyActiv-D engine joins the 2's line-up, supplementing the existing petrol engine of identical capacity that came with the 2 hatch in its global launch.
The diesel engine's superior emissions and economy is significant in making the new Mazda2 the first vehicle to qualify in Phase 2 of Thailand's Eco Car programme, which requires a rated fuel consumption of less than 4.3 l/100km and carbon dioxide emissions lower than 100 g/km. Performance numbers of the engine reads 103hp @ 4,000rpm and a very usable 250Nm @ 1,500 – 2,500rpm.
For the Thai market, equipment specified include MZD Connect infotainment with central touchscreen, auto start/stop, i-ELOOP regenerative braking, dual airbags, electronic stability control, and anti-lock brakes. We also noticed that display cars at the expo were all fitted with halogen reflector headlamps rather than the more distinctive LED signature headlights shown in early promotional images of the car from Mazda.
The new Mazda2's launch in the Thai market and its qualification for Phase 2 of the Thai Eco Car programme comes on the back of renewed commitment from Mazda to further cement its 40-year presence in the country. At the AutoAlliance Thailand plant, which was built in JV with Ford, Mazda now fully accounts for the plant's passenger car capacity, with Ford having moved Fiesta production to its own FTM plant nearby.
Early this year, Mazda also set up a new manufacturing subsidiary in Thailand's Chonburi province that will start producing the company's in-house 6-speed SkyActiv-Drive automatic transmission in January. The plant will subsequently begin rolling out fully built SkyActiv engines by the end of next year.
Noting the significance of this development, Mazda Motor Corporation's Representative Director and Chairman, Mr Seita Kanai highlighted that, "Thailand will become the first country outside Japan to start comprehensive local production of Mazda vehicles – including transmission, engine, and vehicle assembly."