2014 Honda City Test Drive Review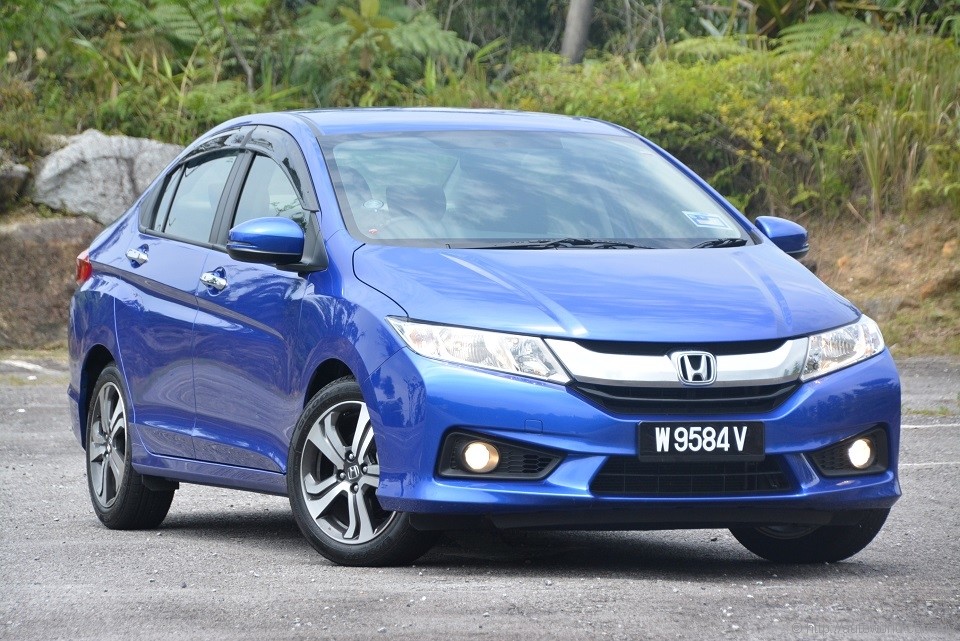 The first Honda City that arrived in our market during the late 1990s was little more than a reskinned previous-generation Civic offered as a budget model. Fast forward today, the City continues to be pitched as affordable car for the masses, but consumer tastes have evolved to the point where simply being cheap is no longer good enough.
In an age where vehicle downsizing also happens to be in vogue, cars in the City's segment are also seeking to capture buyers migrating down from a segment above but do not seek to be reminded of the fact by cheap-fitting interiors and sub-standard performance. At the same time, there are just as many buyers in this segment barely scraping enough of their hard-earned ringgits to claw out of their national cars.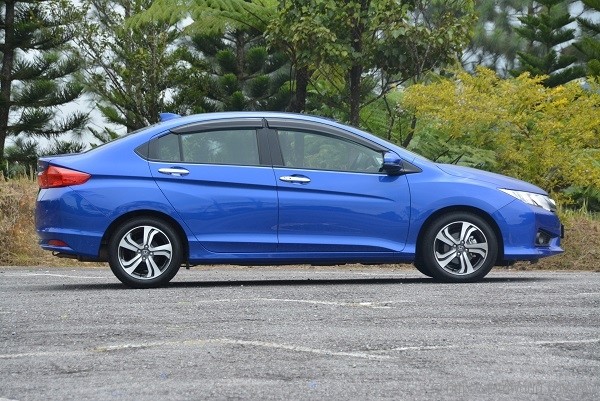 Despite similar-looking proportions, the new City is a ground-up rework from its predecessor.

The needs of the B-segment could indeed not be more conflicting, and the challenge to meet these demands are exceedingly tough. Yet, the sheer volume of buyers hovering in this segment make it imperative for any manufacturer with mass market aspirations to establish a presence here. For the last ten years, Honda has fared commendably well in this segment with the City, but they have been consistently playing second fiddle to the Toyota Vios.
The latest Vios has drawn some flak from critics, however, for not moving the game far along enough from its predecessor. This consequently sets the segment up very nicely, as Honda introduced its latest City this year with explicit objective of finally surpassing Toyota.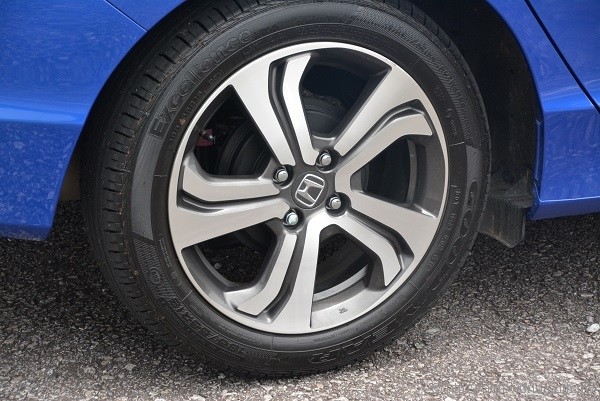 All variants now feature rear drum brakes as standard.

Prices & Variants
With the previous model, Honda had sought to position the City exclusively at the upper end of the B-segment, leaving the lower end versions of the Vios unchallenged. That stance has now shifted, however, as Honda rolls out a four-variant line-up that starts with a RM75,800 base model inching its way up to the RM90,800 Grade V range topper as tested in this review.
Compared to its two-variant predecessor, the City's range now consists of a similarly-priced top model, but the three models below it all come lower than what Honda had asked for what was previously the cheapest City. The two sub-RM80k Grade S and Grade S+ variants, in particular, open the City up to a whole new set of buyers with the likelihood of tempting a few from the national brands.
Understandably, the lower models sport modest suites of equipment that accordingly reflect their price tags – steel rims on the Grade S, for example. Many key-selling features advertised by Honda, such as stability control, six airbags, integrated touch screen, touch panel climate control, rear air-con vents, rear 12V sockets, and even front fog lamps, are exclusive to the Grade V model.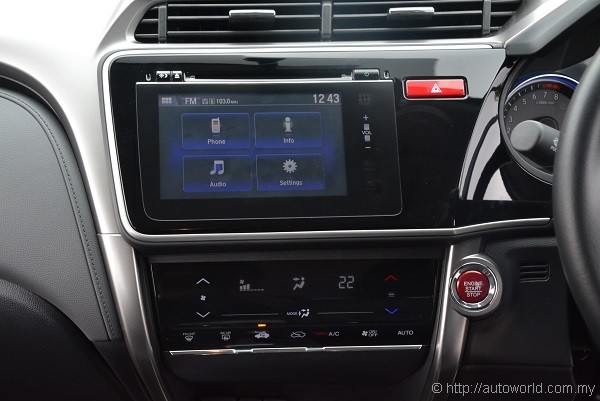 Centre touchscreen and touch panel climate control creates a seamless appearance.

Specifications
Despite similar styling and a carryover engine which spans the entire range, the new City is a ground-up redevelopment of its predecessor. Its platform is once again shared with the Honda Jazz, a fact made obvious by the rising floor under the front seats designed to accommodate the Jazz's centrally-mounted fuel tank – interestingly, the City's fuel tank is placed beneath the rear seats, as you would find in most other cars.
Suspension layout follows segment norms with front MacPherson struts complemented by a rear torsion beam. Anchors are dropped by ventilated discs up front, but Honda no longer offers rear disc brakes even as an option – all variants of the City now settle for drum brakes at the rear. From a performance standpoint, we understand this is an entirely adequate solution; even though we still prefer the sportier appearance of having all-round discs.
Up front, the familiar 1.5-litre SOHC i-VTEC that served a generation of Honda's B-segment vehicles is pressed for another model life cycle of service. Pushing out 118hp and 145Nm like it did in the previous City, the L15A engine this time mates with Honda's new Earth Dreams CVT in place of the conventional 5-speed automatic transmission. This partnership is repeated in the Jazz with the same numbers quoted.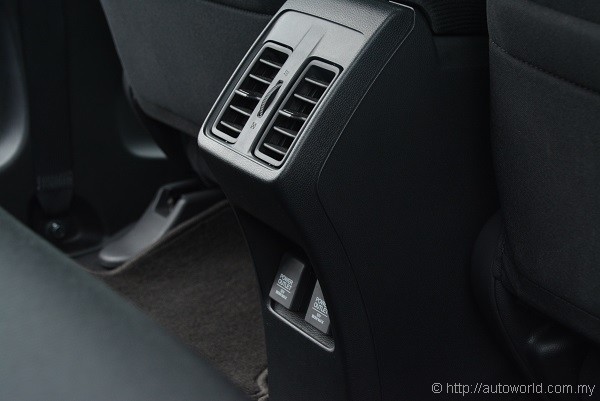 Rear passengers get not only dedicated blowers, but also two power sockets.

Exterior
As the predecessor's appearance was relatively well-received, Honda understandably adopts an evolutionary approach in styling the current City, even if all-new underpinnings reside underneath. The basic silhouette is familiar, although styling cues are notably more expressive, the deep-cutting belt line being a particularly prominent example. There are a couple of less than subtle BMW-inspired styling elements, namely the L-shaped tail lights and our test car's Estoril Blue-aping paint job.
Between the variants are a number of differentiating touches separating them. The Grade V model is notable for exclusively sporting front fog lights and 16-inch alloy rims, whilst chromed door handles and side mirror-mounted blinkers are offered in the Grade E model upward. Even the headlamps get different finishing, although to our eyes, the smoked trim headlights of the lower-spec models come out looking more upmarket to the reflective finish in our test car. All versions use halogen reflector headlamps.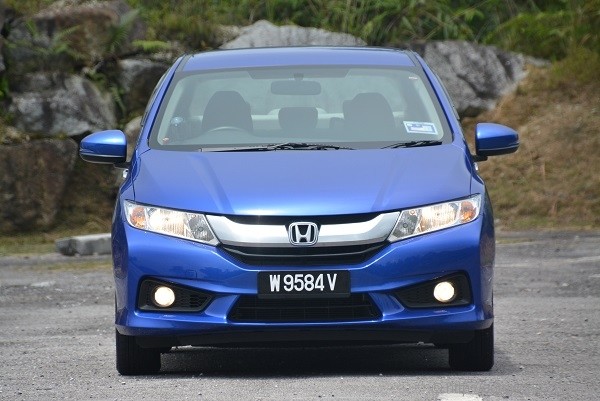 Front fog lights are exclusive to the Grade V model.

Interior
The City's is another shining example of Honda's much-lauded packaging prowess and in this instance, utility is even accompanied by some degree of style. In the Grade V model as tested, the central touchscreen and touch panel combine to give the interior a properly advanced and upmarket appearance.
Overall user-friendliness of the cabin conform to Honda's typically high standards; compared to the quirky Renault Fluence that we reviewed earlier, the City is indeed a contrast with an exceptionally intuitive layout of controls. The centre console is also usefully compartmentalized, giving you not only space to empty the content of your pockets, but varying sizes of cubby holes to neatly organize them.
Besides getting all the various little details right, Honda also did a fair job in giving the City's cabin positively spacious dimensions – enough to make a few C-segment sedans cramped by comparison. The driver gets a good range of seating position adjustment with variable seat height and tilt-and-telescopic steering. Thigh support is a little lacking, however, something that can be easily rectified for the facelift by reshaping the seat cushion. There is also the unbelievably cavernous 536 litre boot, one of the biggest available amongst sedans of all sizes, let alone its segment.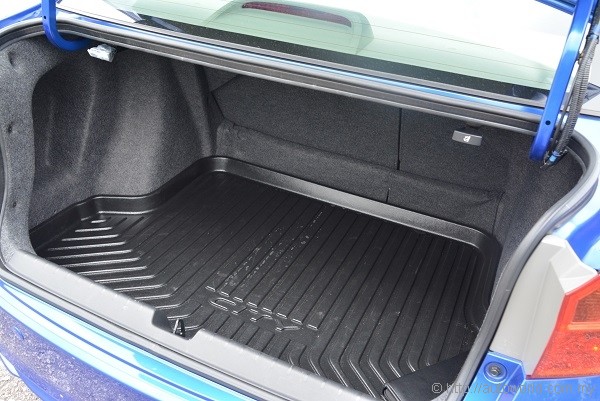 Boot space is an eye-opening 536 litres – bigger than even C-segment vehicles.

Driving Experience
Retention of the predecessor's engine and introduction of a CVT, a transmission type better renowned for fuel economy that performance, has led us to anticipate a very average driving experience at best for the new City. The reality turned out to be more interesting, however, as Honda's expert calibration of its new Earth Dreams CVT has allowed more efficient extraction of performance from the tried-and-trusted engine.
As we reported whilst test-driving the Jazz recently, the CVT is extraordinarily intuitive in anticipating your need for hard acceleration. Even though it does not try to mimic the stepped sensations of conventional transmissions most drivers prefer, is it very effective in keeping the engine at the peak of its torque curve, ensuring the availability of brisk and effortless acceleration at all times.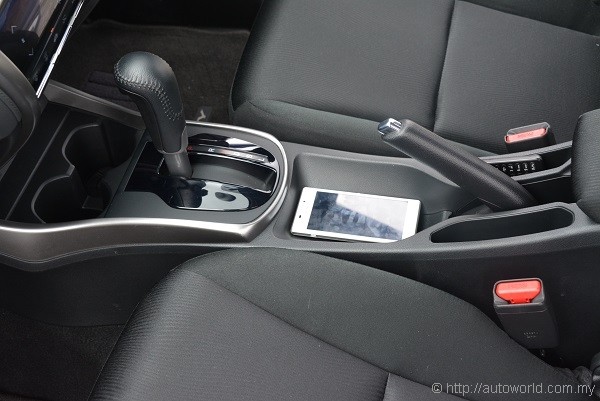 As usual with Honda, the centre tunnel is usefully laid out and compartmentalized for small items.

Our pleasant surprise at the effectiveness of the City's engine-drivetrain combo extends to its ride and handling characteristics as well. Even on the 55-series 16-inch tyres of our Grade V test car, the City's suspension coped admirably with ruts and poor surfaces. There is every reason to anticipate that the 175/65 R15 rubber of lower models will deliver an even more comfortable ride, perhaps at the slight expense of directional stability due to narrower tyres.
Like its sister car, the Jazz, the City has adequate balance and composure has been dialed into the chassis that a good driver could have some serious fun with it – body control is adequately tight to enable corners to be tackled with considerable aplomb. Steering response, whilst accurate, is on the slow side, although it is an entirely understandable compromise for a car of the City's urban-biased disposition.


Verdict
Given an excellent product to work with, the Honda Malaysia team played their cards spot on in tailoring the City for our market. The team made notable calls such as refraining from paddle shifters but giving high levels of safety in the form of six airbags and stability control, albeit in the higher models only. These are fair enough decisions, and in a segment where margins are tight, smart compromises needed to be made in order to deliver a product that is as competitive as it is profitable.
Such is the breadth of qualities exhibited by the City – interior spaciousness, equipment, dynamics, and performance – one finds a car that not only trumps its competitors, but also questions the need to buy more expensive cars from one segment above. The City is a car that is engineered well and specced right, convincingly delivering in all areas that matter, whilst cleverly compromising in areas that do not.