Renault Fluence Test Drive Review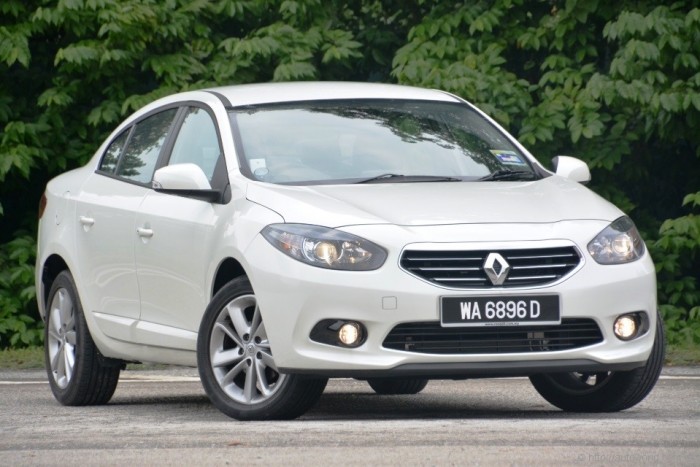 The commonly-accepted benchmark pricing for a highly-specced C-segment sedan these days is in the RM130k range, where top variants of the Honda Civic and Toyota Corolla reside. From there, the spectrum slides gradually downwards to about RM115k where these very same models offer themselves in more austere trim levels with lower content.
But such is the nature of competition that many brands are perching themselves in the RM115k – RM120k bracket in hopes of stealing a few sales from the segment heavyweights. Indeed, the same kind of money that buys you a scantily-equipped Corolla Altis 1.8 can also get you the Ford Focus, Mitsubishi Lancer GTE, and Hyundai Elantra 1.8, just to name a few decent alternatives. That crowded pool of cars is now joined by the Renault Fluence.


Pricing & Specifications
We don't often discuss after sales matters in our review, but the package put together by Renault's local distributor TC Euro Cars certainly merits very close attention. Besides the assurance of a five-year factory-backed warranty with no mileage restriction, customers of the Fluence also have their services in the first five years or 100,000km fully covered. To top it off, you don't have to take time off work to send your car to the service centre; make an appointment, a TC Euro Cars staff will come over to pick the car up from you.
On the car itself, the Fluence continues to impress with a very commendable range of amenities – reverse camera, keyless entry, dual-zone auto climate control, automatic headlamps, rain-sensing wipers, and cruise control are standard. The keyless system is particularly nifty, automatically locking the vehicle as the key fob is moved beyond a certain distance. The factory-integrated R-Link infotainment system consists of a free-standing touchscreen, GPS navigation, along with USB & Bluetooth connectivity.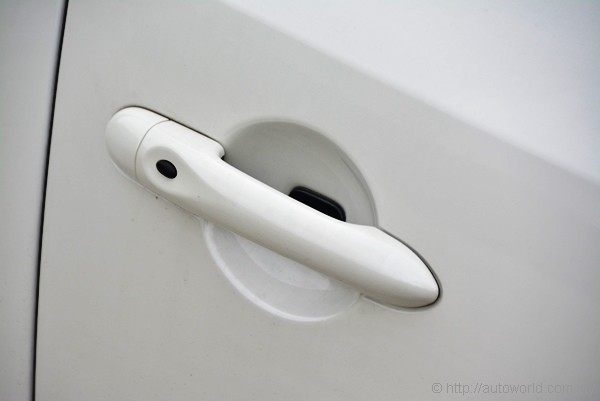 Keyless entry comes as standard. Auto locks once key fob moves a certain distance away from vehicle.

Mechanically, the Fluence is based upon the Renault/Nissan C-platform that also spawned the current-generation Megane; it consequently shares the Megane's suspension layout consisting of front MacPherson struts and a rear torsion beam. A familiar engine resides under the hood; Renault calls it the M4R, but we know it better as the Nissan MR20DE that was first introduced here in the previous-generation Sylphy and still serving time in the Teana and X-Trail. Mated to a CVT with six virtual ratios, Renault quotes the engine with outputs of 143hp and 195Nm.
In light of the specifications offered plus its class-leading aftersales, it would indeed be churlish of us to think of Renault's asking price of RM115,000 before insurance for the Fluence to be anything other than exceptional value – you simply can't get such a combo of goodies anywhere else at that price.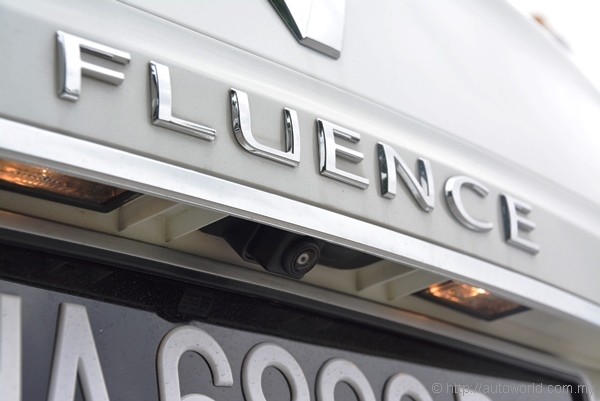 Reverse camera is factory-fitted.

Exterior
At a time when even the Toyota Corolla and Nissan Sylphy carry some semblance of sportiness in their appearance, the Fluence's plain Jane looks are a bit of a letdown, even if its extremely inoffensive. Overall styling is clean with few clutters, although the thick lower door cladding have an ungainly-looking puncture where the front and rear doors meet, presumably for clearance when opening.
Every aspect of the Fluence screams of the conventional, there isn't a single detail to wow a captive audience. Illumination is unsurprisingly provided by conventional bulbs all-round. Headlamps are halogen lighted, housed behind projector lenses to maximize throw. There is manual leveling adjustment, but overall, we found its brightness unsatisfactory, even in the context of other halogen headlamps.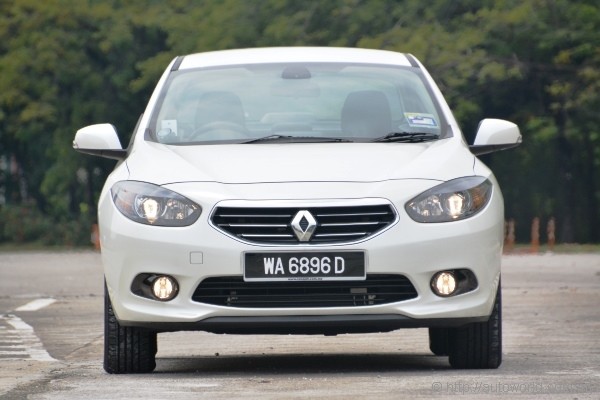 Front halogens reside within projectors, but illumination is unsatisfactory.

Interior
Much like its exterior, the Fluence's cabin is utterly free of flair or flourish in its design. Shared with the Megane, the dashboard sports a very straight forward appearance, although that visual simplicity belies some rather unconventional ergonomics; those accustomed to the straight forward layouts of Japanese sedan's will find the Fluence's control scheme anything but straight forward to master.
It is, in actual fact, a remarkably uncomplicated set up, and we believe familiarity will easily make them second nature to any owner. Still, it doesn't render some of its really peculiar ergonomics any less perplexing; for example, the cruise control on/off switch is placed adjacent to the hand brake lever whilst the set/resume/accelerate/decelerate controls are placed on the steering wheel. Audio controls are clustered on a stalk mounted and partially obscured behind the steering wheel; with practice it becomes easy enough to operate, but first-timers will definitely fumble.
Owing to its less than impressive appearance, it is deceptively easy to overlook the Fluence's excellent build quality. Material selections are well within segment norms, but overall fit and finish offer little for us to rant about. Cabin and boot are both usefully spacious, but compartments for small item storage appear regrettably neglected – the glove compartment feels cramped and combined capacity of two cup holders and a lidded storage box along the centre console is genuinely unremarkable. Door pockets do not offer much volume to shout about either.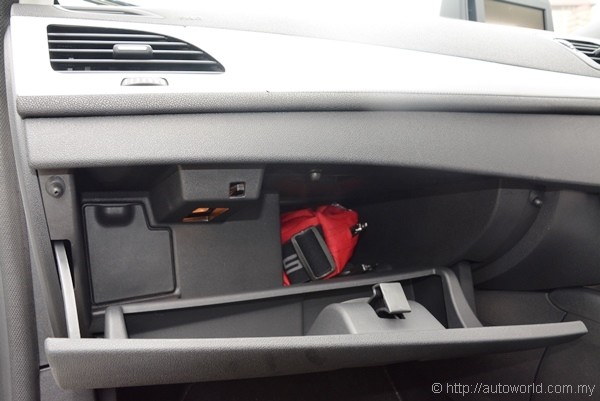 Glove box is rather small.

Driving Experience
Its dashboard may look uncannily identical, but don't for a moment expect from the Fluence any kind of driving excitement that even remotely resembles the much-loved Megane RS. For starters, the helm is nowhere near as crisp and communicative without the magical touch of RenaultSport engineers. It turns with pleasing weight, but feedback is practically non-existent – around corners, there simply is no way to accurately judge levels of available grip.
The chassis set up actually feels well-balanced and highly composed, demonstrating commendable poise when taking fast corners. This makes the uncommunicative steering an even greater pity, for it would have elevated the Fluence from merely good to a level closer to great. As things stand, a 'competent' rating will have to do as far as its dynamic evaluations are concerned.
Clearly then, the Fluence is not configured to please drivers with dynamic inclinations. Indeed, if its objective is to define refined and fuss free motoring, it could do a lot worse than picking the proven Nissan MR20 engine as its powertrain of choice. With its familiar partner, the Jatco-sourced CVT, the engine is an efficient generator of smooth and unruffled progress, capable of propelling the Fluence to highway speeds with minimum fuss. For a naturally-aspirated mill, this engine delivers a healthy dose of mid-range torque, useful when situations call for brisk progress.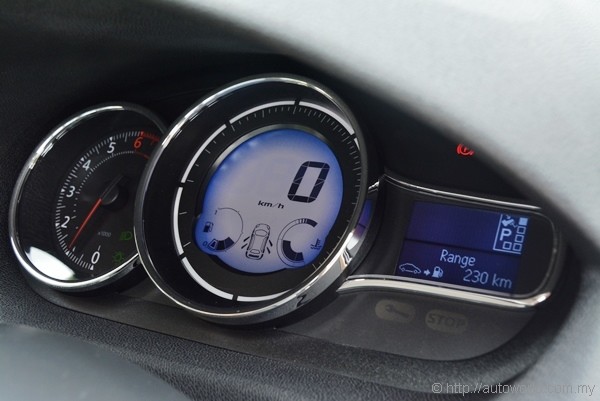 Digital speedometer would amuse the techies.

Verdict
Compared to its C-segment rivals, the Fluence is a vehicle that is understated in its appearance and ultimately unremarkable to drive. It is also not without quirks, the kind which we would more easier forgive in a Megane RS, and perhaps less so in a car with mainstream ambitions. From a product standpoint, the Ford Focus at a similar price offers a more convincing blend of driving dynamics and no less comprehensive a range of kit.
The Fluence is nevertheless as well-equipped a car one can hope for at the price, more than adequately covering the basics. Its class-leading after sales package is where Renault gives the customer full value with exceptionally lengthy coverages of warranty and free maintenance, plus the luxury of having your car picked up for each service. With the Fluence, you buy more than just a car; you're buying an ownership experience.