Mercedes-AMG GT makes global debut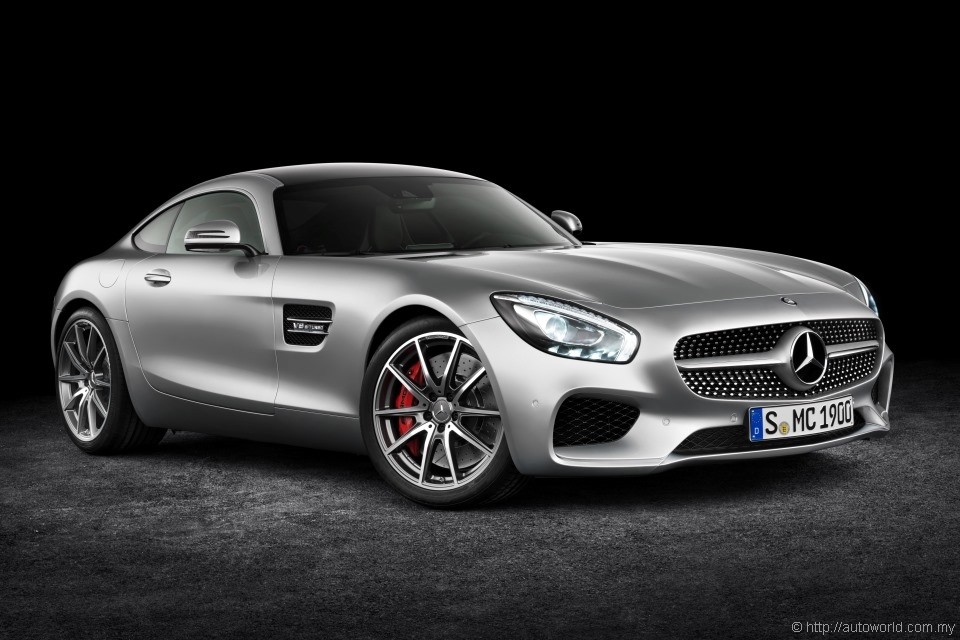 The AMG division of Mercedes-Benz began life tuning regular Mercedes models into high performance machines. In 2009, the company made history by launching its first in-house developed model, the SLS AMG, of which there are no garden variety Mercedes-Benz counterparts. The SLS was discontinued this year and although not a direct successor, the new Mercedes-AMG GT is significant for being AMG's second ever in-house designed model.
Layout of the GT follows the classic front-mid engine rear-wheel-drive configuration that perches a specially-developed 4.0-litre bi-turbo V8 just aft of the front wheels hooked to a rear-mounted 7-speed dual clutch transmission. Coupled with lightweight construction, the GT is therefore not only finely balanced with a 47:53 front/rear weight distribution, but also light on the kilos, tipping the scales at 1,540kg kerb.
Advanced materials dominate the GT's construction make-up. Chassis including greenhouse and body are made out of light alloy, the boot lid out of steel and the front deck out of magnesium. Reduced weight over the front axle is naturally good news, with minimized understeer the expected benefit. Over 90 percent of the weight-optimised spaceframe is made out of aluminium components. Indeed, the usage of aluminium continues to its all-round double wishbone suspension system, where the wishbones, steering knuckles, and hub carriers on the front and rear axles are manufactured entirely out of forged aluminium to reduce overall unsprung mass.
Under GT's elongated bonnet sits the 3,982cc M178 individually hand-built powerplant that is effectively the welding of two units of the 2.0-litre turbo engine found in '45 AMG' models. Its pair of turbochargers are mounted between its two cylinder banks for more compact assembly. The engine also uses dry sump lubrication, which not only ensures stable lubrication when under high cornering forces, it also allows the engine to be mounted lower, improving stability around corners.
The engine is offered in two states of tune, with a 462hp/600Nm version powering the 'base' GT followed by an uprated 510hp/650Nm configuration for the harder-edged GT S model. Both versions are capable of top speeds in excess of 300kph and can hit 100kph from rest within four seconds; the GT needs 4.0 seconds flat and tops out at 304kph, whilst the GT S betters those numbers by margins of 0.2 seconds and 6kph respectively. Fuel consumption and CO2 numbers read 9.3 l/100km and 216 g/km for the GT and 9.4 l/100km and 219 g/km for the GT S.
Pictures: Official Mercedes-Benz release.