2014 Honda Jazz Test Drive Review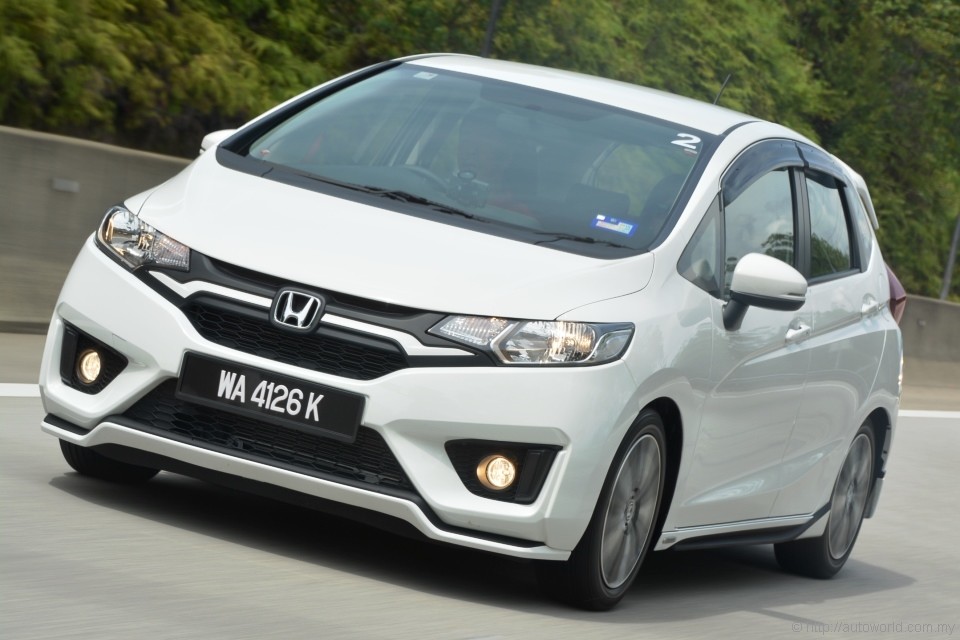 For a good number of years, the Honda Jazz was positioned in our market as a vehicle for slightly more affluent youngsters; those with more than RM100k to spend on a car, but find the bigger C-segment vehicles too opulent for their tastes.
This premium positioning was not by choice on Honda Malaysia's part, however, as the Jazz has always been, in fact, conceived as an affordable car for the masses. Just like the ill-fated Freed MPV, the Jazz's price as a fully-imported vehicle was pushed upwards by import and excise duties. It was a wonderful vehicle, but general consensus was that the kind of money being asked for was too much to justify the package being offered.
More recently, however, Honda Malaysia switched sourcing of the Jazz to local assembly, and consequently was able to lop a sizeable chunk of money off its price tag, making it considerably more affordable; a trend pleasingly continued by the recently launched all-new third-generation Jazz introduced two months ago in our market.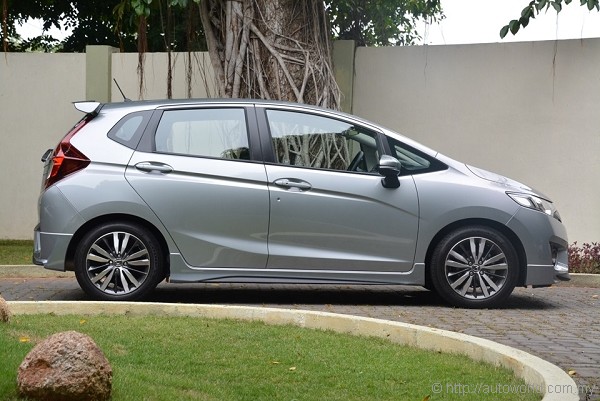 Our review is based on the range-topping V model with 16-inch rims. Lower models run on 15s.

Prices & Variants
Far cry from its fully-imported days as a RM100k car, the new Jazz makes headlines for being the most affordable Honda model currently on sale, with prices starting at RM72,800 for the entry-level Grade S variant. In this most basic format of the Jazz, Honda commendably offers tilt-and-telescopic steering, driver seat height adjust, ISOFIX mounts, ABS, dual airbags, and reverse sensor among other equipment.
For our money, however, we recommend going at least for the RM79,800 Grade E mid-spec or better still the RM87,800 Grade V flagship. Crucial equipment added to the middle child variant include keyless entry, engine start button, electric side mirror adjustment, and perhaps most importantly, electronic stability control, or Vehicle Stability Assist (VSA) in Honda-speak.
Pushing all the way for the range topper adds auto climate control with touch panel interface and considerable enhancement of its infotainment system swapping the standard audio unit for a 7-inch touchscreen with dual USB ports and HDMI access, the latter helping to facilitate smartphone mirroring on the touchscreen. Unfortunately, this factory-fitted system only supports iOS for the time being. Interestingly, there is an option for a locally-sourced dealer-fitted GPS touchscreen system that is actually able to mirror link with Android phones – that is a RM3,200 outlay if you're interested.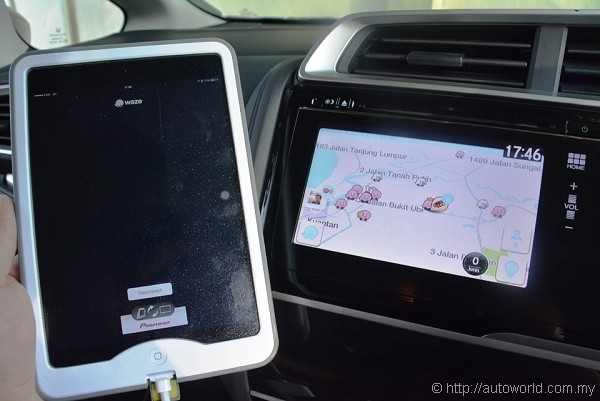 Factory audio system of V Grade model even includes smartphone mirroring function.

Still on the subject of options, Modulo and Mugen aerokit packages are available for buyers wishing to spruce up the appearance of their vehicles; these kits are priced at RM2,650 and RM4,900 respectively. Separately, there is also a Modulo utility package at RM1,250 adding footwell lights, illuminated side step, trunk tray, and trunk organizer. Various items of each of these packages can also be purchased separately if you so please.
Biggest and extremely surprising oversight of the kit count has to be the absence of a reverse camera, even as a cost option, which we would have happily recommended paying for. Even if we concede that a half-competent driver should be able to reverse a car as compact as the Jazz unaided, the reverse camera this day and age has assumed the role of an important safety tool to help you identify low-lying hidden obstacles (read: toddlers) behind the vehicle.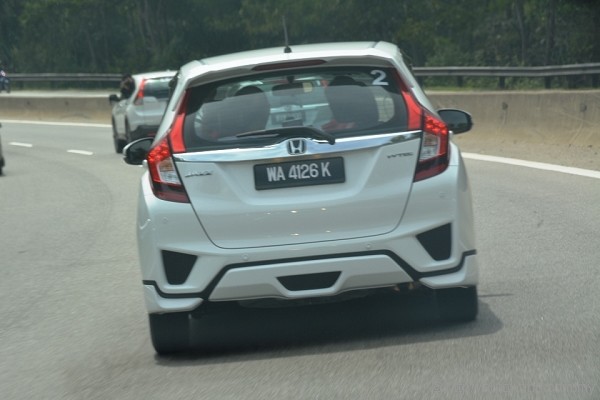 Buyers can also choose between two styling bodykits to enhance the appearance of their Jazz.

Specifications
Despite developing an all-new platform, shared with the current-generation City by the way, Honda engineers saw little reason to deviate from the basic formula that has served the Jazz so well for two model generations. It carries over the previous model's 1.5-litre SOHC i-VTEC engine at unchanged outputs, although the familiar 5-speed automatic transmission has been phased out for a CVT.
Mindful that CVT problems plaguing the City and Jazz of two generations ago are still fresh in the memory of many Malaysian motorists, Honda paid extra attention to refine the transmission's overall durability. Mediating transfer of drive between the engine and transmission is a torque converter. Compared to the start-up clutch used in earlier CVTs, the torque converter is better suited to handle the rigours and stresses of stop-and-go traffic, especially in the context of heavy-footed drivers.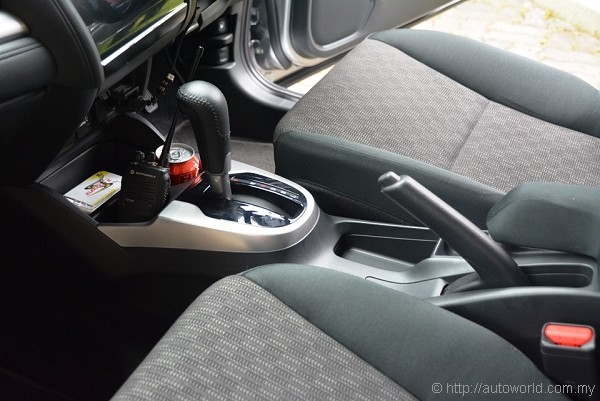 Another familiar design element of the new Jazz carried over from its esteemed predecessors is its centrally-placed fuel tank. According to Honda engineers, the deployment of this configuration is crucial to enable the implementation of the Jazz's famed Ultra Seats because in most cars, the fuel tank is placed beneath the rear passenger seat. Refinements to the concept introduced in this model was to make the tank thinner but wider, thus enabling the front hip point to be lowered to more natural car-like seating position.
A remarkable factoid that was shared by Honda's engineers is that this central fuel tank configuration has been patented by Honda until 2020, meaning no other manufacturer can use this layout until then. Interestingly, the City does not share this layout, its fuel tank defaulting to the traditional position.


Exterior
Whilst the underlying formula of the new Jazz is largely unchanged from its predecessors, the same cannot be said of its exterior, which now sports a radically sharpened and harder-edged appearance. First impression is that it almost resembles a junior version of the dynamic-looking European Civic hatchback, perhaps a conscious attempt by Honda to increase the Jazz's appeal to an even younger crowd.
Size-wise, the new Jazz is notably lengthened from the previous model, gaining an additional 40mm from stem to stern with three quarters of that additional length slotted between the wheels. Little change to the vehicle's cross-sectional size, however, as width and height both measure to within a millimeter of its predecessor's corresponding dimensions.
Choosing between grades have the effect of dictating the appearance of your Jazz, and there is considerable variation between the three trim levels. Alloy rims are only available in the two higher grades, which also get a more upmarket-looking high-gloss black chrome-lined front grille; the base model settles for steel rims and a plain black front grille. Setting itself apart from the pack, the range-topping Grade V model exclusively gets front fog lights, side mirror-mounted signal lamps, and alloy rims upsized from 15 to 16 inches.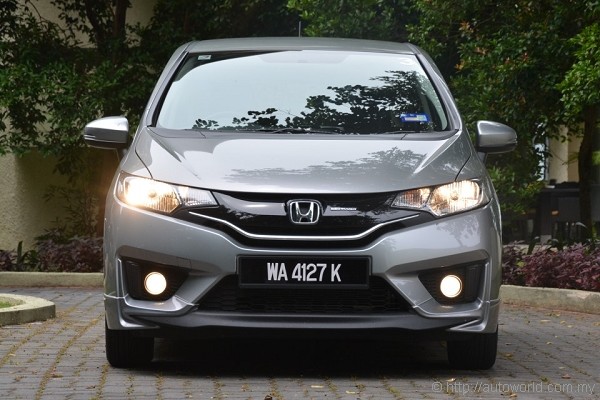 New model ditches the conservative styling of its two predecessors.

Interior
Since its first generation, the Jazz's existence has always been defined by its peerless interior packaging. The new third generation model not only maintains that, it expands that facet considerably, an impressive achievement considering how high the bar was already set by its predecessor. Fit and finish are not far from segment norms, but overall utilization of space is unbeatable, even from vehicles a class above.
Visual appeal of the cabin is elevated considerably from its predecessors, but relative to segment players, its appearance is no better than distinctly average. Where Honda ultimately excels, however, are in the finer details – deployment of controls and distribution of small item storage spaces, are both executed with considerate thought to practicality and ease-of-use. Drivers of varying sizes should have no problems finding a comfortable seating position, with seat height adjustment together with tilt-and-telescopic steering both commendably offered as standard fitment for all variants.
Main USP of the Jazz is, of course, Honda's trademarked Ultra Seats, which gives the Jazz the kind of practicality and versatility a vehicle this size would otherwise have not dreamed of. As illustrated by pictures accompanying this article, the seats can be deployed in various configurations to suit different needs, but what's perhaps most impressive about Ultra Seats is that they are exceedingly simple to operate – mechanisms click with effortless precision.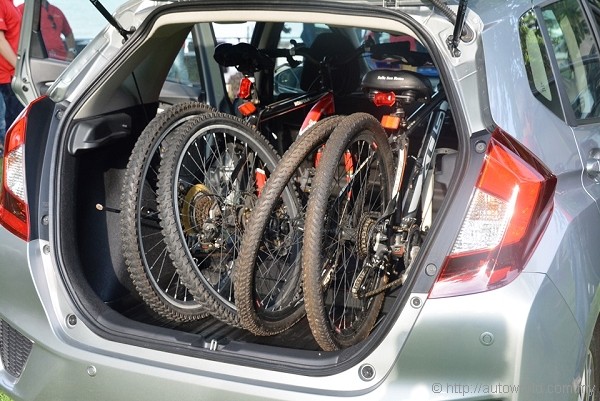 In Utility mode, the Ultra Seats fold down the same way as regular split folding seats in other cars

Driving Experience
Typical expectations for cars like the Jazz is one that outright sportiness ought to play a distinct second fiddle to effortless day-to-day usability. It is the kind of compromise that we can forgive and perhaps one that majority of the Jazz's urban-dwelling target buyers actually want. With the new model, Honda had hoped to narrow the gap between the two qualities above, although the order of their importance remain unchanged.
Indeed, the new Jazz on the move feels notably more planted and composed than its predecessor. It displays confident poise around corners and generally feels unfluttered at speeds even beyond the 120kph mark which Honda optimized the Jazz's NVH package for. Steering feedback is still lacking for our tastes, but weighing is satisfactory and the chassis displays commendable balance when subject to changes in direction. Minor drawback is a surprisingly firm ride on our Grade V test car with 55-series 16-inch tyres; we hope to re-examine the case in a lower grade test car with higher profile 15-inch rubber.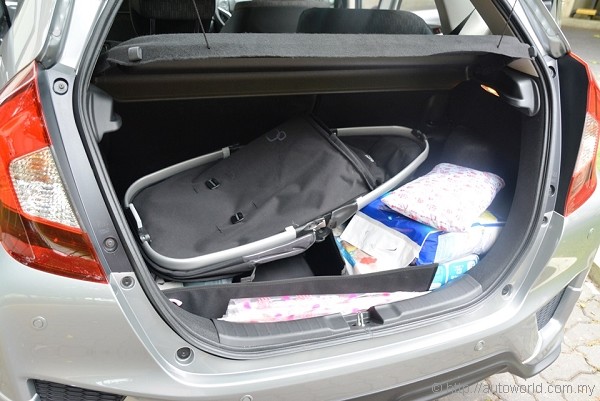 Rear hatch is able to swallow quite a bit of stuff even with seats up.

Malaysian buyers will also be pleased to know that our market receives the Jazz with enhanced insulation compared to Thai models which we briefly drove earlier this year in Hua Hin. As a result, the cars we get are noticeably quieter; on top of that, all variants receive a common NVH insulation package, as opposed to Thai models, which get different settings according grade.
On the performance front, the Jazz offers satisfactory punch to facilitate commendably high cruising speeds. The proven 1.5-litre engine yields no surprises, but the new Earth Dreams CVT is indeed a revelation, slotting itself right alongside Toyota's Super CVT-i and Nissan's X-Tronic as among the most polished CVTs in the market. We still much prefer the Toyota CVT for its ability to convincingly simulate the stepped feel of a regular automatic transmission, but Honda's new contraption deserves praise for its uncanny ability to keep the engine spot on at the peak of its power band. It does not offer the kind of sensations that enthusiasts prefer, but there no questioning its impressive effectiveness.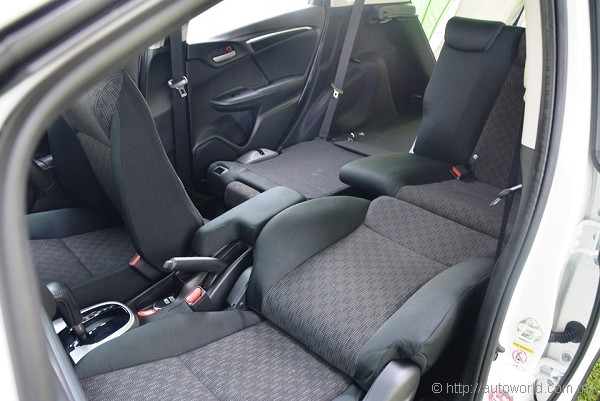 Refresh mode has intriguing applications. You can join the front and rear seats to form a bed.

Verdict
Despite massively improved dynamics, we still rate the Jazz lower than that of the Ford Fiesta or even the Suzuki Swift in terms of sheer driver enjoyment and engagement. Not that this is any detriment to the Jazz's case, however. To start with, the Honda is still not half bad to drive; it's not as communicative as the Ford or Suzuki, but almost matches them for chassis balance – you'll need to push the cars really hard to really see any difference. Compared to its predecessor, a smaller gap now separates the Jazz from class best dynamics.
Things swing distinctly in Jazz's favour once comparisons are taken into the cabin. Honda's unrivaled packaging prowess makes most of the Jazz's peers feel cramped by comparison and distinctly compromised as a whole. The apparent ease and nonchalance which Honda manages interior space goes as far as making rivals appear like they did not try hard enough. If there is a cabin in this price range that was designed and configured with more considerate thought than the Jazz's we haven't found it.
By retaining its focus on traditional strength areas of the Jazz whilst suitably sharpening its dynamics, Honda has created a vehicle with a satisfyingly wide breadth of appeal and ability. Buy the Fiesta or Swift if driving enjoyment really mean the world to you, but if you have a wider brief of requirements, the Jazz is indeed the most convincing all-rounder at its price.