Infiniti Q50S Hybrid Test Drive Review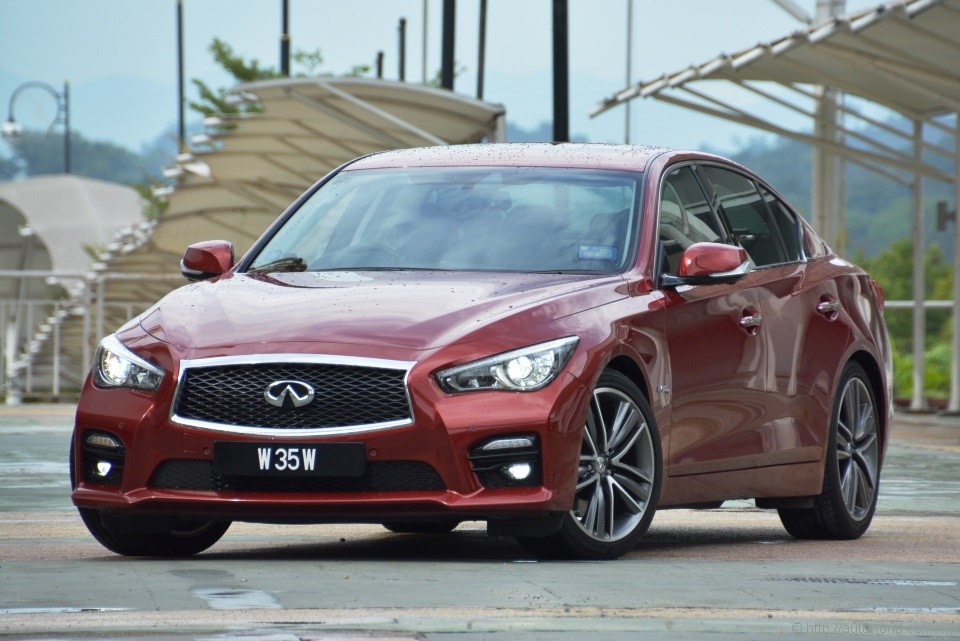 Infiniti is steering itself into a new era launching the all-new Q50 premium sedan in the Malaysian market today. Competing against the likes of BMW's 3 Series and Mercedes-Benz's C-Class, the compact rear-wheel drive sedan marks the start of a new generation of products that will see Infiniti launch at least two new models every year until 2020.
Main seller of the Q50 is likely to be its Mercedes-powered 2.0-litre turbo versions that share their engines with the E-Class. Priced from RM248,800 without insurance, it is a product of decent value and should generate serious sales momentum; troubling established class players is perhaps unlikely, but the Lexus IS 250 will most certainly have something to think about.
At the moment, however, Infiniti's demo fleet has yet to include registered variants of the 2.0-litre turbo, so our review today will be based upon the range-topping Q50S Hybrid variant instead. As its 'S' suffix denotes, the hybrid model is range-topping not only in terms of offering superior trim, but serves as the line-up's performance flagship too.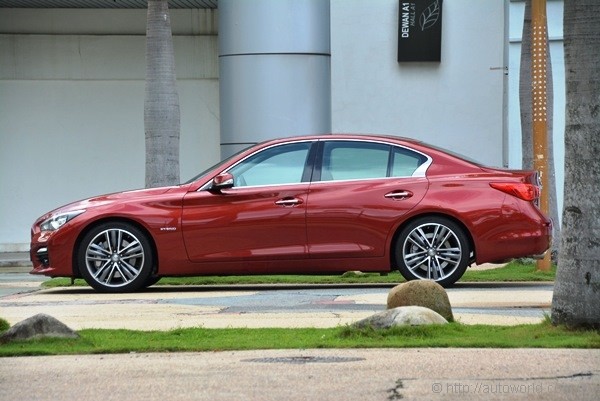 Sharp looks will earn the Q50 many admirers.

At RM398,800 a pop, however, the hybrid version does not come cheap, but the money spent does buy impressive levels of technology, which we will go into shortly. Infiniti is well aware of the hybrid version's limited appeal, however, so this variant is only being offered on a per order basis. Local distributors Inspired Motor Sdn Bhd will only be stocking the 2.0-litre turbo model.
Focusing on the regular amenities, both versions of the Q50 come standard with a dual-touchscreen infotainment unit with voice control, torque vectoring (known as Active Trace Control here), dual memory electric seat adjustment, and a host of other features that properly shame German equivalents that are comparably priced with the 2.0-litre model. Also standard in the 2.0 is reverse camera, which is optionally upgradeable to the 360-degree Around View system that we last saw not too long ago in the Nissan Elgrand.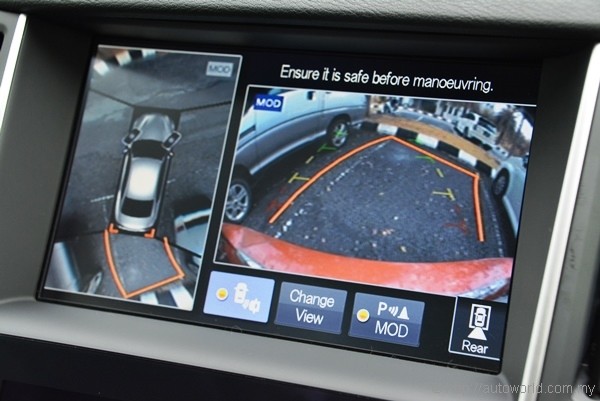 All-round cameras support Infiniti's around view system

Specifications
The Q50 amusingly shares the same key fob design (keyless entry, by the way) as you would find in a regular Nissan, but that's about as low-tech as things get in what's otherwise a technological powerhouse. At the level of our range-topping hybrid test car, the Q50 packs enough technology to match an S-Class, let alone the C-Class (and 3 Series) at which it is aimed to compete against.
Headline news of the Q50, and the reason why we pursued the test car from Infiniti with considerable vigour, is that it is the world's first series production car to be equipped with electronic steer-by-wire technology, or as Infiniti would like you to call it, Direct Adaptive Steering. Instead of a traditional steering rack, the Q50S Hybrid directs its front wheels using electronic signals generated by the angle of rotation measured on the steering wheel. Infiniti claims that the immediacy of electric signals mean that even the minutest delays in steering response, necessary to accommodate steering rack damping, can be eliminated altogether thus creating a steering that is quick yet free of unwanted kickback.
Accompanying the revolutionary steering system as a range of active driving aids that is among the most comprehensive in the business. Autonomous braking is taken to a new level with Predictive Forward Collision Warning, a system which monitors movements of up to two cars ahead and automatically brakes in anticipation. Meanwhile, threats from the lateral direction are monitored and mitigated by Active Lane Control, Lane Departure Prevention, and Blind Spot Intervention, systems which nudge the steering in the direction away from danger perceived by the car's sophisticated network of sensors. This package of active driving aids together with the Direct Adaptive Steering system and a few other amenities can be specced into the 2.0-litre model as well at a combined price of RM30,000.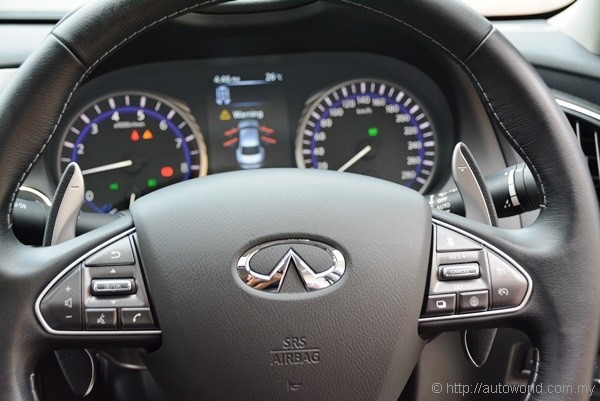 Direct Adaptive Steer – world's first fully electronic steering system.

Similar levels of sophistication are replicated in the engine room, where Nissan's proven 3.5-litre V6 block is strapped with a hybrid module featuring a 67hp electric motor powered by lithium-ion traction batteries. It's a set up inherited from the Q70 Hybrid (formerly known as the M35h) but with improved internals to deliver faster and smoother engine start/stop cycles, further improved fuel economy, and reduced shudder in standing-start acceleration.
Running on the Atkinson combustion cycle, the V6 petrol engine generates not inconsiderable outputs of 298hp @ 6,800rpm and 338Nm @ 5,000rpm. Combined with 67hp and 270Nm contributed by the electric motor, total system output amounts to 364hp and 546Nm; yes, it's seriously fast and requires only 5.1 seconds for the century sprint; and we thought the 340hp/450Nm BMW ActiveHybrid 3 was crazy enough. The BMW, for the record, is 0.2 seconds slower to 100kph, although it counters with marginally better fuel efficiency – 5.9 l/100km vs 6.2 of the Infiniti. The Q50 nevertheless has a higher all-electric threshold speed, its motor able to function without help from the combustion engine up to 100kph, as opposed to the AH3's 75kph.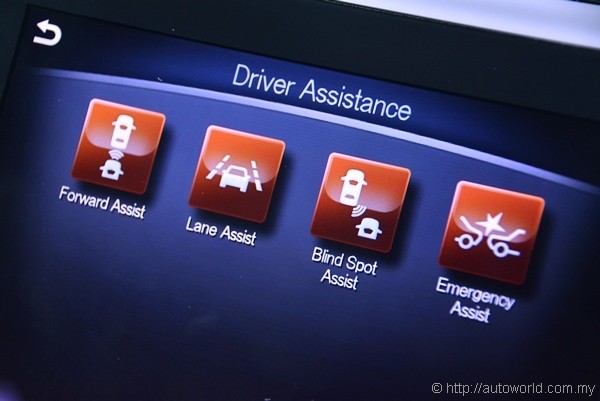 There is an array of active driving aids fitted to the Q50.

Exterior
Just like its comprehensive specs sheet is packed to impress, the Q50's exterior lines are evidently penned to create maximum visual impact to any interested onlookers. Its dynamic silhouette starts low in front and rises toward the rear, properly emphasizing its rear-wheel drive underpinnings which send power astern. A generous amount of curvature is applied to its sheet metal, and against the stoic-faced German contenders which it seeks to compete against, the Q50 looks purposefully unique – you won't mistake it for anything else in the competition.
Up front, the Hybrid range-topper visually distinguishes itself from the regular model with a subtly sportier fascia by incorporating mildly sharper and more clearly-defined design edges to its bumper. Indeed, 'subtle' and 'mild' are operative words here, as considerable concentration is required to differentiate between the two designs. Main upper grille and headlamps (LED illuminated on both variants) are identical, with only the lower areas of the front bumper actually subject to any re-sculpting.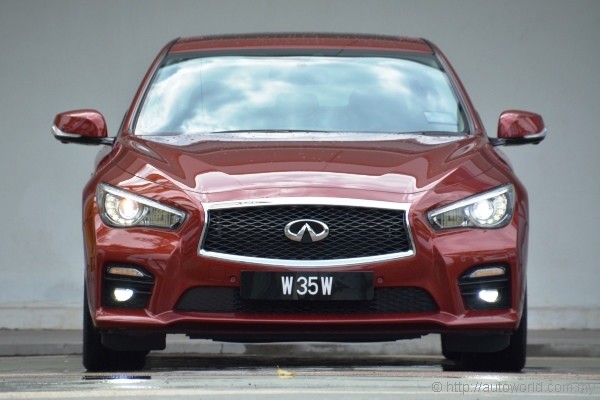 Full LED forward illumination.

Interior
Amongst the many test cars that have been coming our way in recent times, the Q50's cabin ranks right up there amongst them in terms of sheer complexity; and with a car as advanced as the BMW i8 still relatively fresh in memory, that's saying something. The learning curve required to master this car's control scheme is steep enough that the standard three-day media review is insufficient to explore the full plethora of settings and functions available.
The Q50's centre stack is a busy place, and that's putting it mildly. Two central screens dominate the landscape, and they are accompanied by a rotary control knob plus no small number of buttons. The upper screen is operable both by touch and inputs of the aforementioned rotary knob whilst the lower screen organizes its functions in a manner not too dissimilar to today's mobile devices – browsing through functions facilitated by the now-natural swipe motion.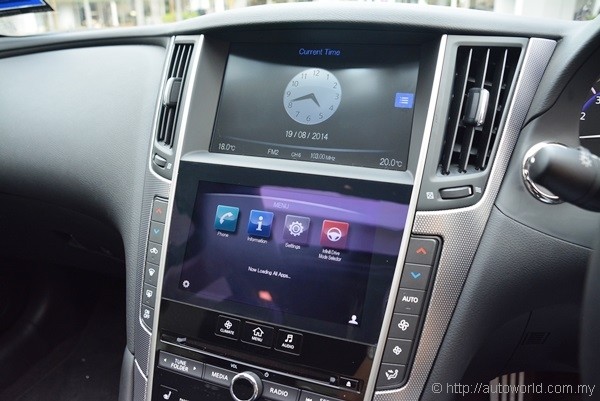 Two screens dominate the centre console, each with different functions.

In visual presentation terms, the Q50 successfully creates the impression of a premium cabin, an impression reinforced by panels and switchgear that positively reek of quality. It's a marked contrast to the typically sombre affairs we find in German cabins, but notes for the facelift should most definitely include a mention to improve overall usability; the multiple layers of controls are simply too distracting to operate while driving.
Behind, passengers are perched in decent accommodations, but like all its rear-wheel drive peers, there is the inevitable centre tunnel intrusion that makes sitting in the middle a distinctly uncomfortable experience. In the Hybrid model here, boot space is sacrificed to accommodate the hybrid module's battery pack. Gas-strut hinges pivot the boot lid in place; compared to regular goose neck hinges, gas struts offer space saving advantages, but the flip side is that it makes a self-raising mechanism for the boot lid difficult to integrate and the Q50 does not have any.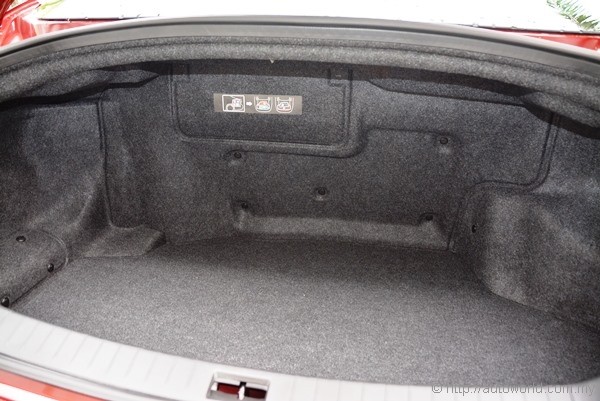 Hybrid battery results in compromised boot space, but four golf bags can still fit.

Driving Experience
The most pertinent question we seek to address on the Q50 unavoidably revolves around its Direct Adaptive Steering system. Being the world's first automotive steering operating without any physical connection between the steering and front wheels, this technology is threading on uncharted waters, and being the pioneer of this system, Infiniti inevitably takes on additional responsibility to bear the brunt of initial teething problems that accompany the introduction of any new technology. Users should be forewarned that after every tyre change or alignment adjustment exercise, a calibration check of the steering mechanism is necessary.
In low speed urban driving conditions, the electronic steering feels little different from an over-assisted rack-and-pinion set-up. Through the vehicle's drive mode selection system, drivers can separately adjust the steering's effort and response in different combinations. Regardless of setting, however, pushing the Q50 harder around corners requires considerable faith from the driver's part. For enthusiast drivers, our reliance of physical feedback sensations from the steering wheel to judge available grip levels mean there is also a psychological barrier to overcome in order to fully trust the artificially-generated sensations coming from the digitized steering.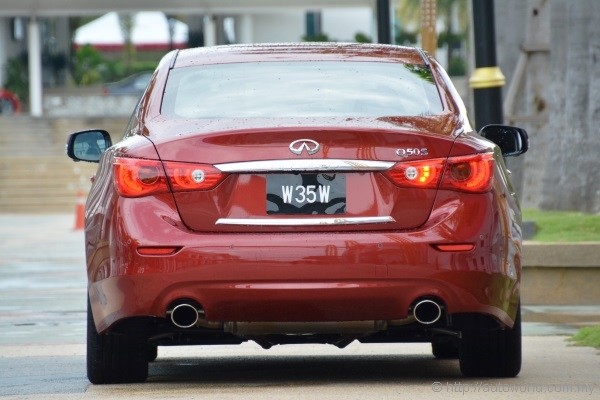 Infiniti designed the Q50 with an eye for Europe, hence the rear fog lamps.

As mentioned earlier, our Q50S Hybrid test car is fitted with an exceedingly comprehensive array of active safety features act autonomously over a wide range of driving conditions. There is the option to have them deactivated, but that also means a big portion of the RM150,000 premium spent over the 2.0-litre model is paid for nothing. Leave them on, however, and you'll find yourself babysitted by a highly pro-active system.
Even three to four car-lengths away, the autonomous braking system already applies considerable stopping force when a slower vehicle is detected. The active lane departure prevention system, meanwhile, actively pulls the steering back in line in case you inadvertently drift toward the lane markings. Such active interference may lead one to suspect that already-pampered drivers will be further lulled into inattention, but truth is that the presence of these systems require even more focus on the driver's part to react and anticipate the behaviour of a vehicle with the ability to act autonomously.
Buried under its layers of electronics, and despite its advanced technology, the Q50 exhibits the typical dynamic balance of an old-fashioned rear-wheel drive vehicle. Around corners, it is poised on the verge of oversteer, but reigned in by electronics and aided by linear throttle control, it tracks your chosen lines with reasonable faithfulness and well-suppressed body roll, although it ultimately lacks the effortless agility and confidence of the BMW 3 Series which it aspires to surpass. One aspect of the Q50's dynamics which compares favourably with segment benchmarks is its ride quality, which isolates surface harshnesses with commendable effectiveness; a highly impressive achievement considering Infiniti's tyre choice of 19-inch low-profile run-flat rubbers.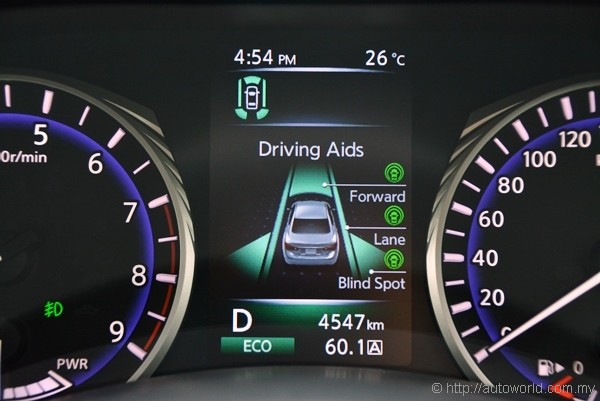 Autonomous braking and lane keeping systems actively intervene driving when activated.

Verdict
Being a relative latecomer to the market, Infiniti has some way to go before its dream of disturbing the status quo can become a reality. The impressively ambitious Q50 is a step in the right direction although some aspects of the product can do with further tweaking – the centre console could benefit from some cleaning up, and the fledgling steer-by-wire contraption still has a long way to go before it can be acknowledged as a viable replacement of conventional steering systems.
At this point in time, the Q50 will have to contend with playing the segment underdog role alongside its compatriot from Lexus, namely the IS 250. In this small niche, the Infiniti's array of technology and less polarizing looks (relative to the Lexus) puts it at a slight advantage. The Q50 has a number of outstanding USPs, but it is mostly remarkable for its impressive array of equipment rather than its driving experience. It's a fine car to go for if you're the type fascinated by technology, but if, like us, you're the type that place greater importance on driving experience, the established choices remain safer bets.