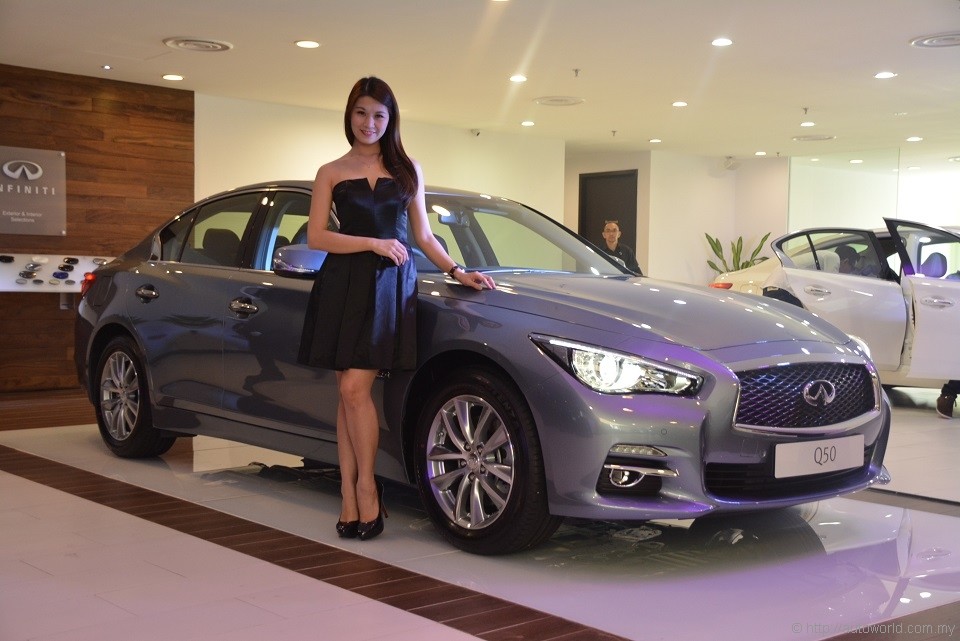 Following our review of the Infiniti Q50S Hybrid published earlier today, we now take a closer look at the regular 2.0-litre turbo variant that is slated to be the range's main seller. Featuring the new M274 petrol direct injection from Mercedes-Benz, the Q50 2.0t wades right into the heart of 3 Series and C-Class territory with comparable power and pricing, but offering keener equipment.
Seen also in the W212 E-Class and soon to arrive in the W205 C-Class, the 1,991cc M274 operates an Infiniti-specific engine mapping in the Q50, delivering 211hp @ 5,500rpm and 350Nm @ 1,250 – 3,500rpm. Its 7-speed automatic transmission is taken from Mercedes as well, but prop shaft and rear differential are Infiniti's own.
Base model of the Q50 2.0t carries the GT designation, and it is priced at RM248,800 on-the-road without insurance, remarkably on par with the locally-assembled and far less generously equipped BMW 320d. Indeed, generous is a very fitting word to use in the context of the Q50's equipment, which at this entry level variant already includes LED headlamps, reverse camera, electric seat adjustment with memory function, and keyless entry.
The GT's equipment is indeed beyond satisfactory, although much of the headline equipment which we tested in the Hybrid version are understandably omitted. The much-touted Direct Adaptive Steering (DAS) steer-by-wire system is notably sacrificed in favour of a regular electro-hydraulic rack-and-pinion setup.
A RM30,000 upgrade to RM278,800 for the GT Premium variant, however, restores DAS and along with it comes upsized 18-inch alloy rims (from 17-inches), Bose 14-speaker audio, 360-degree around view monitor, and the full suite of active safety systems such as autonomous braking with predictive collision warning, lane departure prevention, and blind spot intervention.
From this point, it is a considerable leap to RM398,800 for the Hybrid version, which further adds an extra inch to each of its alloy rims, uprated suspension and brakes, paddle shifters, front sport bumper, aluminium pedals, and power-sliding tinted moonroof.