Honda Accord 2.4 VTi-L Test Drive Review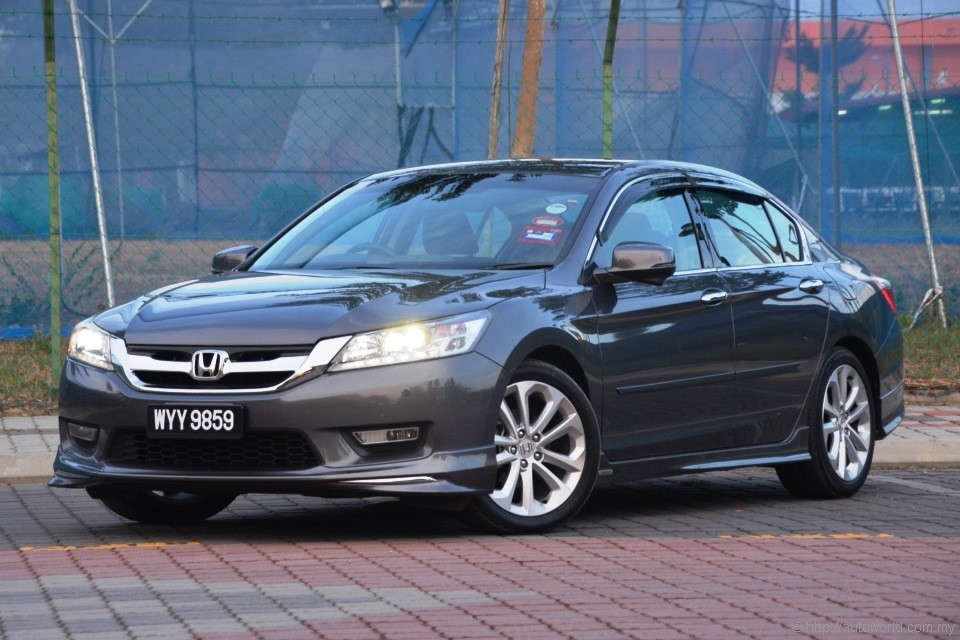 Previously, with the eighth-generation model, choosing which variant of the Honda Accord was a relatively simple choice – it was the 2.0 VTi-L, plain and simple. The current ninth-generation Accord launched last year lines up with the same variants at unchanged price points. On paper, it looks like another unequivocal recommendation for the 2.0 VTi-L again, then.
We tested the 2.0 VTi-L last month, and the outcome was that it established itself as a convincingly well-balanced mid-range option suited for a wide range of needs. Yet, the 2.4 this time around is substantially reinforced with a new engine and a significantly enhanced amount of kit that its value for money preposition has definitely improved. The question now is whether that improved value has made the RM23k gap separating the 2.4 VTi-L flagship from the more affordable RM150k 2.0VTi-L worth surpassing.


Prices & Variants
Base price of the Accord 2.4 is pegged at just under RM173k with insurance for private registration in Peninsula Malaysia. Our test car from Honda Malaysia came fitted with nearly RM10k worth of optional accessories, most of which serve aesthetic rather than practical purposes. The various bodykit elements – all-round skirts and boot lid spoilers – can be bundled into packages that predictably cost less than speccing each of the items individually.
For our money, we recommend taking the RM200 trunk tray, RM490 puddle lights, and RM370 trunk drawer; these three items can be bought separately or lumped into the RM1,950 Premium Utility Package that also includes illuminated side steps and side body protective mouldings. Interestingly, Honda also offers a portable navigator at RM1,400, presumably to cater for buyers of the 2.0 VTi, who miss out on the factory-fitted sat-nav system integrated into the VTi-L models.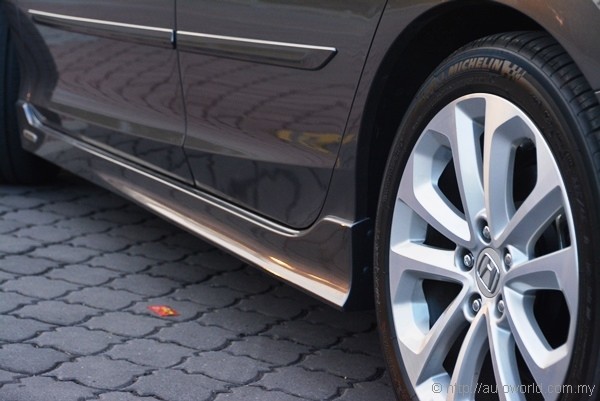 Modulo bodykit pieces on our test car collectively add up to RM6,470.

With regards to factory-fitted equipment, the 2.4 naturally builds upon the mid-spec 2.0 VTi-L's available kit whilst incorporating additional features to cement its position at the pointed end of the range. Items exclusive to the flagship include auto-leveling LED headlamps, paddle shifters, auto-dimming rear view mirror (RM790 cost option in 2.0-litre models), electric front passenger seat adjustment, powered rear sunshade, cornering lights, and side airbags.
A feature of particular note that is exclusive to the 2.4 is Honda's LaneWatch passenger side blind spot assist system. It feeds a live image from a wing mirror-mounted wide angle camera to the central screen to give the driver a supplemental picture of the vehicle's far side in addition to what's visible on the side mirrors. As its name suggests, this is a particularly useful tool during lane changing. The system is automatically activated together with the left indicators or manually at the touch of a button at the edge of the indicator/headlamp stalk. We strongly hope that this feature will eventually find its way into the 2.0-litre models.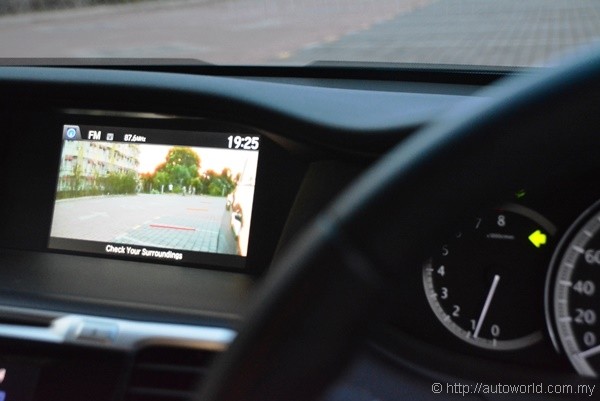 The Honda LaneView system automatically switches on when the left signals are activated.

Specifications
Whereas the 2.0-litre variants sport carryover engines from their predecessors, the 2.4-litre benefits from a new engine enhanced with Honda's Earth Dreams technology. It's built on the same K24 block as before, albeit with its stroke lengthened by 0.1mm resulting in an additional 2cc of displacement – measured engine capacity reads 2,356cc. Valvetrain arrangement retains the existing twin cam setup operating 16 valves with i-VTEC technology.
Unlike a higher output direct injected version available in some markets, the Malaysia-spec 2.4 Earth Dreams engine continues with regular port fuel injection, but it still enjoys incremental improvements over the previous K24A engine in the form of lowered engine weight and much-reduced internal friction for smoother operation. Maximum outputs are in a similar ballpark to the previous engine, reduced power offset by improved torque (both by small margins, anyway). From the old K24A's 178hp and 222Nm, the new K24W Earth Dreams engine generates 173hp and 225Nm.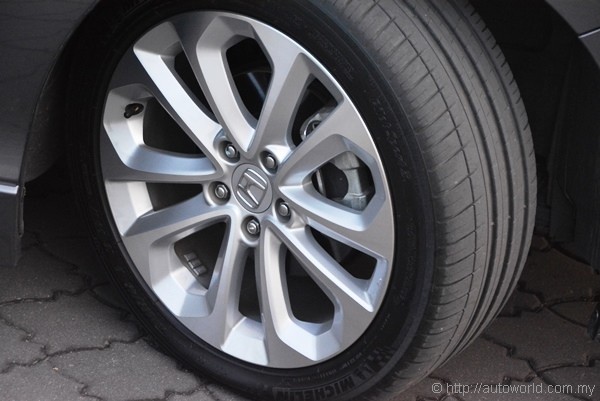 Rims are one size bigger at 18 inches, with Michelin PS3s selected as tyre of choice.

As with the 2.0-litre model, the 2.4 similarly carries on with Honda's familiar 5-speed automatic transmission, with Sports mode and paddle shifters incorporated to create differentiation from the lower models. Elements of the chassis, namely brakes, suspension, and steering, are largely similar to the 2.0-litre model. At the four corners, rims are an inch bigger than they are in the 2.0 with tyres being upsized Michelin PS3s – the 2.0 had Goodyear Excellence.
Building on Honda's much-lauded 'man maximum machine minimum' design philosophy, the new Accord is incredibly more spacious inside than its predecessor despite being smaller on the outside. Honda understandably trumpets that this is achieved by better optimizing the size and positioning of components such as seats and suspension; what's less talked about is that the fuel tank has contracted by a full five litres from 70 to 65, and in a car that does in the region of 11.0 km/l, that's a 50km reduction of the vehicle's potential cruising range – good thing then, that the new Accord also happens to be more economical than before.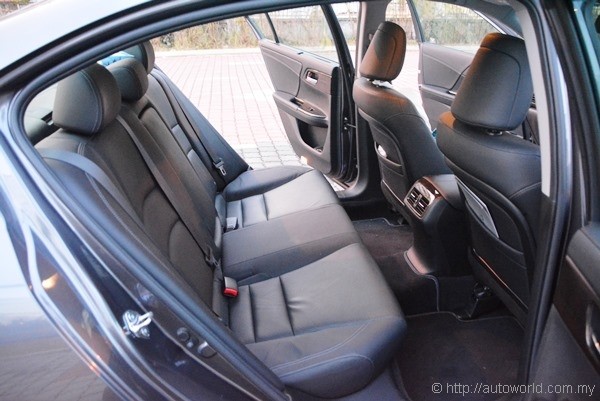 Despite being smaller on the outside, the new Accord actually boasts bigger passenger room.
Driving Experience
In the previous Accord, the 2.4-litre K24A engine was notable for its rev-happy characteristics and peaky power delivery. It was wonderfully enjoyable to work hard, but its mid-range was plagued by a prominent flat spot on its power band that dulls progress if you're not willing to put in an extra shift at working the flappy paddles.
The new Earth Dreams engine sensibly trades that in for a better rounded torque curve, one that understandably reduces the engine's affinity near the red line, instead giving it more beef lower down the rpm range. The result is an engine that is still relatively smooth to rev as before, but one that no longer struggles if you don't give it the full beans on the tacho. Compared to the 2.0, the 2.4 is not significantly faster, but what it offers is smoother and more effortless progress.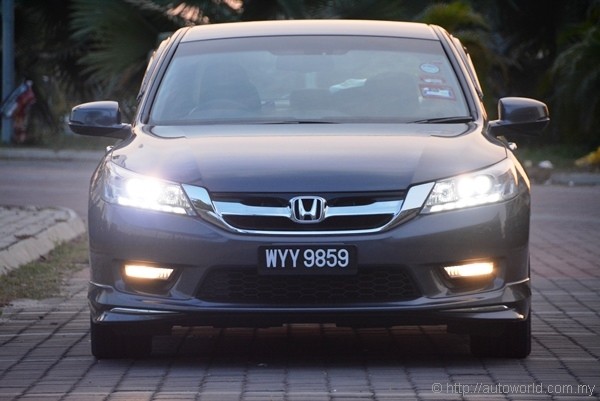 Chrome grille is a RM650 cost option.

The engine also excels in terms of its overall refinement, with a mechanical smoothness that bears comparison with Mazda's highly-regarded SkyActiv engines. Together with Honda's Active Noise Cancellation system, the new Accord convincingly addresses one of the biggest complaints of its predecessor – excessive cabin noise. This goes hand-in-hand with another aspect of the Accord that's vastly improved as well, namely its ride quality, which is now plusher and more supple.
Overall, the current Accord notably shifts its stance from being driver-focused in previous models to being more comfort oriented. This is evident in how our 2.4 test car retains the overall pliancy of its 2.0-litre sibling despite using bigger rims with lower profile tyres – a combo that has proven destructive to the ride comfort in many a car. Also, with the 2.4 being shod with vastly grippier Michelin PS3 tyres, there is a high level of mechanical grip at the driver's disposal – pity that the steering feels so detached; it is utterly devoid of feedback, which robs not only a sense of engagement, but also the confidence of pushing the car to its limits, which we believe, judging from its overall composure, are usefully high.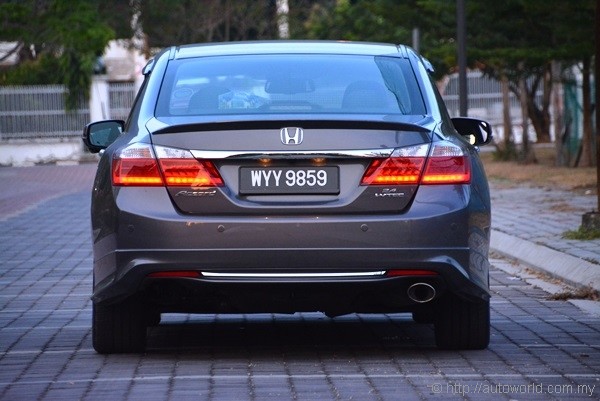 There are two spoiler options. Our test car was specified with the subtler ducktail spoiler.

Verdict
Despite losing some of the dynamic sparkle which its predecessors are known for, the current Accord is notably a much-improved product from before; it is indeed a step back in one aspect countered by many steps forward in others. Like most Honda products, the cabin is well packaged with faultless usage of space. The excellent selection of materials, high build quality, and impressive noise suppression on the move all contribute to generate an ambiance of luxury and refinement beyond what one would expect for its price.
Indeed, the new Accord is not only a significant improvement over its predecessor, it is also a very competitive product in its segment. The inclusion of highly premium features such as the LaneWatch system, LED headlamps, side airbags, and satellite navigation at an unchanged price not only reinforces its claim as a premium vehicle, but also makes it a purchase of incredibly good value. From the performance standpoint, we reckon that the 2.0 VTi-L is an adequate solution for most, but if you have extra change to spare, the 2.4's added kit and refinement quite convincingly justifies its RM23k premium over the mid-range model.