Nissan Elgrand Test Drive Review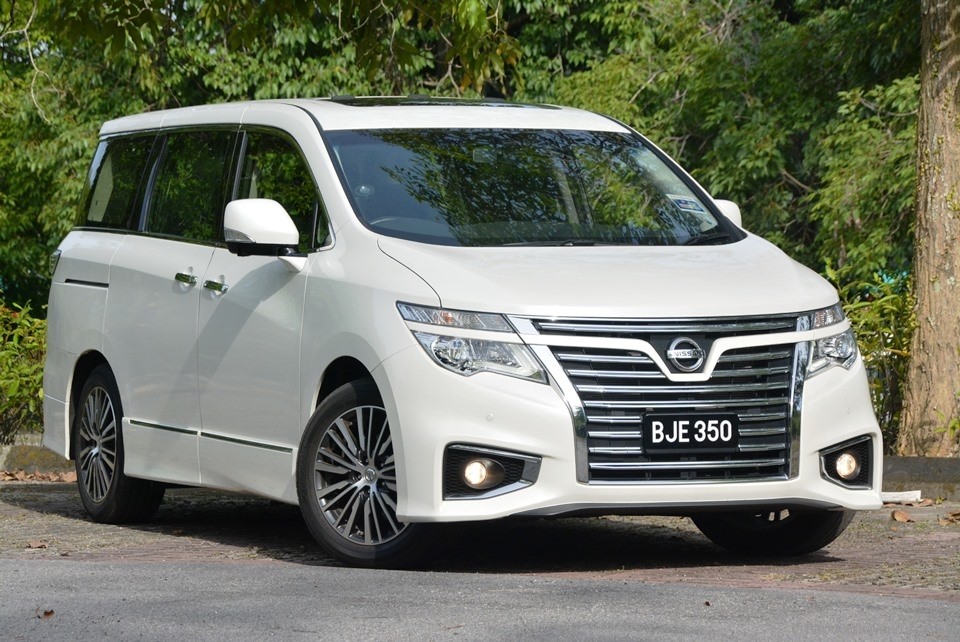 It is not often that we test a Nissan with a price tag that's bigger than an average BMW, but that indeed is the case with the Elgrand – at RM388,800 before insurance, it's a full RM30k costlier than the BMW 520d that we recently reviewed. The higher cost of admission admittedly nets you more kit than you would get in, say, a Teana or a Sylphy.
For our market, Nissan fits the Elgrand exclusively with a 3.5-litre V6 powerplant from its renowned VQ engine family. Last seen in limited numbers powering the previous generation Teana, the CVTC-equipped VQ35DE supplies the Elgrand with 276hp and 344Nm of thrust, routed to the front wheels via Nissan's Jatco-supplied X-Tronic CVT. Back home in Japan, Nissan also sells this model with the 2.5-litre QR25 four-cylinder, an option curiously not offered in our market.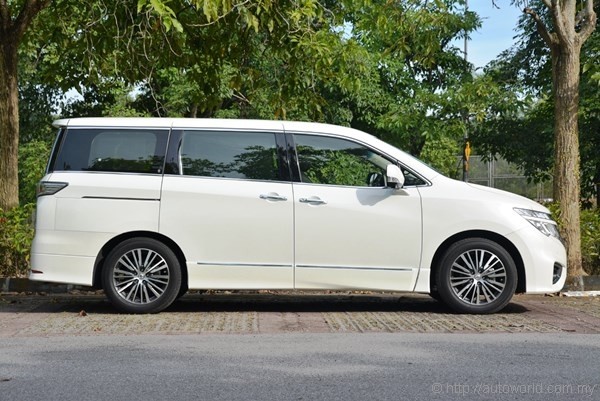 It is shaped like a box on wheels.

In a segment previously sustained solely by grey importers, the Elgrand competes head-on for size and stature against the Toyota Alphard, which is now available as an official import from UMW Toyota. On paper, the Elgrand boasts a crucial advantage of having independent rear suspension as opposed to the Alphard's torsion beam – as we would elaborate later, this introduces useful benefits to the Elgrand's ride and handling characteristics.
An interesting side note; the rear suspension image printed on Nissan's catalogue shows a set up that more closely resembles a double wishbone rather than multi-link setup. In truth, the Elgrand's rear suspension, which is shared with a number of higher end Nissan models (namely the Murano and previous-generation Teana) incorporates an upper A-arm like you would find in a double wishbone plus two lower control arms and a trailing arm like a multi-link suspension. Separately-mounted springs and shocks complete the assembly.


Exterior
There's no getting around the fact that the Elgrand is big and that it makes little effort to hide its bulk. The recently-introduced facelift grafts an even more expressive fascia that further emphasizes the Elgrand's impression of size – generous applications of chrome on the grille, in particular, ensure that Nissan's luxury MPV is not short on road presence.
Changes at the rear involve no alteration of sheet metal, but effects are considerable as the shade of red applied to the horizontal tail lamp strip spanning across the tailgate has been replaced with a colourless lens. Colourless tail lamps are usually difficult to get right, often being misses rather than hits. In the Elgrand's case, it works rather well, at least when matched to our white test car.
Navigating a car of the Elgrand's size through tight spaces can prove daunting for many drivers, even experienced ones. Coming in considerable help is Nissan's Area View Monitor which, much like the similar system found in the Volkswagen Touareg, stitches images from four wide angle cameras placed around the vehicle to display a birds-eye view of the vehicle's surrounding on the central dash-mounted screen. Image quality is not as crisp as Volkswagen's system, but its overall usefulness is beyond question for a vehicle of the Elgrand's size.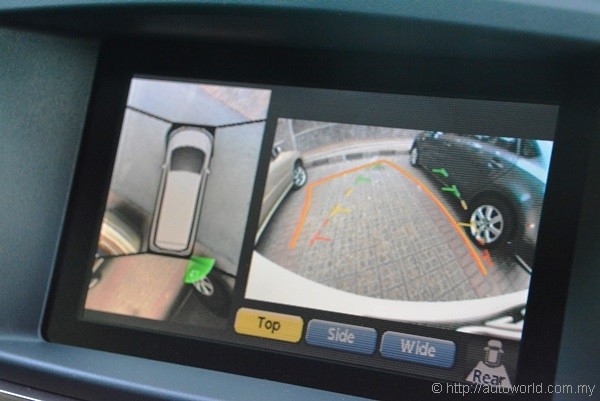 Around view monitor a useful tool in navigating the Elgrand through tight spaces and parking.

Interior
Passengers in the Elgrand will find themselves cocooned in very welcoming surroundings – space is aplenty and panels are evidently built from a different pool of materials than what's available for more commonly-seen Nissan models; the leather seats, for example, are of pleasingly plush quality.
Overall packaging of the Elgrand is commendable – a flat floor pan creating a proper walkthrough cabin that is not only versatile, but also reinforces the impression of luxury which the vehicle seeks to project. Total seating capacity is for seven people, with the middle row notable for featuring a pair of individual captain's chairs with Ottoman thigh support – perfect for being chauffeured over long distances.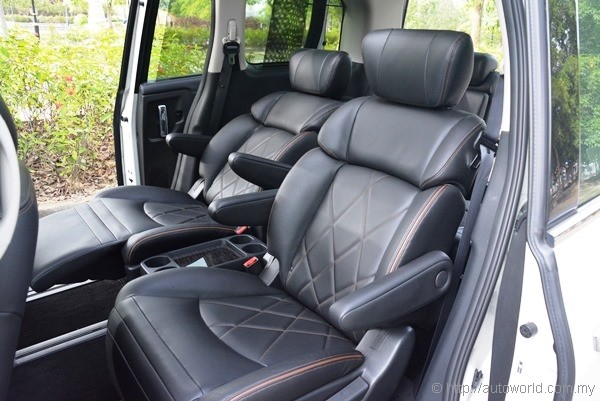 Middle row captain chairs.

The walkthrough cabin also makes access exceptionally convenient, a virtue further enhanced by the electric-operated sliding doors and an impressively low floor pan – able-bodied passengers can really stroll their way into (or right through) the cabin's rear section. The third row seats offer adequate accommodation for three modestly-sized passengers, but they are notably lacking in the ability to fold away to create a flat luggage floor.
In-cabin storage is well taken care of – the little 'cabinet' structure perched between the front two seats proved immensely useful in swallowing a great number of small items. The structure incorporates four cup holders (two lidded), a rectangular storage tray, and an underside drawer – all with pleasing depth to provide very generous storage volume.


Driving Experience
It goes without saying that an MPV like the Elgrand does not welcome being hustled about – an unavoidable consequence of its weight and bulk. Gently cajole it with progressive inputs, however, the Elgrand's chassis responds with pleasing faithfulness and composure, enough to briskly carve through sweeping bends. We suspect these dynamic qualities are tuned for the benefit of a seamless ride for the passengers rather than any consideration for driver enjoyment; fine with us.
Inspecting the Elgrand's layout more closely, we find that it is actually a very commendably-packaged vehicle; much of its running gear, including its incredibly sophisticated multi-link rear suspension, are mounted rather low, giving rise to two benefits – a usefully flat cabin floorpan and a lower centre of gravity. The low CG and all-independent suspension in turn combine to bless the Elgrand with impressively composed if comfort-oriented road manners.
Typical of Nissan cars, the Elgrand is generally quiet on the move, with most sources of noise effectively filtered by its commendable insulation package. The 3.5-litre V6 up front complements this with its renowned mechanical refinement, and in cohorts with the X-Tronic CVT, it delivers smooth and effortless progress. Being a naturally-aspirated engine, power delivery is therefore linear, which eminently suits the image of luxury and refinement which the Elgrand seeks to project.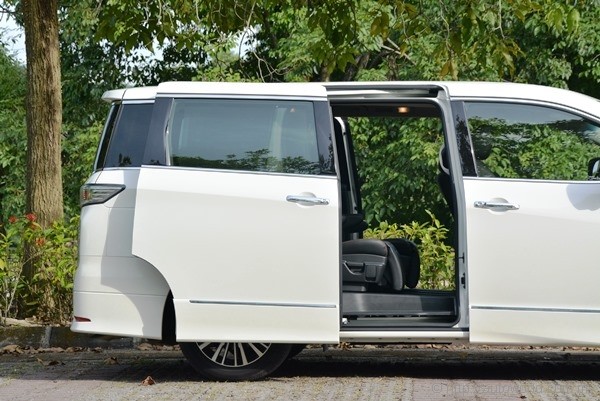 Sliding doors are power operated.

Verdict
The Elgrand convincingly fulfills its brief as a luxury MPV. Its interior boasts yards of usable space with an overall layout that is both thoughtful and practical. On the move, it delivers the two crucial qualities needed to accomplish its brief, namely refinement and ride comfort. As a vehicle to be driven in, we can imagine few complaints.
Biggest problem facing the Elgrand, as you might expect, is less of its competency as a product, but more about the issue of perception – many a layman will find difficulties in paying nearly RM400k for a vehicle that shares showroom space with an Almera or a NV200 van.
Additionally, the market's default choice of luxury MPVs, namely the Toyota Alphard and Vellfire twins, are available from your nearest parallel importers at a fraction of the price. It's difficult to argue against economics, fair enough, but if you can afford the extra money and can brush aside your brand perceptions, the Elgrand is indeed an excellent luxury MPV, and being officially imported, you enjoy the peace of mind of full aftersales support.