Isuzu D-Max V-Cross 3.0 Test Drive Review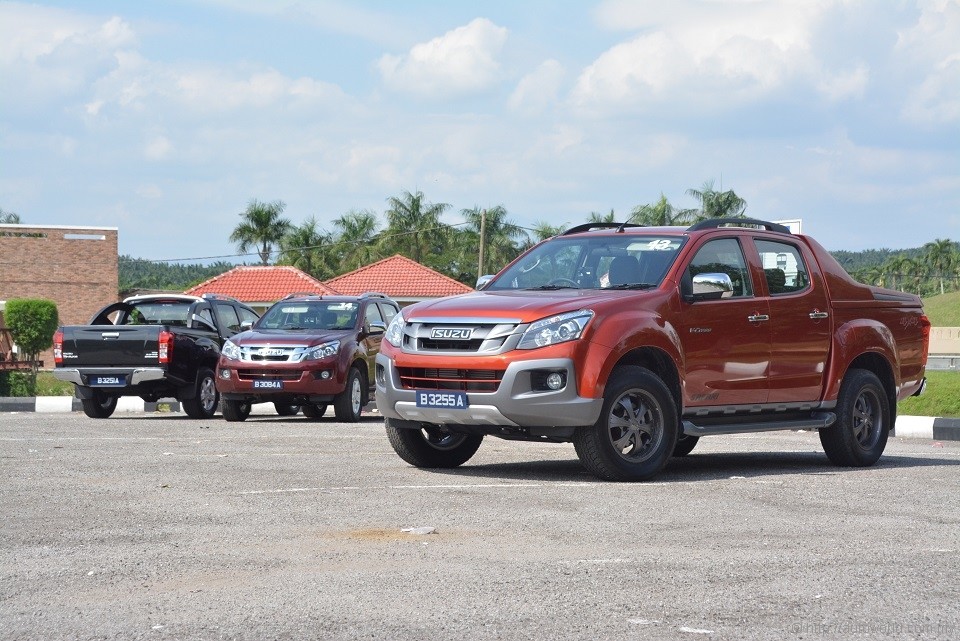 The previous-generation Isuzu D-Max was a vehicle highly noted for its honest robustness and frugal economy. Despite using a 3.0-litre engine, the D-Max was widely acknowledged as being more economical than the majority of 2.5-litre engines that were on the market. The price to pay for this, of course, is that the 3.0-litre D-Max also had to make do with significantly less outputs than 2.5-litre rivals that sported more aggressively-tuned engines.
With the new D-Max launched last year, Isuzu decided to push the boundaries of its engineering potential a little, offering an all-new 2.5-litre engine that actually exceeded the outgoing model's 3.0-litre engine. The downsized engine makes sense in attracting new buyers from the displacement-sensitive Peninsula Malaysia market, but over in East Malaysia, buyers maintain a 'no replacement for displacement' mindset. Indeed, for existing owners in general, many will find it difficult to accept a 2.5-litre engine (even one enhanced with technology) as an upgrade from a 3.0-litre; these exacting demands now have an answer in the form of a new D-Max 3.0 that is set to hit the showrooms this week.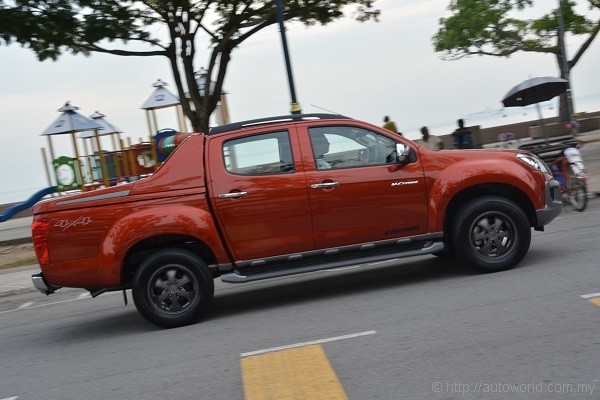 Accessories of the Safari package are fitted locally.

Prices & Variants
All 3.0-litre variants of the D-Max are denoted by a 'V-Cross' suffix to its nomenclature. Fully imported from Thailand, as opposed to being assembled locally like its 2.5-litre siblings, pricing of the D-Max 3.0 V-Cross starts just above where the previously range-topping 2.5 automatic leaves off, going for RM101,343.90 with insurance for private registration in manual transmission guise.
An identically-equipped automatic transmission model commands a premium of just over RM6,000, ringing the cash register at RM107,459.90. Equipment-wise, these two variants are largely on par with the top-spec 2.5 model with auto climate control being the only notable addition a kit count that already includes projector headlamps, steering-mounted controls, dual frontal airbags, ISOFIX top tethers, and electronic stability control.
Buyers willing to spend additional money for a more expressive appearance will want to look at the RM118,485.90 flagship V-Cross Safari variant that adds leather seats, a 6.2″ touchscreen with GPS, reverse camera, exclusive rim design, a lockable cargo bed lid, and all-round body claddings that give a more rugged appearance. There are no plans at present to extend this Safari pack to the 2.5, although we anticipate such an option to have no shortage of suitors amongst Peninsula Malaysia buyers.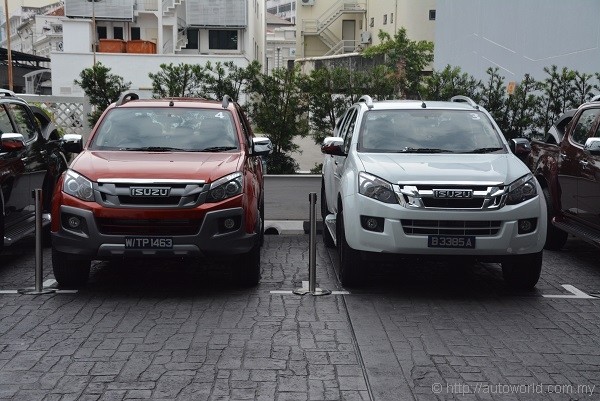 V-Cross Safari and regular V-Cross lined side by side.

Specifications
Isuzu is typically conservative with the tuning of its engines, often preferring to prioritize fuel economy and ruggedness over mindless indulgences in horsepower races. The previous-generation 3.0-litre model, for example, was remarkably modest with just 134hp and 280Nm; and although the new 2.5-litre VGS makes more with a smaller engine, nobody would argue that 134hp and 320Nm is anywhere near class-leading outputs.
In the above context, the engine powering the new D-Max V-Cross sports a surprisingly aggressive set up, pushing out 176hp @ 3,600rpm and 380Nm @ 1,800 – 2,800rpm. These outputs allow the V-Cross to convincingly shade the Toyota Hilux 3.0 (161hp/343Nm) whilst putting itself firmly in the mix amongst the Nissan Navara (172hp/403Nm) and Mitsubishi Triton VGT (176hp/350Nm) – to name two segment powerhouses.
The conservatism returns in Isuzu's gearbox selection, however, with both manual and automatic versions making do with 5-speed transmissions in a time where six ratios are fast becoming the norm – the next-generation Nissan Navara is in fact reported to have seven forward gears for its automatic version.


Driving Experience
The previous generation D-Max was notable for its honest ruggedness that inspired confidence of its overall durability. As a work horse, it fits the bill to a T, but for private usage, its lack of refinement was off-putting to some. Isuzu took great efforts to address this criticism, and as we noted in our earlier review of the 2013 D-Max 2.5, the new generation model is significantly quieter and more refined than its predecessor.
These same desirable qualities are carried over to the 3.0-litre model. Additional outputs of the engine further enhance the driving experience – it is easygoing and refined at part throttle, but when coaxed, it is rapid and relentless. Even though its numbers are not class-leading, this is still a gem of an engine, its generous dollop of torque thoroughly delightful to exploit.
There is good news from the dynamics department as well, another area where massive strides are made from the predecessor. Relative to pick-up trucks, the D-Max handles high speeds confidently. Its primary ride is sublime; suspension confidently thumping road patches, potholes, and long undulations into submission. Secondary ride is less convincing though; small road imperfections being less effectively dealt with. It gets close, but ultimately stops short of unsettling the Mitsubishi Triton as the most dynamically composed pick-up.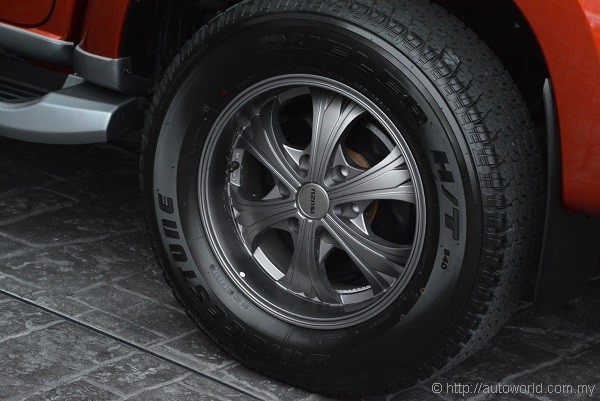 17-inch rims are identically sized as the regular model, but offset is wider.

Verdict
An impressively balanced package, the D-Max V-Cross 3.0 represents Isuzu's first real attempt at offering pick-up buyers with a high performance option and it is difficult to argue it is anything other than a job well done by Isuzu. The new powertrain appropriately is the standout feature of this new variant, particularly excelling with regards to its refinement and effortlessness of its power delivery.
For buyers with a thirst for power, the D-Max V-Cross' case is worth examining. The regular V-Cross models are adequate for most purposes, and because they look no different to the regular 2.5 model, its quite a sleeper. For the ones that demand visual differentiation from the regular models, the Safari versions serves that purpose, although RM11k for aesthetic enhancements is steep for our tastes even if the reverse camera and lockable cargo lid does go someway to justify that expense.