Perodua steps up transformation for increased competitiveness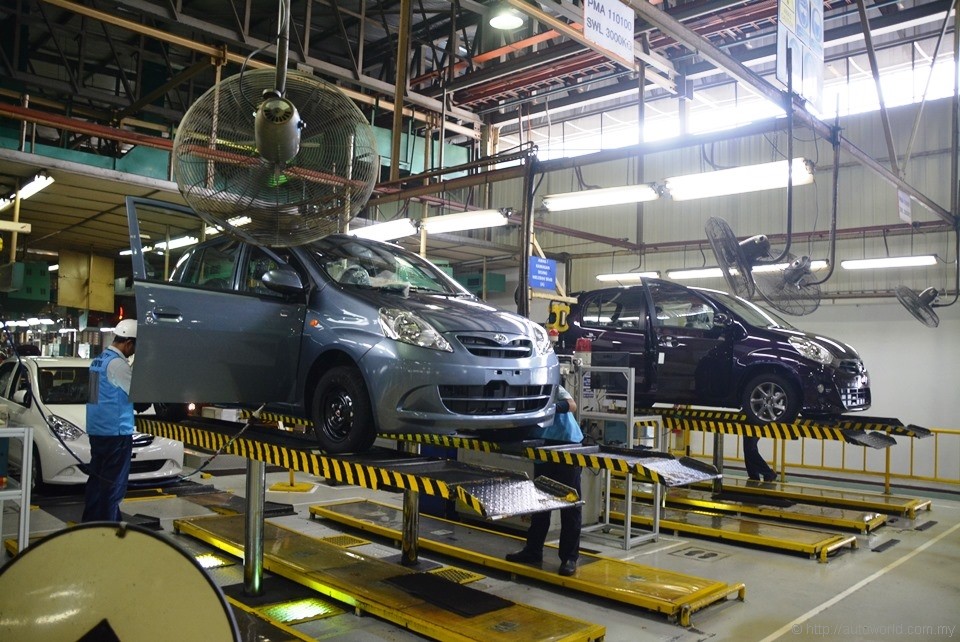 The Perodua Myvi's launch in 2005 was a milestone event in the automotive industry's history in Malaysia. Demand for the vehicle was outstanding and it consequently propelled Perodua to overtake Proton as the nation's best-selling automotive brand, a position which it still holds today, nine-years on.
Closer analysis shows that the Myvi was no one-hit wonder. Unlike typical product life-cycles experienced by most car models, Perodua reported that sales of the Myvi were on a continuous uptrend all the way to the end of its run even as a replacement neared in 2011. The new second-generation Myvi, commonly referred to as the Myvi Lagi Best after its marketing slogan, continues to enjoy strong demand alongside its stablemates, namely the Viva and Alza.
The Myvi is, without doubt, an important cog in Perodua's success story, but there have been many other critical elements that played their respective parts to get Perodua to its dominant position today. As evidenced by the Kelisa and Kenari before that, Perodua had already shown, even before the Myvi came out, that it is capable of producing vehicles of decent quality at an affordable budget. There is no greater stamp of approval of Perodua's manufacturing competence than that of Toyota's, who contracted the company to assemble the first-generation Avanza in its Rawang plant from 2003 to 2011.
The driving force behind Perodua's continued success is a humble attitude in which the company sets itself continuous and incremental goals of improvement. Resting on its laurels is not the Perodua way, and despite having held top spot in the country's sales charts for nine successive years, Perodua is already in the midst of raising its game to take itself to the next level. The company now enters a crucial phase of a five-year structural transformation programme announced back in 2011 that was to facilitate further improvement of its product line-up, R&D and procurement processes, production processes, and overall customer satisfaction.
A number of crucial developments will occur at various stages this year, and in no particular order, we will see the introduction of an all-new model, opening of its new plant, and the launch of a new flagship 3S centre in Petaling Jaya that will set new standards in sales and aftersales for the rest of the Perodua network to follow.
Much of what is known about the new model continues to be speculation and Perodua officials remain coy on pertinent details relating to it. Perodua President and CEO Datuk Aminar Rashid Salleh goes no further than describing it as a compact model that is spacious inside and that it meets the Government's stated definition of an energy efficient vehicle (EEV) under the latest National Automotive Policy (NAP). We know, from an earlier announcement, that the new model will feature the debut of a new all-aluminium engine from Perodua, first of its kind to be made in Malaysia. The GMA Space concept displayed at KLIMS13 was likely a preview of the new model's interior.
Speculated by many to be a candidate to replace the Viva, the unnamed new model will once again feature Daihatsu underpinnings, but will be clad with an upper body design, styling, and features that are uniquely Malaysian and developed locally by Perodua. At a press gathering held at Perodua's plant in Rawang yesterday, Aminar pointed out that for future models, Perodua will incrementally take on additional roles and responsibilities in the vehicle's upper body design whilst leveraging on technologies and platforms continuously being provided by Daihatsu Motor Corporation, Perodua's technical partner and majority shareholder of its manufacturing facilities.
The new model will roll out from the company's brand spanking new plant scheduled for opening in the latter half of this year. Built at a cost of RM790 million, the new plant will boost Perodua's manufacturing capacity by an additional 100,000 units per year. Design and operational flow of the plant will be based on Daihatsu's Kyushu plant, one of the Japanese company's most advanced facilities in the world. Notable innovations in the plant will include jigless body welding and the use of more environmentally-friendly waterborne paint in its paintshop. Aminar claims that the Perodua's new plant in Malaysia will be the only automotive plant in the country to use jigless welding, an entirely plausible claim since the technology was first used by Daihatsu, according to a report by Chips Yap of Motor Trader.
As the new plant continues to draw press coverage and public attention, Perodua has not neglected implementing improvements to its existing facility which, let's not forget, still churns out 250,000 cars a year. The company embarked on a comprehensive undertaking to streamline the plant's processes and implement new training modules, delivered through specially set-up dojos. New operators hired into the plant are trained first at the basic dojo before graduating to the line dojos for hands-on training and eventually the actual line.
The setting up of these dojos demonstrate an emphasis on Perodua's part towards human capital development in the aspects of skill enhancement and sustaining of morale. In the basic dojo for example, operators are taught on the function and operating principles of various components in a vehicle, with the underlying lesson being the importance of getting processes right to minimize the chances of catastrophic failure due to assembly defects. Besides plant operators, sales and after sales personnel also undergo training at separate dojos that simulate the working environment in a showroom or workshop.
Besides equipping its workers with the necessary skills to ensure competent assembly of vehicles, Perodua is also moving at the direction of providing its personnel with conveniences that enhance the working experience. By the third quarter of 2015, Muslim male employees can enjoy the convenience of a nearby mosque for their weekly Friday prayers within walking distance of the plant's premises. The mosque, built at Perodua's expense, will have the capacity to accommodate 3,000 people at any one time, will be made available for use by members of the local community as well. Adjacent to the mosque will be a children day care centre available use by Perodua staff at a subsidized rate.
The comprehensiveness of Perodua's transformation strategy is impressive and admirable, even if its products are often chided for being rebadged Toyota and Daihatsu models. From the start, Perodua has shown that it is not a company that will easily succumb to complacency and that its determination to continuously improve suggests that the company has the ingredients to remain competitive in a fully liberalized market, if that ever happens.