Hyundai i40 Tourer Test Drive Review
Since the generation of the SV4, Honda has been offering the world with two different variations of the Accord. The bigger North-American-cum-Asian version which we get in Malaysia, and a smaller, more dynamic alternative for Europe known simply as the Accord Euro. Unlike the commonly-adopted strategy of offering global cars these days, Honda's two-pronged offering in the D-segment, an approach which they also practice with the Civic, allows them to fine-tune each model closer to the prevailing tastes of different regions.
Asian and American customers generally prefer more metal for their money whilst European buyers gravitate to compact and more dynamic packages. Mazda is another company that recognizes this difference as well, which is why the new Mazda6 sedan, designed for Asian and American consumers, is bigger than its wagon counterpart, which is expected to appeal to European buyers.
Hyundai has adopted a similar approach to Honda's in the segment as well, using the Sonata YF platform to spawn a slightly smaller model known as the i40. Think of this as a Sonata Euro if you'd like. The i40 debuted globally in 2011, two years after the Sonata YF. It is interesting to note that in Australia, Hyundai actually replaced the Sonata YF (known there as the i45) with the i40 in 2012. Here in Malaysia, the i40 debuted at the recently-concluded KL Motor Show and is positioned as a sportier and more premium alternative to the Sonata.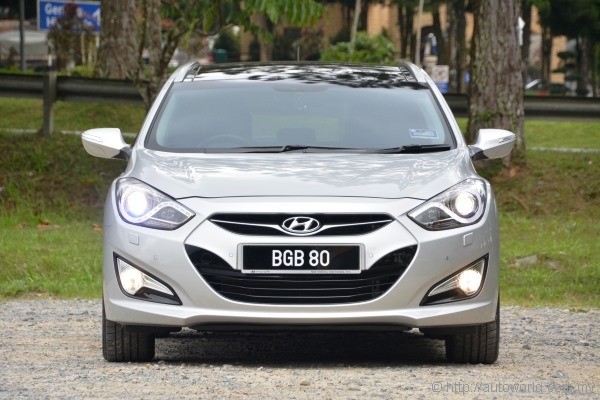 Headlamp assembly features daytime running lights and auto-leveling HIDs.

Prices and Variants
A starting price of RM159,888 on-the-road with insurance gets you the i40 in its Sedan guise, and you will need to top in an extra RM4,000 to add a multimedia touchscreen and rear seat entertainment system, both of which are fitted standard to our Tourer test car here, which rings the cash register at RM178,888. This consequently positions the i40 Sedan mid-way between the Sonata 2.0 (RM138k – RM152k) and 2.4 (RM174k – RM176k), and the Tourer tested here at the absolute top of the pile.
So the i40 is smaller and more expensive than the Sonata, but besides a more advanced engine, Hyundai also threw in a number of additional goodies to sweeten the deal. Compared to the already generous Sonata 2.4, the i40 further adds on side, curtain, and knee airbags, daytime running lights, rear fog lamps, and Bluetooth handsfree. List them alongside items already present in the Sonata such as keyless entry with start/stop button, auto-leveling HID headlights, and panoramic sunroof, you'll have a kit count that is as complete as any in the D-segment, or indeed the market as a whole.


Specifications
Globally, the i40 comes with a choice of 1.6- and 2.0-litre natural aspiration petrol direct injection engines along with a 1.7-litre turbodiesel. Only the 2.0-litre engine is offered in Malaysia, and it has the distinction of being Hyundai's first petrol direct injection engine to be officially sold here. Curiously, there are no bigger engine options available with the i40 anywhere in the world.
Another member of the rapidly-expanding Nu engine family, the 1,999cc all-aluminium four-cylinder powerplant pushes out a potent 175hp and 213Nm, compared to 161hp and 194Nm produced by its port-injection counterpart powering the Sonata 2.0. Interestingly, the i40 Sedan is quoted with marginally higher outputs at 176hp and 214Nm. On paper, Hyundai's engine compares very favourably with other 2.0 NA direct injection engines in the market, such as the Ford Focus with 168hp/202Nm and Mazda's SkyActiv-G 2.0 with 153hp/200Nm.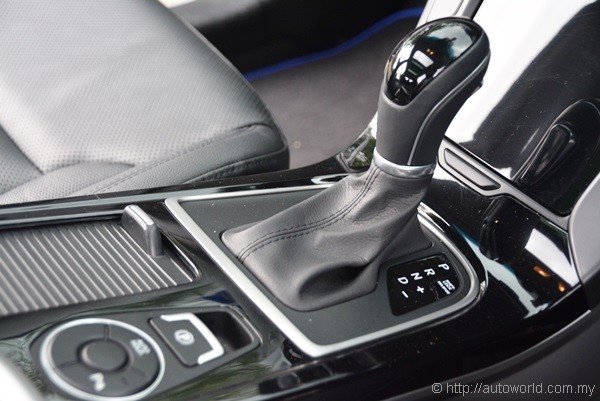 6-speed auto with manual override. Parking brake is electronic.

Exterior
The flowing lines of 'Fluidic Sculpture' running across its sheet metal mean that it is impossible to mistake the i40 for anything other than a modern Hyundai, which is something any owner can be proud of these days. Compared to the bigger and more expressive Sonata however, the i40 is more restrained with its styling cues, entirely in keeping with the more refined and sophisticated tastes of the European market which it calls home – the i40 is, after all, designed from Hyundai's European R&D house in Germany, and its continental touch shows.
Up front, the i40 reinforces its premium standing with an intricate set of headlamps that incorporate auto-leveling HID projectors and LED daytime running lights. The split level trapezoidal grille, bisected by the front number plate, contributes to a neater and more understated appearance. Overall, the i40 has one of the cleaner designs amongst the newer 'Fluidic Sculpture' Hyundai vehicles.
At the four corners, Hyundai went the sensible route in offering us a set of conservatively-sized 17-inch multi-spoke alloys wrapped with 215/50 Continental MaxContact MC5 tyres. Aesthetically-speaking, 18-inch tyres may be a better fit, but that is likely to come with triple penalties of increased fuel consumption, reduced ride comfort, and not to mention painful tyre bills. Having said that, one can argue that Hyundai could at least have chosen a better-looking set of rims, but that's a small debate.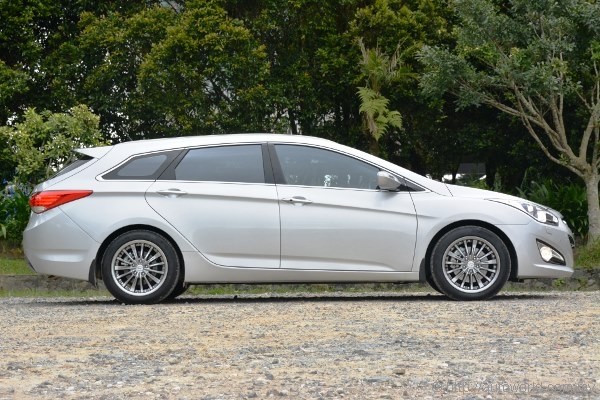 Hyundai was surprisingly conservative with the i40's choice of rims.

Interior
Inside is where the i40 genuinely proves its pseudo-Euro credentials with a cabin that is designed, built, and finished to a very high standard. Overall quality is at least one step up from the Sonata; excellent fit and finish married with a choice of materials that is generally hard to fault except for the pair of plasticky paddle shifters placed behind the steering wheel, which incidentally adjusts for reach and rake.
Ergonomics are similarly well-sorted, with most controls placed within easy reach and intuitive to operate; the various buttons also exude tactile sensations that project an unmistakable air of quality. Similar to its exterior, the i40's dashboard sports a cleaner and more business-like appearance than its counterpart in the Sonata. For small item storage, the i40 has more of its compartments hidden from view, compared to the Sonata, which had more exposed cubby holes along the centre console. In the i40, everything is lidded and the impression is that they will swallow less items than those in the Sonata.
At the back, the i40 Tourer is pleasingly equipped with a motorized tailgate which opens to some 553 litres of luggage space – smaller than continental wagons like the Volvo V60 and Peugeot 508 SW, but it will swallow more than the 522 litres available to the Mazda6 Touring. Split-folding rear seat backs allow expansion of available cargo hold to 1,719 litres, but unfortunately not with a flat floor. Remote release levers above the wheel arch help make the folding down process easier, however.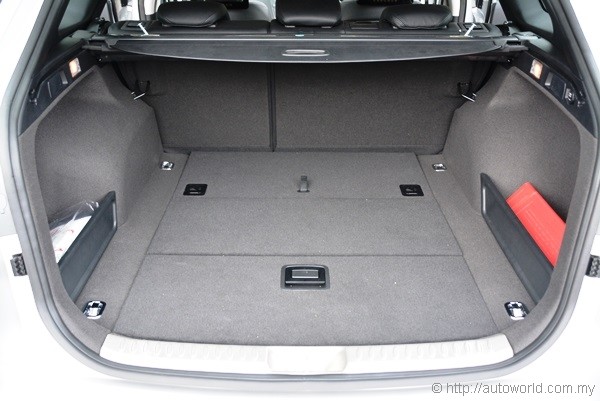 Rear hatch offers 553 litres of space, extendable to 1,719 litres with seats down.

Driving Experience
The common script on Hyundai vehicles these days is that they always build hugely convincing cases on paper and in the showroom only to fall embarrassingly flat on the road. The i40 avoids disappointment in that respect, but overall it is still a mixed bag. Performance of the 2.0-litre Nu GDI engine is respectable enough, but it never felt anywhere near the claimed 175hp to be sure.
Like its port injection counterpart we tested in the facelifted Sonata and Tucson, the i40's Nu delivers adequate shove in the low- to mid-range under part-throttle, but pushing it hard unearths coarser and less refined traits. Not helping its case is the slow and hesitant nature of Hyundai's in-house 6-speed auto. Interestingly, perhaps owing to its European roots, there is this niggling impression that the i40 is really made for a diesel engine.
The driving dynamics delivered a pleasant surprise, with the i40's body motions generally feeling more European than Korean. It can't yet match the best for overall sophistication and engagement, but chassis composure is good enough that you can smoothly string a few corners at decent speed. On a straight line, speeds of up to 160kph can be sustained with confidence. This is one of very few Hyundai vehicles that feel like its chassis can handle more power than the engine can throw at it.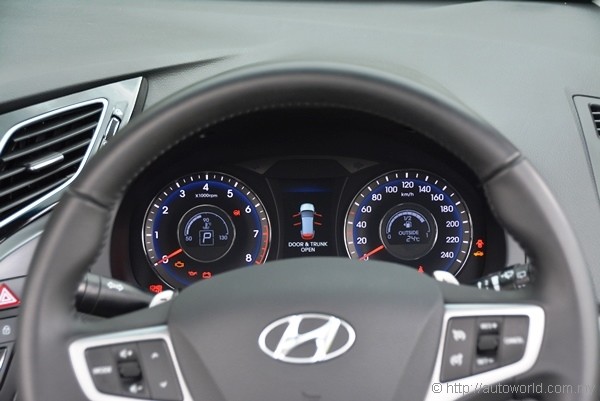 Steering wheel features paddle shifters.

Verdict
The first question the i40 must answer from buyers is whether as a smaller car can it justify its pricing premium over the Sonata, and on almost every level other than body size, the answer is a convincing yes. Smaller it is, but the i40 is a better equipped and in many ways a much more sophisticated product than the Sonata, which itself is an excellent purchasing preposition even if it isn't the most enthralling to drive.
Less-than-convincing dynamics predictably remain the i40's only shortfall, but the gap is actually closer than us enthusiasts might think or is perhaps even a non-issue for most buyers. Driven within the limits of its abilities, the i40 in fact excels as a refined and dignified vehicle enhanced by considerable style and generous list of equipment. As a whole, the i40 is an excellent product that is highly worthy of consideration.