2013 Hyundai Tucson 2.0 Nu Test Drive Review
The current generation Hyundai Tucson LM has been around for some three years already and it can be described as having made a positive impact in our market, opening up new options for buyers then seeking to go beyond the Honda CR-V and Nissan X-Trail, the segment's default choices at the time, even if the latter is a much-declined force these days.
A facelifted Tucson was launched at the recent Kuala Lumpur International Motor Show in November, giving the model a timely update as it enters the second half of its product cycle. Despite improved specifications, the new model faces stiffer competition than its predecessor, thanks to an influx of new and highly-competitive models such as the Mazda CX-5, Ford Kuga, and not to mention the all-new and much-improved fourth-generation Honda CR-V. The new Tucson will therefore have to remain on top of its game to sustain the strong momentum built by its predecessor.


Prices & Variants
As before, the Tucson continues to line up with a choice of 2.0- and 2.4-litre powerplants, the former driving its front wheels and the latter sending traction to all fours. Like the facelifted facelifted Sonata that came earlier this year, the 2.0-litre Tucson gets a new engine from the Nu-series family while the 2.4 soldiers on with the existing Theta-II; a six-speed automatic transmission is standard for all variants.
The 2.0-litre models are offered with a choice of two trim levels, starting with the Elegance variant at RM132,888 with insurance then moving up to RM145,888 for the better-equipped Executive Plus model as tested here. The range-topping 2.4-litre model goes for RM158,888 and it is available exclusively in Executive Plus trim. Equipment separating the two upper variants are minimal, with LED tail lamps, power-adjusting driver seat, and dual-zone automatic climate control being the only items exclusive to the bigger-engined model.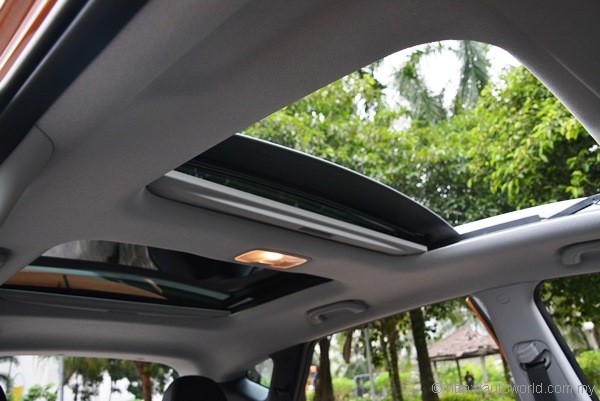 Panoramic sunroof another item exclusive to the two Executive Plus variants.

The 2.0 Elegance gives the range a respectable base model, offering steering-mounted controls, rear fog lights, USB/AUX-IN audio connectivity, dual airbags, ABS, and EBD as standard. The RM13k step up to the 2.0 Executive Plus may seem steep, but it's a highly-worthwhile upgrade to make, adding smart keyless entry with engine start/stop button, electronic stability control, side and curtain airbags, and a multimedia touchscreen head unit. Also added to the package at this level are semi-leather seats and a panoramic sunroof, both features which we regard with ambivalence.
Installed locally, the in-dash multimedia unit incorporates GPS navigation, DVD playback, Bluetooth connectivity, and most importantly, reverse camera. The unit in our test car had issues with the maps in its mini SD-card, which precluded any effective evaluation of its navigation system. Interface was less than satisfactory – the touchscreen's sensitivity was inconsistent and unpredictable, reacting differently to pokes and prods of our fingers each time. Not the last word in intuitiveness, but we tolerate the unit's follies for the sake of its reverse camera.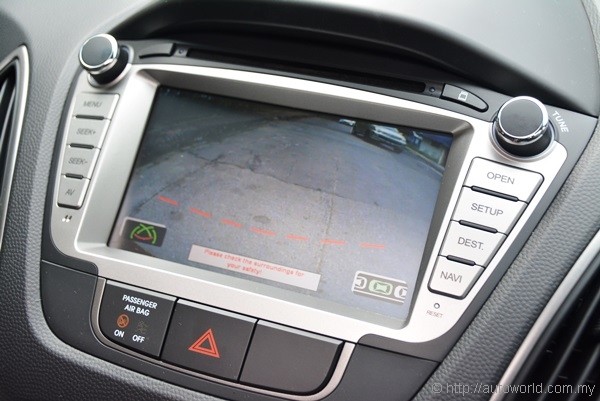 Audio visual navigator is exclusive the Executive Plus variants.

What's Changed?
Hyundai had actually introduced a mildly-updated version of the Tucson in November last year; this new one carries over many upgrades implemented in that minor change whilst adding unique touches of its own. The 2012 Tucson had already added front passenger airbag deactivation, ISOFIX, headlamp level adjust, rear fog lights, and a lightly-retouched front bumper, which the 2013 version builds on by adding projector headlamps to a largely identical fascia. For observers jumping from a 2010 unit, many of the 2013 model's 'new' equipment actually originated in the 2012 version.
As mentioned earlier, 2.0-litre variants have a new engine under the hood, but interestingly one quoted with less power. From the bullish 164hp and 197Nm by the Theta-II, the new 1,999cc Nu MPI engine makes do with a modest 156hp and 192Nm. The engine's reduced outputs are nevertheless offset by its lighter weight, which takes 33.6kg off the Tucson's nose – good news for both dynamics and fuel economy. This reduction in weight is extremely impressive, when one considers that the Theta-II was already built on all-aluminium construction. Another key technical change to note in the 2013 Tucson is the switch from hydraulic to electric power steering.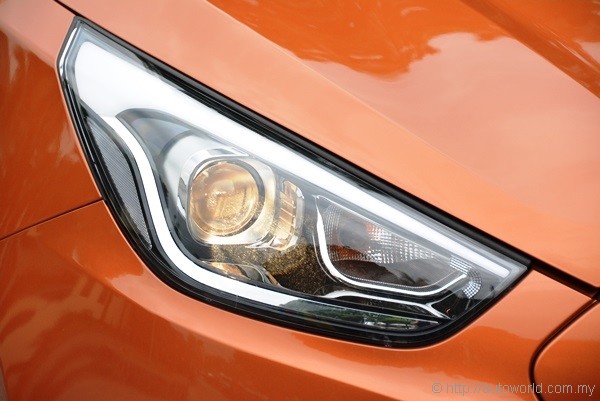 New projector headlamps complemented by LED position lamps.

Driving Experience
To drive, the Tucson is a generally competent vehicle with little faults to pick. It is not as engaging as a Ford Kuga, but such a comparison would be unfair, and it is best to appreciate the Tucson for what it is, a decently comfortable and refined crossover SUV eminently suited for urban duty. The suspension setup has a hint of firmness to it, but thankfully not too stiff to create a jarring ride. Poor surfaces are soaked up rather than being fully isolated, meaning you will always have a general sensation of the terrain underneath but won't have your bones rearranged while going over them.
The Tucson's chassis exudes a good level of composure at high speeds and keeps body roll within reasonable parameters. It is telling that the Tucson 2.0 tested here did not feel adversely affected by its omission of AWD, and it is to Hyundai's credit that this is so. Some SUVs, even if they are underpinned by monocoque platforms and particularly those developed with AWD versions as their baseline, tend to feel out of sorts with the rear half of their drivetrain removed. Within the driving conditions we subjected it to, the Tucson felt adequate with the traction of front-wheel drive, tracking its lines with reasonable precision and stability.
Compared to our previous encounter with it in the Sonata, the 2.0-litre Nu engine seemed to acquit itself better under the hood of the Tucson. Overall refinement of the power unit felt improved, and the engine's strong low-end torque is a much-welcomed trait in any SUV application. It pulls gamely at low revs, and the high-end coarseness that we observed while testing the Sonata is conspicuously absent.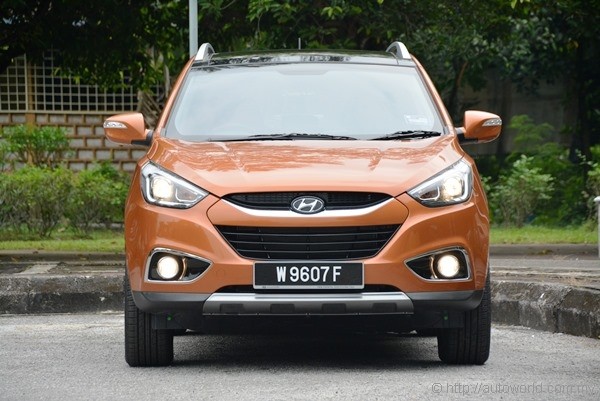 Front fascia receives a minor touch-up, but remains largely unchanged.

Verdict
Improved with more kit at effectively unchanged prices, the updated 2013 Hyundai Tucson remains one of the best value buy mid-sized crossover SUVs in the market. It is testimony to Hyundai's progress as a car maker that value is not the only reason needed to persuade one to buy the Tucson; its sleek design remains one of the segment's most attractive and the overall package is mechanically sound.
It is a stretch to call the Tucson a segment-leading product, but it is no exaggeration to say that it is a competitive one, which is still some praise when its pool of rivals include the Ford Kuga, Mazda CX-5, and the new Honda CR-V, all of which, don't forget, are much newer than the Tucson.