2013 Honda CR-Z M/T Test Drive Review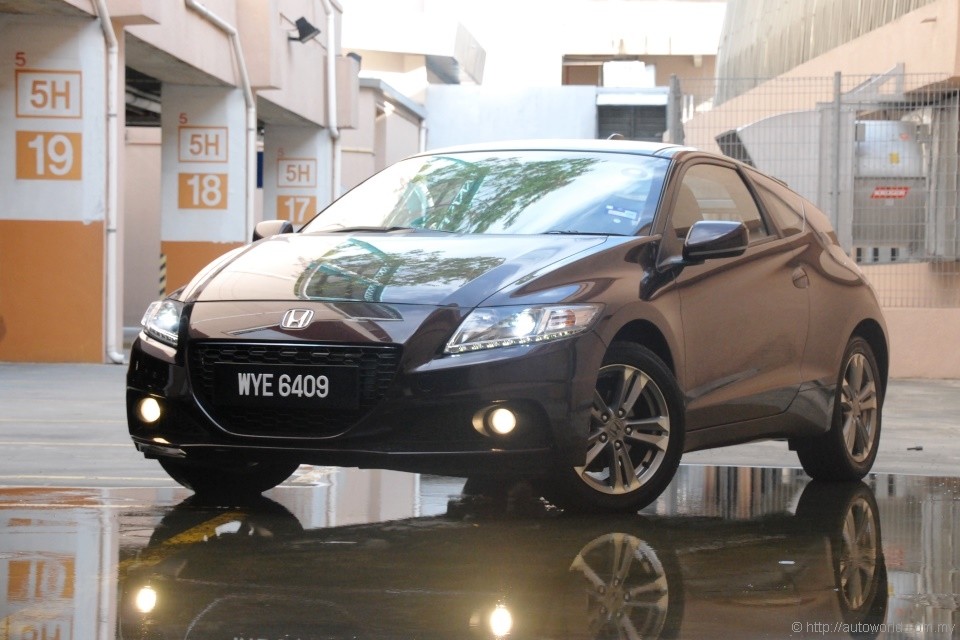 A hybrid engine is something which we would rarely associate with fun or high performance, especially not when the world's poster car of a hybrid vehicle is the Toyota Prius. Engineers have since come up with high-performance hybrids, some even good enough for motorsports applications, but unless you can afford a BMW ActiveHybrid, you don't have much in the way of sporty options.
Powered by a 1.5-litre petrol-electric hybrid, the Honda CR-Z is not what you would consider the last word in high performance, even in its enhanced state introduced in the 2013 facelift launched in February. It does have a sporty shape, however, and from past experience, the CR-Z is also blessed with a capable chassis that convincingly delivers the goods as far as entertainment value is concerned.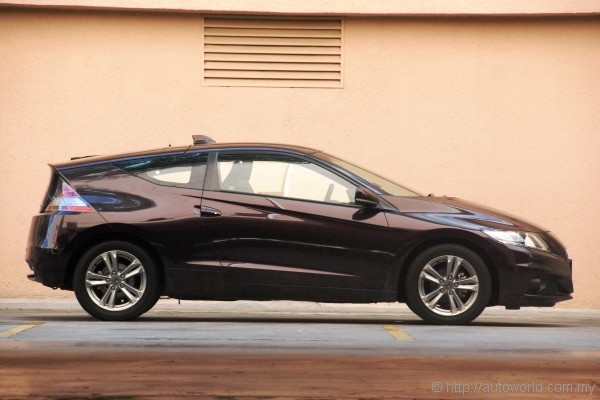 Shape harks back to the classic Honda CR-X.

Price & Specifications
In its manual guise tested here, the CR-Z is priced at RM119,000 with insurance, exactly RM4,000 less than the CVT variant which we reviewed much earlier in May. Happily, at least for those of us with no issues driving manual transmission, less money here buys you more power as the CVT variant's outputs are detuned to protect its less robust transmission.
By willing to take on the task of operating a third pedal, you are rewarded with extra outputs to the tune of one horsepower and 18Nm of torque; from 133hp and 172Nm produced by the CVT model, the manual CR-Z churns out a more potent 134hp and 190Nm, dropped on the front wheels by a six-speed gearbox.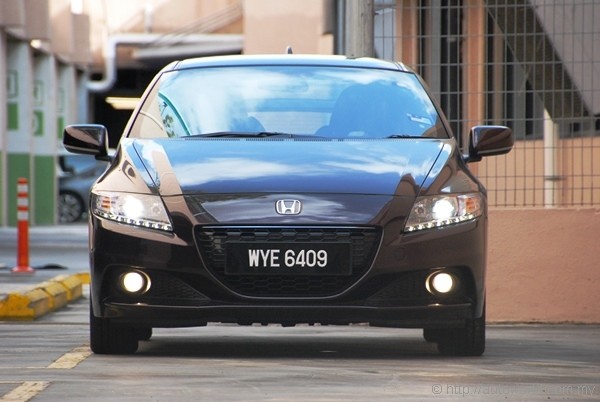 Honda made very subtle alterations to the new CR-Z's fascia, but that was all it needed anyway.

Complementing the heightened power outputs for the 2013 CR-Z in both its manual and CVT guises, Honda has replaced the existing nickel metal hydride battery with a lithium ion-based alternative, which offers double the capacity and the ability to charge and discharge more rapidly. The new battery retains an identical size as before, but inside, each individual cell is made lighter and smaller allowing for more effective cooling.
Other aspects of the CR-Z manual are virtually identical to its CVT counterpart. The bumpers front and rear are subtly enhanced from the 2012 model while the interior remains virtually unchanged save for the addition of the S+ button on the steering. Worth highlighting again is the impressive practicality of the centre console, which sports an excellent distribution of cubby holes ready to swallow a considerable amount of small items. The driver-oriented cockpit too is a study of excellent ergonomics with all controls placed within easy reach and intuitive to operate.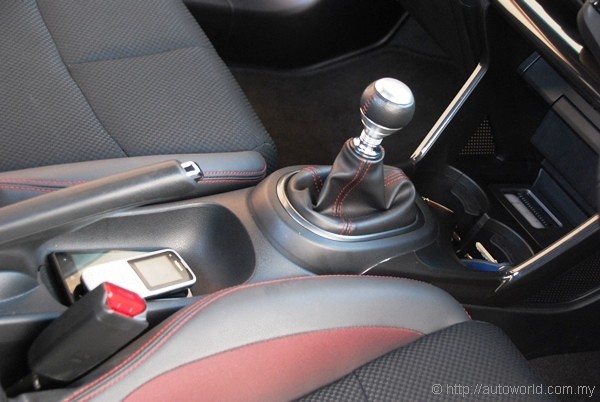 Notice how much useful space is available along the centre console.

Driving Impressions
For reasons familiar to most Malaysians, Honda sells way more units of the CR-Z CVT than the manual, which is a waste, because the manual is so much more enjoyable to drive, and it's not even because of the added outputs. At this point, regular readers, especially those who read my earlier review of the 2012 CR-Z manual, will correctly anticipate that I will now highlight slick gear shift quality of its 6-speed manual transmission.
Offering short and crisp throws, the well-calibrated linkages make self-shifting a thoroughly enjoyable exercise. The clutch pedal in our 2013 demo unit had a stronger bite and was notably easier to modulate compared to our 2012 test car. Put these two qualities together, it makes changing gears in the CR-Z manual – 1) not intimidating, and 2) so delightful you'd change gears for fun.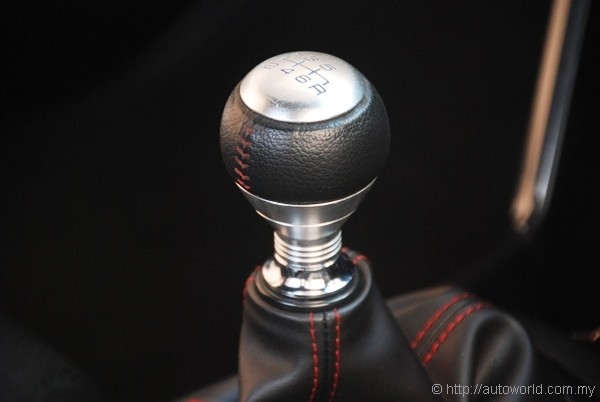 6-speed manual is a joy to wield; throws short and precise.

The other pleasing aspect of the CR-Z's driving experience, one which you also get with the CVT variant, is its impressively sharp dynamics. Its steering is a particular highlight – sharp and rich with feedback. Turn-in is exceptionally quick and its nose, pardon the cliche, goes exactly where you point it, with nary a hint of understeer. This is pleasingly achieved without resorting to a ridiculously stiff suspension setup, which adds another tick to the 'pros' column – ride comfort is not sacrificed.
On straight lines, added twist of the new engine setup did not translate into more rapid acceleration. The CR-Z is still simply not the fastest car around the block, but what's equally true is that cruising at the low- to mid-range RPMs feel pleasingly effortless and without struggle, even when you activate the prosaic Eco driving mode. Accelerating to speeds beyond the national limit is a drama-free experience, but one that is nevertheless accomplished with a minimum of fuss. The auto start/stop system is generally worth praising too; its restarts being generally quick and smooth.


Verdict
The Honda CR-Z has always been a favourite of ours, and the improved 2013 version continues to hold down a special spot in our hearts. We are not disappointed that the improved outputs did not produce any dramatic increase in performance, but rather gratified that the dynamic competence that had us gushing when the car was initially launch remains loud and true.
The majority of CR-Z buyers have predictably went for the CVT model, leaving very few takers for the manual version which we review here. Not an unexpected turn of events, but our advice is that if you're buying the CR-Z more for its driving experience and less for its looks, you'll benefit more by going for the manual.