Hyundai i10 Colourz Edition Review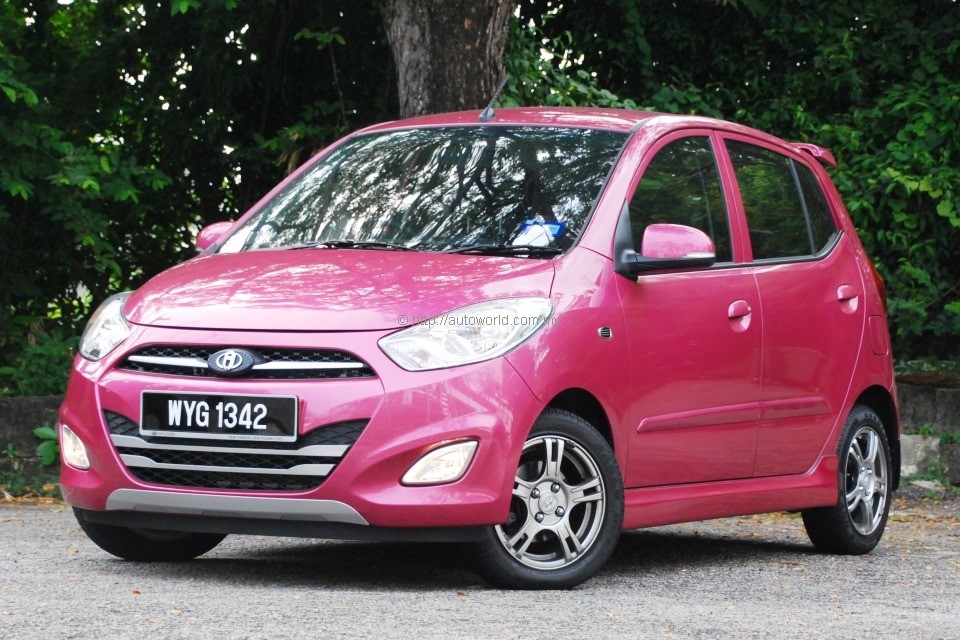 One of the little things I enjoy doing whilst attending events is a little game of 'spot the test car' at the parking lots. Car companies in Malaysia typically operate small test fleets, so a car which I have just returned yesterday could well be in the hands of another journalist by now, and yet another journalist by the end of the week.
The practical reason behind this little distraction however, is simply to assure myself that I have arrived at the correct venue. It also allows me to have keep an eye which test cars are currently in circulation, and if I spot an interesting vehicle, I'll ring the appropriate PR office to arrange for a test drive. In recent weeks, I have been spotting a brightly-coloured pink Hyundai i10, and needless to say, I was not particularly inclined to make this particular call; and I didn't.
But as fate would have it however, the car came to me, and I found myself in the company of the pink little Hyundai i10 Colourz Edition test car seen in the pictures accompanying this article. To be perfectly clear, however, the i10 is a vehicle which I hold to a high regard, although I wasn't terribly excited at the prospect of being seen roaming around town in a bright pink-coloured vehicle. Happily however, the i10 also has a few other virtues, some new, to make its case.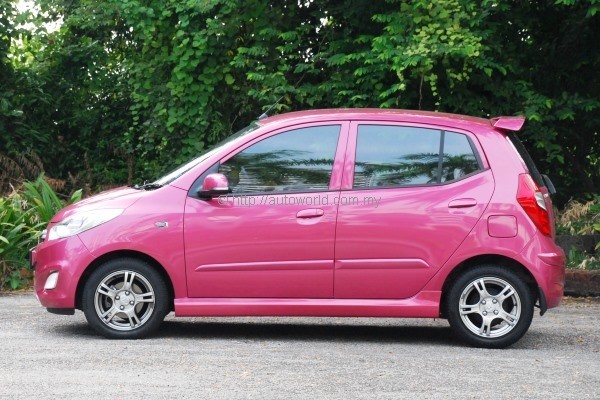 The i10's compact dimensions make it an excellent city runabout.

Prices & Variants
As before, Hyundai continues to offer the i10 with a choice of two four-cylinder engines, displacing 1.1 and 1.25 litres respectively. Trim levels have been streamlined; both models are only offered in Colourz Edition guise with almost similar levels of equipment. The 1.25 gets bigger rear drums and its rear back and cushion are foldable to create a flat loading floor – the 1.1 makes do with only a folding seat back.
The two models are priced RM4,000 apart, and the 1.25 version as tested here is naturally the more expensive of the two, going for RM56,988 with insurance. Standard equipment for the money commendably includes rear fog lamps, dual frontal airbags, height adjustable front seat belts, ISOFIX mounts, instrument panel rheostat, headlamp level adjust, and anti-lock brakes.
Our test car came further equipped with an optional multimedia touchscreen system with integrated GPS that costs a further RM2,200. We don't recommend taking this option. Screen sensitivity is poor and operation clunky. Manually tuning radio frequencies was a particularly frustrating affair – you have to sweep back and forth between your desired frequency several times before the tuner finally 'catches' it. Operation wasn't smooth either, the GPS system actually hanged several times. If satellite navigation is that crucial to you, a portable GPS is a more worthwhile solution.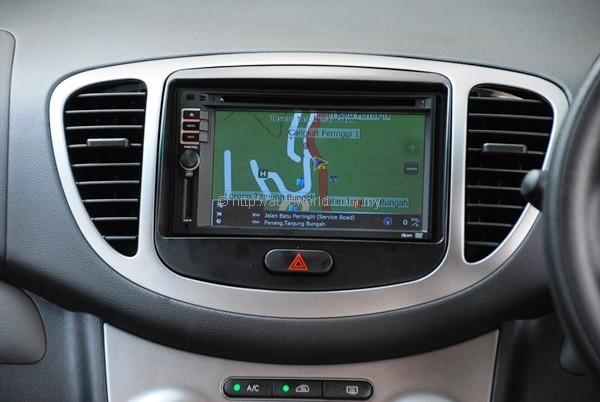 Optional multimedia touchscreen system had poor software. Difficult to recommend.

Specifications
Mechanically, the i10 is as simple as a modern car gets. The 1,248cc Kappa engine powering our test car now gets Dual CVVT technology as opposed to intake-only CVVT that was being offered before this. Outputs nevertheless remain unchanged from the single CVVT mill, with power and torque maxing out at 86hp and 119.6Nm respectively. The 1.1 Epsilon engine continues in its original state making 68hp and 99Nm. Both engines are now paired with 4-speed automatic transmissions as standard.
In the aspect of safety, the i10 had actually netted four stars from Euro NCAP tests, although this was performed in 2008 when less stringent criteria were in place. When tested more recently for our regional ASEAN NCAP, the result was a less stellar two-star performance. In light of this, the improved safety equipment added to the 2013 vintage is especially welcomed. To reiterate, dual airbags, ABS, EBD, and ISOFIX are now standard equipment for both engine variants, and HSDM has informed us that the i10's body structure now follows the stronger build of European specifications as well.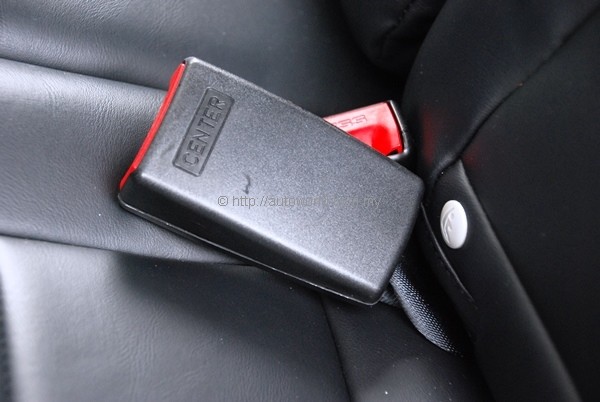 ISOFIX mounts at the rear.

Exterior
We typically don't discuss colour choices in our reviews, but since this version of the i10 is the Colourz Edition and that little has changed on its appearance, it is a topic worth exploring. There are seven colour choices in total, four of them being what I would describe as vibrant colours. The Lavendar Pink paint job of our test car is incompatible with my moderate tastes, but safe colours like white, silver, and grey are also available for selection.
Besides a new colour palette, the i10 also received a (very) subtly enhanced front grille accentuated by two horizontal matte silver louvres. The pseudo metallic skid plate screwed on to the underside of the bumper adds to a more rugged appearance. We would be surprised if these touches serve anything other than cosmetic purposes, but they give the i10's fascia a welcomed lift. New alloy rims adorn the four corners but in an unchanged size of 14″.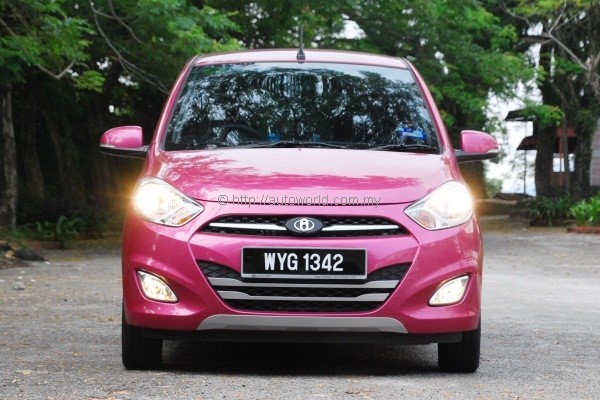 Front grille gets a more intricate design than before.

Interior
Little has changed inside the cabin, but there are a number of key enhancements to report, most of them safety-related. The rear centre passenger now gets a three-point belt, whilst driver and co-driver now have seat-belt height adjustment facility and vanity mirrors fitted to both sun visors. In the 1.25, seats are trimmed in two-tone leather – black matched with red or orange depending on exterior colour.
Curiously, Hyundai has swapped the wiper and indicator stalk positions, so you use your left hands to activate your blinkers just like you would in a European car… or a Proton. This, together with the presence of rear fog lights, lend further credence to the claim that the current vintage i10 sold in Malaysia do indeed follow European specifications.
Accommodations are not as spacious as a Perodua Myvi, but five average-sized Asian adults will fit with adequate leg and head room to make short journeys bearable. Shoulder room is understandably at a squeeze. I don't recommend going on an outstation trip with the family in this, but if you're headed into a congested part of town for lunch, this car is perfect.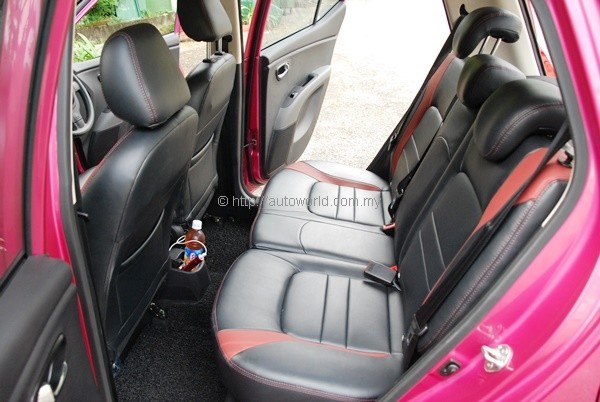 We managed to fit three adults abreast at the back.

Driving Experience
As before, the i10 continues to delight with exemplary road manners, its chassis composure arguably superior to even some cars with twice the price tag. The simplicity of its ingredients contributes to a purity of its driving experience. Its well-honed mechanical underpinnings offer refinement levels that are alien to this segment, and its suspension setup is expertly calibrated to handle typical city roads with aplomb. It is as cheerful as a small city car should be.
It is also not what we would call out of depth on the highways. You will not be the fastest car on the North-South Highway, but sustaining cruising speeds in the range of 130 to 150kph is not impossible. You will need to work the engine a bit to reach those speeds, but once there, high speed stability is reassuring and noise levels are not excessive by segment standards. The ride and handling balance of the i10 is exceedingly well-sorted and truly satisfying to experience.
Although Hyundai claims that the 1.25 engine is now enhanced by Dual CVVT, there was little, if any difference, which I could detect compared to what I remembered of the single CVVT predecessor. Still, nothing to complain. It is a bubbly little engine with strong torque on take off and its outputs are entirely adequate for a car weighing in the region of about a tonne. HSDM did not quote an official weight for the vehicle, but the equivalent UK-spec model weighs in at 1,010kg, a figure that is likely to include the weight of a 75kg driver as per European practice.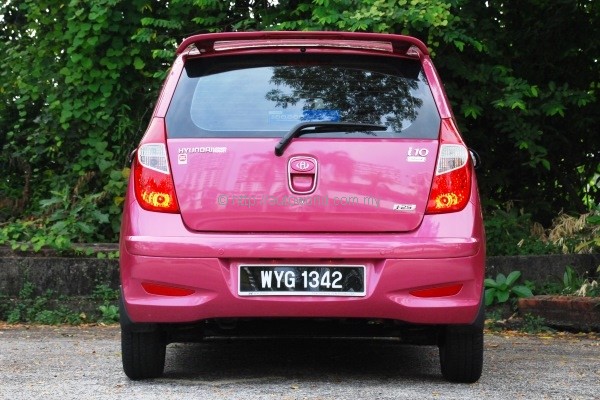 Rear fog lights are included. Impressive.

Verdict
For anyone looking for an affordable compact city runabout, the i10 remains a highly-recommended pick. On the balance of price and relative parity of equipment, the 1.25-litre version as tested here appears to be the more worthwhile purchase, although this recommendation is made without having tried the 1.1 version. Many would argue that at RM57k, the Perodua Myvi is a better value purchase, and that much is true if the case is evaluated on a metal-for-money basis, although we would point to the i10's superior driving experience as justification for its money.
Despite its cutesy appearance and diminutive size, the i10 is a hugely accomplished vehicle with incredibly well-sorted dynamics that shames cars from segments above. Indeed, even the combined efforts of the Elantra and Sonata did not produce smiles as wide as the humble i10 behind the wheel. It is a fun car, the i10, and very lovable. If there's ever such a thing as a car that is cheap and cheerful, the i10 is as close to that definition as it gets.