Nissan Serena S-Hybrid launched in Malaysia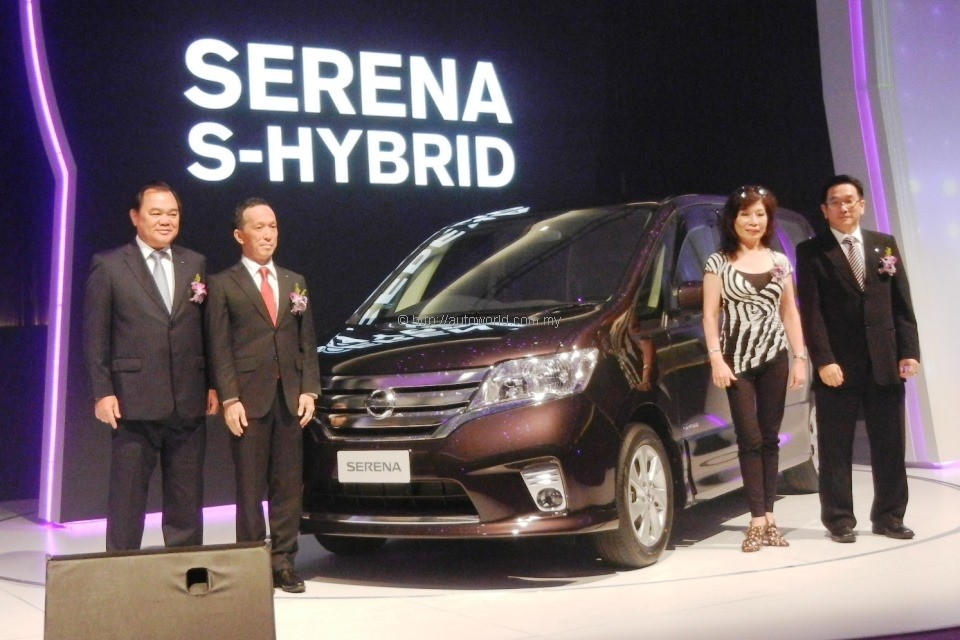 Malaysian MPV buyers now have the option of hybrid power with the all-new Nissan Serena S-Hybrid launched by Edaran Tan Chong Motor Sdn Bhd (ETCM) earlier today. An eight-seater fully imported from Japan, the Serena S-Hybrid uses a 2.0-litre petrol combustion engine, enabling it to benefit from hybrid tax incentives.
Priced at RM149,500 with insurance, the new Serena S-Hybrid will be sold alongside the existing second-generation Serena C24 2.0 that is being retained for fleet sales. It is worth noting that the S-Hybrid is actually a member of the fourth-generation C26 Serena family; the third generation C25 model was skipped for Malaysia.
The familiar MR20 block from the Sylphy, Teana, and X-Trail forms the basis of the Serena S-Hybrid's powertrain architecture, but in a considerably enhanced state, codenamed MR20DD, featuring direct injection and dual continuous variable valve timing control (dual CVTC); to recap, the regular MR20DE utilizes port fuel injection and intake-only CVTC. Nissan quotes outputs of 145hp and 210Nm.
Nissan's S-Hybrid system is a notably simpler setup than alternatives from Honda and Toyota. Its electric motor is described as an Eco motor, and its primary function is to assist in start-up acceleration, when fuel usage is generally greatest in a day-to-day commute. It also serves facilitate energy recuperation whilst decelerating and braking.
This setup, Nissan claims, allows the S-Hybrid powertrain to be incorporated into an existing platform without structural modifications. All components reside in the engine room and it doesn't even have any of the fancy NiMH or lithium-ion batteries which Malaysian users are so concerned about replacing. The Serena S-Hybrid's electric power supply is supplied by two lead-acid batteries, almost like what's used in conventional vehicles, but enhanced to handle more rapid charging and discharging.
Nissan designed a highly spacious and versatile cabin for the Serena, able to accommodate a maximum of eight people whilst still having decent room for cargo behind its third row seats. The second and third row seats can be arranged into 14 different configurations. Floor-mounted rails allow the seats to also slide back and forth. The 'Smart Multi Centre' seat slides along the centre aisle alternating between functions as additional storage in the first row, as an extra seat in the second row, or even as a tray table to be shared with third row passengers.
In line with affluent tastes of Malaysian buyers, the Serena S-Hybrid comes trimmed in a highly-appointed Highway Star specification. This trim variant carries a more upmarket appearance wearing 16-inch alloy rims and a more pronounced bodykit. It comes with equipment such as one-touch electric sliding rear doors, keyless entry, engine start/stop button, steering mounted controls, front and rear auto climate control, and electronic stability control. It is even sprung in a tauter sports suspension.
Customers are also presented with a number of cost options, all local accessories developed at the initiative of ETCM. There is a selection of window films ranging from RM1,500 to RM3,400 in price, door visors for RM400, and a 10.1″ roof-mounted LCD panel. Fabric upholstery is standard, but leather can be order for RM2,800. Also available is a locally-developed TCAT multimedia unit with GPS and reverse camera worth RM3,300. The unit is being offered as a free upgrade as part of a launch promo.