2013 Honda CR-V 2.0 Test Drive Review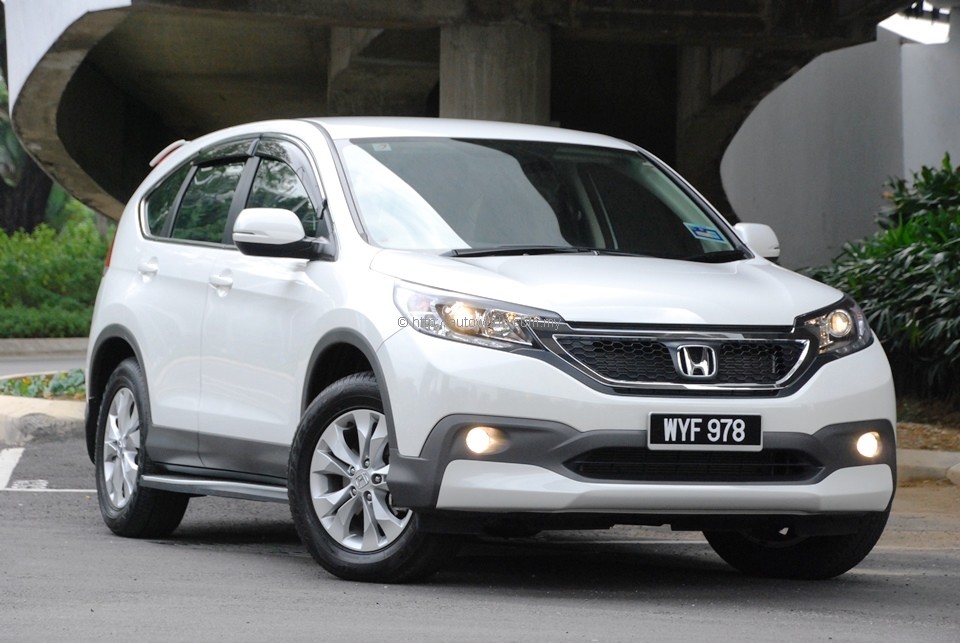 Malaysia's favourite crossover SUV, the Honda CR-V was renewed for a fourth model generation earlier this year, and to be frank, it did not get me excited all that much. I was never a big fan of the CR-V, and the sight of a supposedly all-new model that looked more like a facelift of its predecessor smacks of laziness on Honda's part, left my personal expectations at, well, let's just say not very high.
Having missed out on the media drive that was held in April, I finally had the opportunity to examine the CR-V's credentials personally and see for myself what the fuss is all about. Something must be very right about an SUV that is still able to garner 6,100 bookings in the space of four months whilst fending off rivals as talented as the Ford Kuga and Mazda CX-5.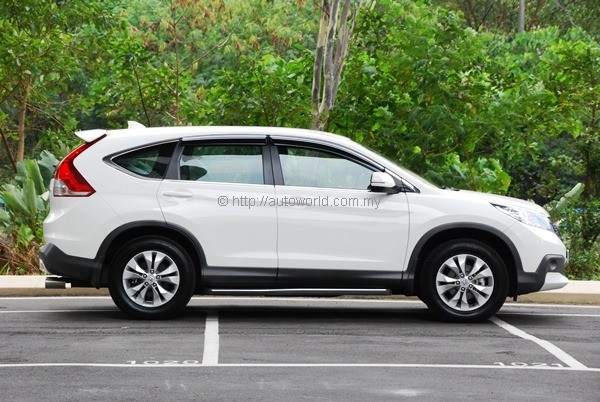 The new CR-V is actually smaller than its predecessor, but it has more road presence.

Prices & Variants
The big news of this new CR-V is that Honda has finally gotten around to introducing a 2.4-litre model for the Malaysian market, and at a price that is pleasingly lower than initially announced, being yours for RM169,800 with insurance. Honda's press office has yet to register a 2.4-litre demo unit as we publish this, so for the moment, our review will centre on the familiar 2.0-litre model.
Prices start at RM148,800 for the basic car, which comes pleasingly equipped with a reverse camera, four airbags, and electronic stability control (VSA) as standard. Your spending may not end there, however, as there is a lengthy list of options. For our money, we would recommend ticking the luggage area tonneau cover (RM600), cargo tray (RM200), cargo net (RM150), and those of you with little ones might want to look at the child seat selection with prices ranging from RM1,360 to RM1,620.
The options are mostly cosmetic enhancements and can be selected individually or bundled into four distinct packages, namely Alpha (RM5,000), Beta (RM4,250), Utility (RM2,550), and Urban Package (RM4,950). Our pictured test car here came specced with a combination of the Alpha and Utility packages, adding a total of RM7,550 to its invoice.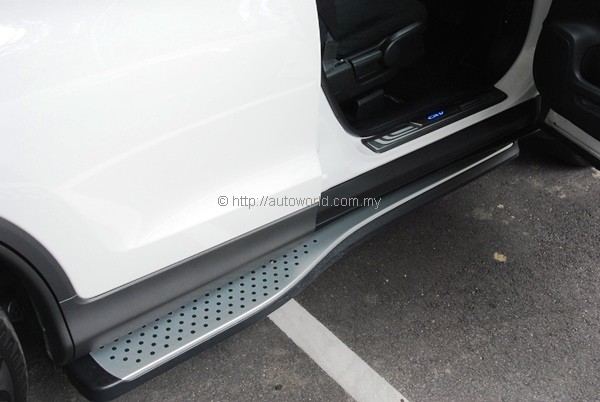 Our test car came fully loaded with almost all available optional accessories.

Specifications
The new CR-V is not a clean slate development but sits on a carryover platform from its predecessor. The 2.0-litre SOHC i-VTEC engine is the same R20 mill as before, but now offering five horses more, with outputs quoted at 153hp @ 6,500rpm and 190Nm @ 4,300rpm. Similarly carried over from the predecessor is Honda's proven 5-speed automatic transmission, but with a lower final drive to facilitate stronger low-end acceleration.
Honda Malaysia had the option of reducing the CR-V to front-wheel drive, but that route was thankfully not pursued; Malaysia gets the CR-V with AWD as standard. The suspension shares the same basic architecture as its predecessor, featuring MacPherson struts up front and double wishbones at the rear. Once again, it is important to note that the R&D starting point of this CR-V was the predecessor model and not the current Civic as it has been with previous CR-Vs.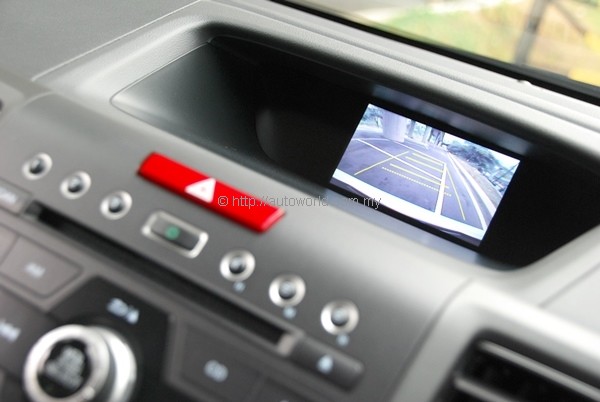 Reverse camera is standard feature. Praiseworthy.

Exterior
Honda made the new CR-V smaller than before, but your first impressions might well suggest otherwise. The new model has cleaner lines and more substantial road presence than its predecessor. The nose especially looks better resolved now than the predecessor's front fascia, which I've always considered as messy and never quite warmed to. The headlamps and front grille now integrate more cohesively and looks good regardless whether you retain the original grille or swap in the optional chrome grille of our test car.
At the rear, Honda retained the D-pillar mounted tail lamps that started with the first-generation CR-V and evolved continuously until today. The latest iteration is given a chunkier appearance, with the lower part wrapping around to give us small hints of the Volvo XC90. The rear section of the window line has been accordingly raised to gel more harmoniously with the redesigned tail lights.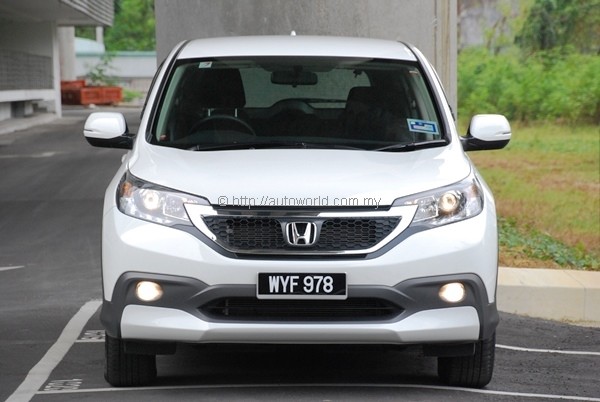 New fascia is better resolved than the predecessor's.

Interior
The CR-V's biggest strength unsurprisingly lies with its interior, where Honda once again amazes with its peerless packaging prowess. Whilst there aren't any premium selection of materials for us to write home about and neither does it have any class-leading gadgets to boast over competitors, it is unrivaled with regards to space, or specifically how Honda makes use of it.
We mentioned earlier that the CR-V's exterior dimensions have shrunken, which makes Honda's achievement in liberating more interior space an all the more notable achievement. Rear leg room is extremely impressive by class standards, and 589 litres of luggage space is not too shabby although it doesn't look that big to the eye. No matter, because you can extend that capacity and quite neatly so, I might add.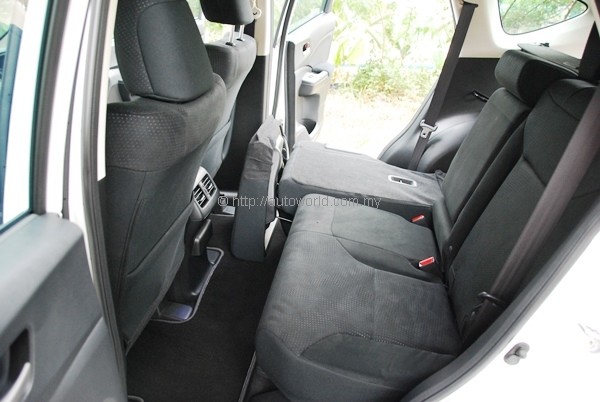 Rear leg room is generous, and notice that the headrest remain attached even as the seat is folded.

Every SUV in the market today has 60:40 split folding rear seats, but what separates the CR-V's pews from its competitors is how Honda was able to facilitate a smooth and seamless one-touch operation using purely mechanical means. One pull of the actuation lever is all it takes for the seat cushion to fold forward and the seat back to tumble down, with the head rest slotting neatly in the gap in the process. Make it a point to try this feature in the showroom.
Moving up front, we arrive at a clutter-free dashboard evidently designed with user friendliness in mind. Controls are easy to operate and the deep cubby holes of the centre console were particularly appreciated for the sheer amount of things that they were able to accommodate. Overall, the CR-V's interior is a very convenient place to be in, even if it does not exude much showroom appeal.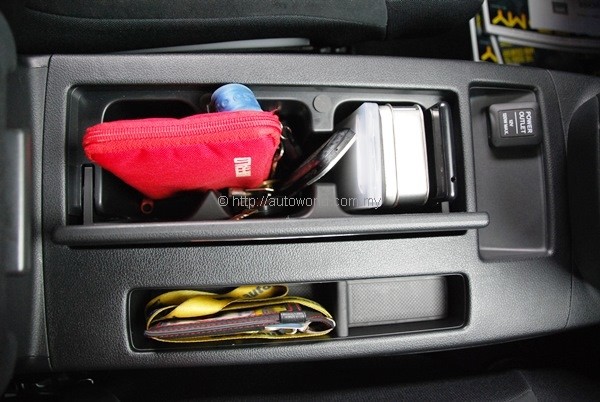 Centre console cupholders are pleasingly deep. Able to accommodate a lot of things.

Driving Impressions
Contrary to popular sentiment, I have never held the CR-V to a high regard as far as its driving experience is concerned. The previous generation had decent dynamics, but its performance was underwhelming, with the engine notably struggling to shift its weight. The new model improves on that facet considerably – the lower final drive ratio in particular helped contribute to a more sprightly and responsive character that makes the new CR-V feel a lot less underpowered than before.
Despite its notably improved performance, however, the CR-V is still best driven in a sedate manner. Whilst its mid-range feels stronger than before, the engine feels coarse at high revs, seemingly preferring the comforts of low to mid range exertions. The R20A acquits itself very well in the Accord, but for some reason the CR-V does not paint it in as flattering a light.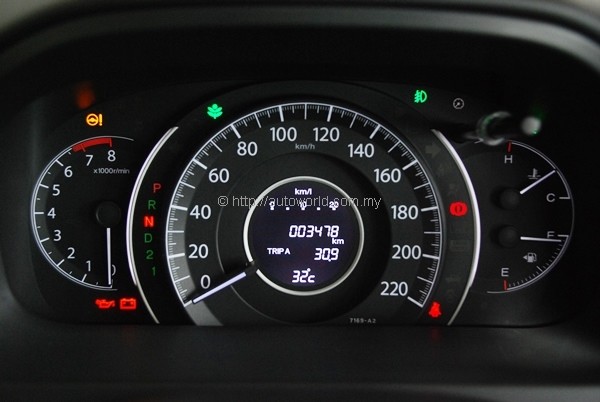 Layered instrument cluster looks better in person than in pictures.

The CR-V's 5-speed transmission, built and developed in-house, and used by almost every vehicle in Honda's model range, serves with pleasing smoothness and barely misses a beat with its selection of ratios. Despite being one ratio down on most of the competition, this hardly feels like the inferior alternative as far as automatic transmissions are concerned. In fact, it makes a few six-speeders out there seem inferior and unnecessarily complicated.
Its suspension is clearly optimized for road usage, and as a result, the CR-V corners with decent agility, with surprisingly minimal body roll. The stability at high speeds is satisfactory, and this is an SUV with which you can explore speeds of 160 to 170kph with confidence. Working the powertrain to bring you to those speeds, however, does require a bit of effort. It is however, less inclined to tackle gravel and pebble surfaces compared to a Kuga or a Nissan X-Trail.


Verdict
Honda's improvements to the new CR-V appear insignificant on paper, but they turned out to be quite substantial in reality. Driving experience is certainly more enjoyable than before even if it doesn't quite have the Kuga's or CX-5's measure in terms of ride and handling; the Kuga absolutely obliterates our 2.0-litre test car with regards to brute power. It is also not as refined as the X-Trail on the move, but it remains superior to the Koreans at the moment. That it still retains AWD as opposed to the FWD-only X-Trail is further brownie points to Honda.
Best to drive the CR-V certainly isn't, but it is decent, and where Honda really makes its case is in the cabin. The clever distribution of small item storage spaces are rivaled by the X-Trail, but there isn't another centre console out there that accommodates as many items as easily as the CR-V's. The one-touch folding seats, meanwhile, is simply the new benchmark in flexible seating design. It is hardly plush inside the CR-V, but it is amazingly clever and makes an impressively convincing case.