Rolls-Royce Wraith makes Malaysian debut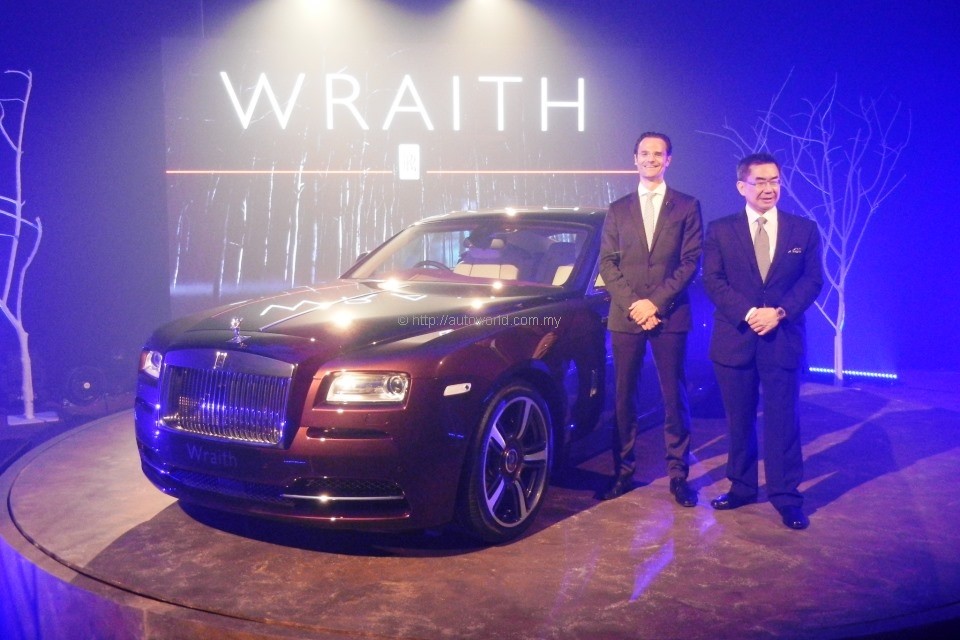 We traditionally imagine Rolls-Royce owners to be the chauffeur-driven types and such needs are very adequately taken care of by the Phantom, or Ghost if one prefers a smaller (relative terminology, of course) footprint. But what if the owner wants something sporty for his or her own driving pleasure but still wants the trappings of opulence of a Rolls-Royce?
Sir Henry Royce once famously said in a motivational speech to his employees to 'take the best that exists and make it better; when it does not exist, design it.' Previously, the sporty foil of a Rolls-Royce was its equivalent Bentley, but with the former sister brand now a separate business entity, Rolls-Royce has taken upon itself to satisfy the sporting needs of its customers.
Introduced in March this year was the two-door Rolls-Royce Wraith, which is said to be the most powerful and most dynamic vehicle ever to sport the Spirit of Ecstasy on its hood. The new model made its Malaysian debut today, reviving a nameplate that was last used by Rolls-Royce before the second world war broke out. It had a production run that lasted only two years and is thus among the rarest pre-war Rolls-Royce models, with only 491 units said to exist.
Rolls-Royce Motor Cars General Manager for Emerging Markets – Asia, Herfried Hasenoehrl, commented on the preview, "This new model in the Rolls-Royce family is an inspired, dramatic edition – Wraith marries bold styling, with great power whilst exuding the style of its 1930's predecessor. I see it being a success in a market like Malaysia, where our customers appreciate the Rolls-Royce adage 'to strive for perfection' and 'When it does not exist, design it."
The Wraith's fastback design communicates its heightened sporting intent relative to its stablemates, and it is armed with considerable firepower to back its claim. The BMW-developed 6.6-litre twin-turbo V12 sitting in the Wraith's engine room delivers 624hp and 800Nm to the rear wheels via the ZF 8-speed automatic transmission that shares only its hardware with regular BMW models but managed by a transmission programming that is exclusive to Rolls-Royce applications.
In developing the Wraith's chassis, Rolls-Royce sought to deliver a more agile character, minimizing body roll and giving heightened control feedback, all these to be achieved without sacrificing its trademark virtue of waftability which defines the Rolls-Royce driving experience. The basic suspension architecture consists of double wishbones up front and multi-links at the rear, complemented by air suspension and adjustable damping at all four corners.
On the Wraith's centre console is what Rolls-Royce calls the 'Spirit of Ecstasy Rotary Controller' fitted with a touch pad on its top surface, on which one can 'write' characters using one's own fingers and also perform 'pull and pinch' like you would when magnifying a display on your smart phone. The controller itself can be rotated to scroll through function menus and pressing down to select its functions. Sounds like the latest version of BMW's iDrive to us.
Pricing for the Wraith starts at RM 1.3 million before options and taxes. First deliveries are expected to be made by the end of this year.