Mazda CX-5 CKD officially available in Malaysia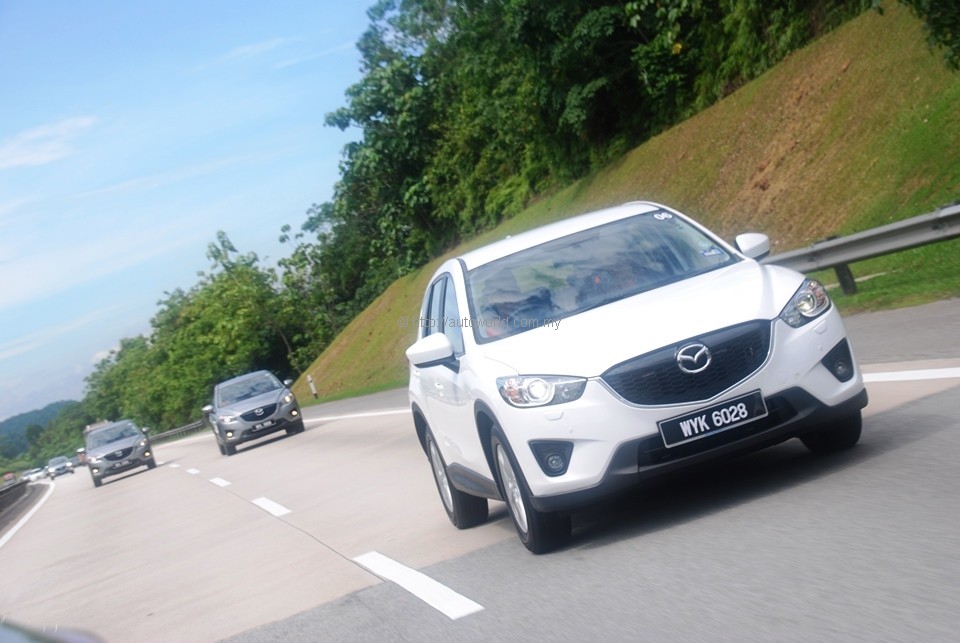 Spurred by the successful start-up of its CKD programme with the Mazda3, Mazda Malaysia has added the CX-5 to its growing portfolio of locally assembled Mazda vehicles today. Built on a dedicated line in Inokom's factory in Kulim, Kedah, the CX-5 is built to the same exacting standards as 'Made in Japan' units, with quality control assured by Mazda's own engineers flown in from Japan to oversee the assembly process.
Boasting a local content of 40% from the outset, the Kulim-built CX-5 can potentially be exported to other ASEAN markets and benefit from preferential taxing under the ASEAN Free Trade Agreement (AFTA). More importantly to local consumers, it also benefits from a lower price tag, allowing the newly-introduced 2WD Mid Spec version to enter the market at an attractive RM136,943.70 with insurance.
The new entry level variant is decently-equipped for the money, its standard kit count including auto wipers, steering-mounted controls, tilt & telescopic steering rack, auto-dimming rear view mirror, cruise control, dual zone climate control, stability & traction control, reverse camera, tyre pressure monitoring, and many other items in a list too lengthy to reproduce here.
The costlier High Spec models add a navigation system, leather seats, active auto-leveling bi-xenon headlamps, daytime running lights, keyless entry, electric driver seat adjust, and parking sensors. That parking sensors is excluded from the Mid Spec models may initially cause alarm, but with reverse camera made standard feature, this becomes an excusable omission.
The sunroof and Bose speakers that were available in the CBU models have been omitted, but those two items aside, the High Spec models are essentially identical to the CBU variants, and it is similarly offered with the option of 2WD or 4WD drivetrains. The 2WD model is priced at RM144,125,70, whilst the 4WD model goes for RM154,385.70.
As before, the CX-5 is powered by Mazda's highly-acclaimed 2.0-litre SkyActiv-G petrol engine which offers class-leading fuel efficiency without any sacrifice in driving pleasure. Outputs are driveline dependent; the 2WD models make 155hp @ 6,000rpm and 200Nm @ 4,000rpm, with the 4WD model quoted with marginally lower figures of 154hp @ 6,000rpm and 198Nm @ 4,000rpm. All versions use Mazda's 6-speed SkyActiv-Drive automatic transmission as standard.
Elsewhere in the world, Mazda also offers the CX-5 with the option of a 2.2-litre SkyActiv-D diesel engine and a more powerful 2.5-litre SkyActiv-G petrol engine. Happily, we have been informed that the 2.5 version is being considered for future introduction as a CBU model, and may be even as a CKD if circumstances permit.