New UMW Toyota Motor 3S opens in Alor Setar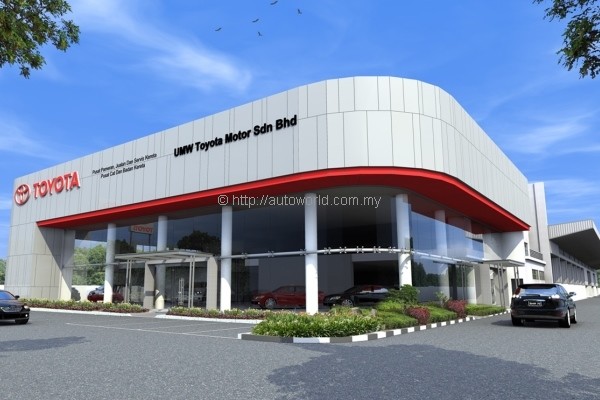 UMW Toyota Motor today opened an all-new 3S (sales, service, and spare parts) outlet at Alor Setar to cater for the sales and after sales needs of Toyota customers based in the Northern Region. Built at a cost of RM21.4 million, the new outlet will be Toyota's premier 3S facility in Kedah.
Situated along Lebuhraya Sultanah Bahiyah, the new 3S centre is built on a 2.53-acre land, with a total built-up area measuring in excess of 58,000 sq ft. Its showroom is designed to accommodate a display of five cars and its service centre has a turnover capacity of 75 vehicles daily. It also has a Body & Paint centre capable of handling up to 7 vehicles per day.
Speaking at the outlet's opening, Datuk Ismet Suki, President of UMW Toyota Motor noted that, "In recent years, sales of Toyota vehicles have been positive. Last year, we have sold more than 17,500 vehicles in the Northern region, of which 30% are from Kedah with growth of 20% from 2011."
In the after sales business, UMW Toyota completed 183,000 vehicle services in the Northern Region last year, with 32% of that volume coming from Kedah. The new outlet's opening brings the total number of Toyota outlets in the country to 92 sales and after sales centres.
"UMW Toyota Motor strongly believes that the automotive industry will continue to grow despite the current challenging market condition. We will strengthen our operations to meet our initial sales target of more than 105,500 units for Toyota and Lexus vehicles with the estimated TIV of 640,000 units in order to maintain our market share of more than 16.5%. In the area of after sales, we will continue to attain more than 1.14 million CPUS (vehicles serviced)," Datuk Ismet Suki said in closing.
Pictures: Official UMW Toyota release.