Fuel cell-powered Hyundai ix35 rolls out in Korea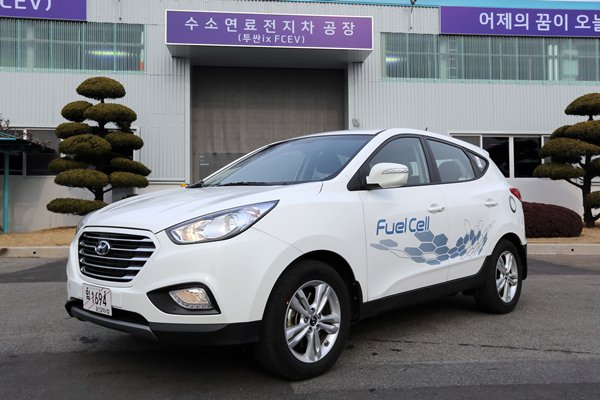 Hyundai's main plant in Ulsan made history today by rolling out the world's first hydrogen-powered vehicle off a mass production assembly line. The white Hyundai ix35, better known as the Tucson in our market, will be one of 17 that will be exported to Europe.
Out of the 17, 15 units will be supplied to the Municipality of Copenhagen, as part of its initiative to be carbon-free by 2025. The municipality signed and announced this supply deal with Hyundai in September 2012. The remaining two units will be supplied to Skåne, Sweden.
Moving forward, Hyundai plans to build 1,000 ix35 Fuel Cell vehicles by 2015 for lease to public and private fleets, primarily in Europe. The European Union has established a hydrogen road map and initiated construction of hydrogen fueling stations.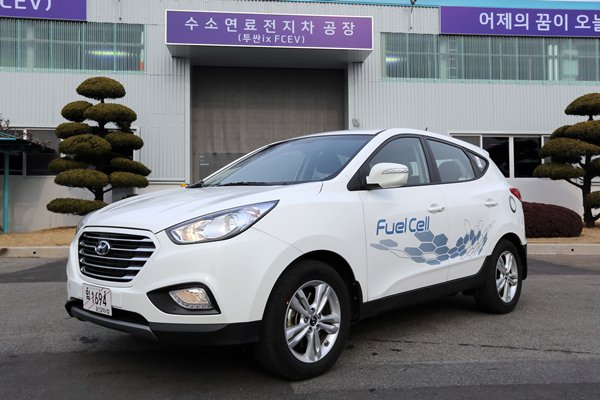 With properly developed infrastructure in place and production costs eventually coming down, Hyundai will then begin mass-producing hydrogen fuel cell vehicles to be sold to the mass market.
Built with proprietary technology, Hyundai's ix35 Fuel Cell is powered by hydrogen. A fuel cell stack converts the hydrogen into electricity, which turns the vehicle's motor. The only emission generated by the ix35 Fuel Cell is water. Hyundai claims that the ix35 Fuel Cell boasts drivability and performance similar to that of the petrol ix35.
Refueling of the ix35 Fuel Cell is said to take only minutes, and it is capable of completing the century sprint in 12.5 seconds. Its top speed is 160kph and on a single charge, Hyundai claims a maximum range of 594km. All these figures are comparable to regular petrol or diesel-powered vehicles.
KON