Audi A6 Hybrid Launched & Tested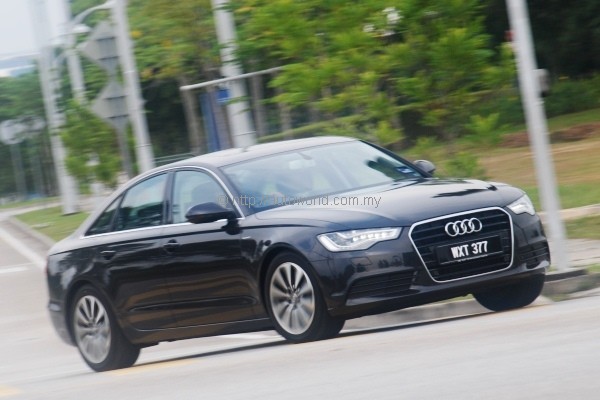 Thus far, the Government's hybrid vehicle tax exemptions have mostly benefited mainstream models, with Honda and Toyota being the biggest benefactors. Because exemptions only apply to vehicles displacing less than 2,000cc, hybrids from Porsche, Lexus, and other luxury brands remain subject to exorbitant taxes and continue to sell at sky high prices, limiting them to niche appeal.
Luxury hybrids mostly displace a minimum of three litres and thus don't even come close to qualify for the incentives. That equilibrium has officially shifted with the arrival of the Audi A6 Hybrid, which thanks to its 2.0-litre TFSI engine, qualifies for full import and excise duty exemptions, resulting in a fully-equipped mid-sized luxury vehicle priced one segment below its competition.
Local Audi distributors officially launched the A6 Hybrid in the Malaysian market today, but we had the opportunity to run our rule through an official test car last week to examine its credentials.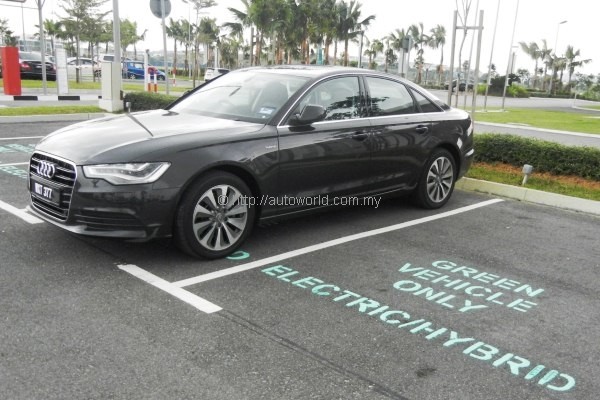 You can park on green vehicle bays in shopping malls, and it's perfectly valid.

Pricing and Equipment
Before options and insurance, a BMW 328i costs RM289,800 on-the-road. A Mercedes-Benz C 250, meanwhile, sets you back RM290,888. Both these cars are locally assembled. The fully-imported A6 Hybrid costs RM280,000, and even if you pick the Euromobil's two recommended options – keyless entry and reverse camera – it still adds up to only RM288,000. Forget the E-Class and 5 Series, the A6 Hybrid is encroaching right into the heart of C-Class and 3 Series territory.
At that price, Audi could quite easily have sent us a bare-spec A6 Hybrid and be done with it, but they didn't. Equipment levels on the A6 Hybrid are in fact higher than even the 3.0 TFSI. Features that are absent or optional in the regular petrol models are offered as standard in the A6 Hybrid. An example would be LED headlights, a RM13,000 option in the petrol models yours here at no extra cost.
Another piece of standard kit worth highlighting is the MMI navigation plus system complete with the MMI touch pad. Unlike other built-in navigation systems in the market, Audi's application takes the integration a step further by utilizing available route data to anticipate gear changes and bending alignment of its active headlights. In simple terms, when the system knows that you're approaching a bend it drops a cog for you and in the dark, it would also turn the headlights to better illuminate the bend.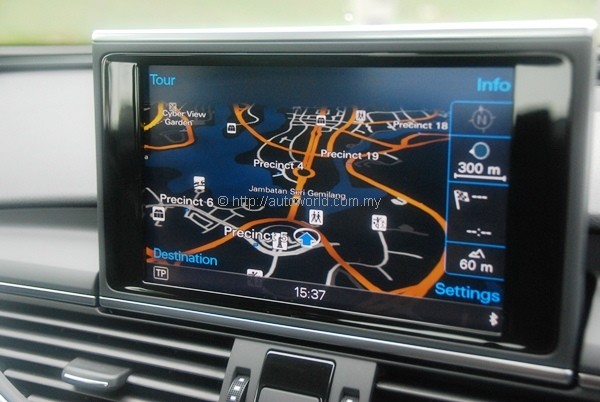 Finally, an Audi test car with a working GPS!!

The standard navigation system utilizes TeleAtlas maps, but there is the option to specify a Bluetooth car phone online upgrade for an extra RM4,500. This feature was not available in our test car but its description sounds decent enough to warrant a punt. It allows internet access on the move, generating an onboard WiFi hotspot. More importantly, it gives you the option of Google Map access on the move, thus eliminating the need to update your maps the old-fashioned way. You will, however, need to insert your own dedicated SIM card into a designated slot on the dashboard, and relevant data charges will apply.
We have been told that it is possible to spec the A6 Hybrid with enough options to push the final price to RM350,000, but bearing in mind that a much lesser-equipped A6 2.0 TFSI Multitronic starts at RM345,000 without add-ons, you will still be driving away a vehicle of unbeatable value even if you go berserk with the options list. As always, we do advise caution against upsizing your wheels – more often than not, such a decision backfires with a brittle ride and increased fuel consumption.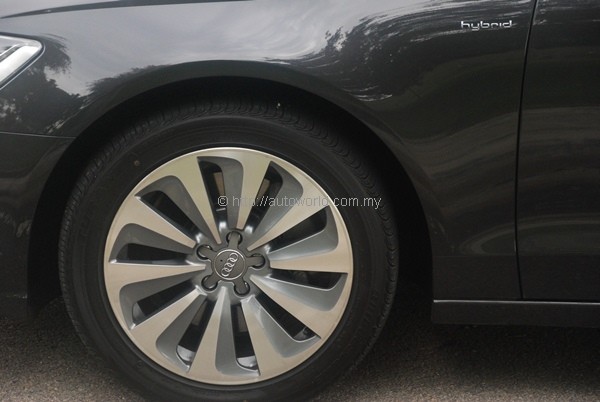 These rims are unique to the A6 Hybrid. Point to note for the anoraks.

The Hybrid Powertrain
The A6 Hybrid's powertrain architecture merges the 2.0-litre EA888 four-cylinder turbo engine with an electric motor. Drive goes to the front wheels via an 8-speed automatic transmission. In this setup, the electric motor sits in between the engine and transmission, occupying the torque converter's place and assuming its role. An electronic wet multi-plate clutch facilitates slip. There are no plans for a quattro all-wheel drive version, although we would argue that there is a strong case for one.
Featuring Audi valve-lift, the combustion engine contributes 211hp and 350Nm to the cause, whilst the electric motor chips in 54hp and 211Nm. Together, the system pushes out a combined 245hp and 480Nm, which is a lot of twist for a front-wheel drive vehicle, hence our calls for all-wheel drive to be included at least as an option.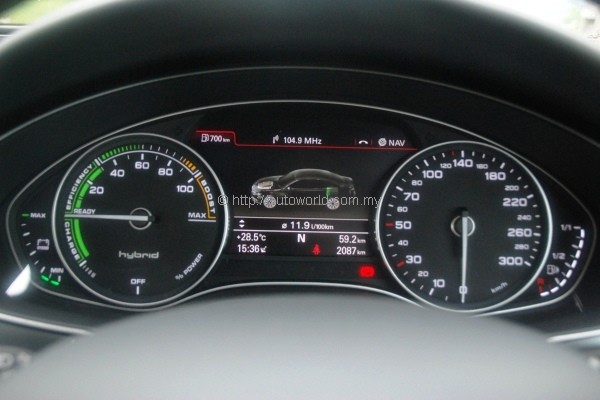 Tachometer makes way for power consumption gauge in the A6 Hybrid.

Power to the electric motor is supplied by a 72-cell lithium-ion battery mounted in the hind quarters. With a full charge, the lithium-ion battery is capable of propelling the A6 Hybrid in full EV mode to a maximum theoretical range of 3km at a constant speed of 60kph. Maximum speed in full EV mode is quoted as 100kph.
Weighing 38kg, the battery ate up 155 litres of the A6's boot space, leaving only 375 litres for your golf bags. Split-folding rear seats are still available to facilitate transport of long objects, but fitting big suitcases will be a struggle. Powering the various ancillaries are two 12V batteries – one primary plus one backup – also mounted beneath the boot floor. There is thus no room for a spare tyre – a tyre repair kit is provided instead.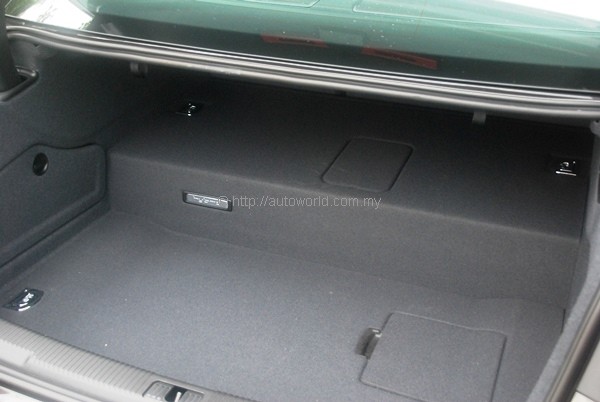 Biggest drawback of this car is that the battery severely compromises bootspace.

As you would expect of a hybrid vehicle, stop/start is standard, and the A6 Hybrid's ability to travel on full EV mode allows it to start off solely on the electric motor's power before cranking the combustion engine on the move, facilitating smoother restarts. In any case, we have observed that even on the standard petrol models, Audi's execution of stop/start systems is already smooth enough for our liking. The A6 Hybrid's restart cycle is not Toyota-smooth, but it is good enough not to elicit complaints.
For the vital statistics, the A6 Hybrid's fuel consumption and carbon dioxide emission figures look good in isolation, but less flattering when comparisons are made. Audi quotes 6.2 l/100km and 145 g/km respectively for those figures, and one only needs to look within the A6 line-up itself to find better numbers – the diesel-powered 245hp/580Nm 3.0 TDI quattro variant sold overseas is rated to consume just 5.9 l/100km but with slightly higher CO2 emissions of 156 g/km. It's a good engine, but its case weakens in markets that are diesel friendly and does not adopt a hybrid tax exemption system like ours.


How does it drive?
The A6 Hybrid serves up a typically Audi driving experience – smooth, powerful, and refined, but not overtly sporting. High speed cruising is its greatest strength; the engine is quite capable of sustaining extra-legal speeds with barely any effort. On the highways, it is a quick and competent cruiser, just like its regular petrol-powered siblings.
Handling is as good as it gets for a vehicle this size powering its front wheels. Remember that Audi engines are slung north-south ahead of the front axles, making most Audi vehicles, especially the front-drivers, nose heavy by default. This layout dynamically handicaps non-quattro variants of the A6 against its rivals, but it must be said that Audi's chassis engineers are increasingly mastering the art of reducing understeer to manageable levels.
The longitudinal engine layout does have one advantage in that its left and right driveshafts are of equal lengths, effectively eliminating the problem of torque steer. As far as outright handling is concerned, the quick summary is that this car tracks its line accurately, albeit with noticeable body roll, and a rather numb steering. Overall, it is agile enough string a few quick corners, but the BMW 5 Series would still be our weapon of choice to attack winding trunk roads.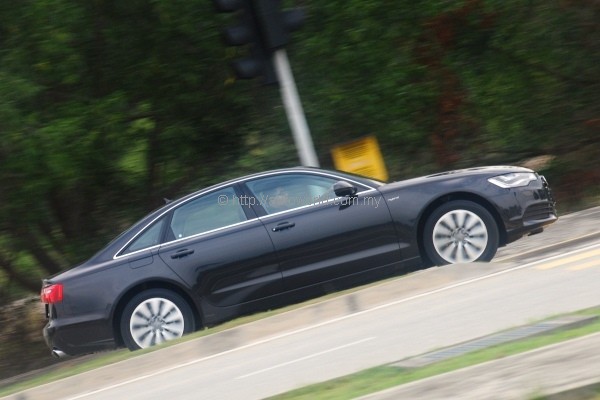 Especially if you're chauffeur driven, the A6 Hybrid is a no-brainer.

Conclusion
There is little denying the fact that the A6 Hybrid's case is helped considerably helped by its tax-free pricing and Audi has further sweetened the deal by offering very generous amounts of equipment, exceeding even that of the flagship 3.0 TFSI model. It is a decent enough car to start with, and the considerable pricing and equipment advantage that the A6 Hybrid boasts over its rivals more than makes up for whatever shortcomings that it might have.
The compromised boot space to accommodate its lithium-ion battery might be the biggest issue that would stop some buyers from taking a punt on the A6 Hybrid, but beyond that, there really is little to criticize about the package. Despite our mild criticisms of its dynamics, we reckon the A6 Hybrid remains competent enough to satisfy the majority of buyers in this price bracket. As it was, the A6 Hybrid was good enough to compete with rivals on a level playing field, but the benefit of tax exemptions makes this a package of simply unbeatable value.