Mercedes-Benz Malaysia marks 10 years in business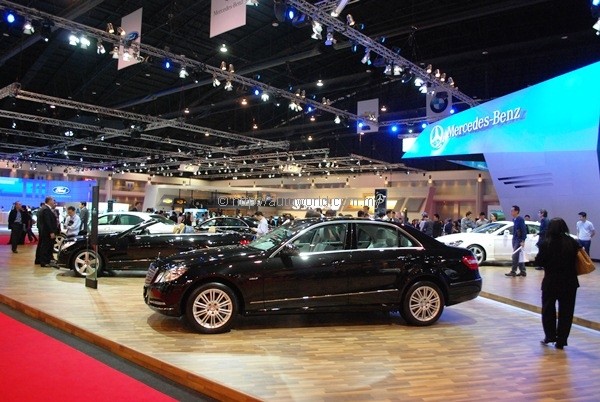 Mercedes-Benz Malaysia (MBM), formerly DaimlerChrysler Malaysia, celebrates its tenth anniversary in business this year. Founded in 2003 as a 51:49 joint venture between Daimler AG and Cycle & Carriage Bintang, MBM has since delivered 40,649 luxury passenger cars to Malaysian homes and has put a further 2,276 commercial vehicles on our roads.
To date, the company has invested a total of RM480 million has been invested to assemble, distribute, market and service Mercedes-Benz in Malaysia. President and CEO Roland S Folger has announced that a further RM280 million will be pumped in between now and 2016 to further grow the company's business for the next decade.
MBM operates a local assembly plant in DRB-Hicom's premises in Pekan, and since 2003, it has produced over 41,700 vehicles. In 2008, it became the first in Malaysia to assemble a V8 engined car, Mercedes-Benz's flagship S 500 L. Vehicles assembled at the plant include the Mercedes-Benz S-Class, E-Class and C-Class as well as Mercedes-Benz Commercial Vehicles and Mitsubishi FUSO.
Of the RM280 million in investments over the next three years, RM80 million will be spent to upgrade the Pekan plant to facilitate the production of the new C, E and S-Class models while the remainder is for the expansion and upgrading of the dealer network, which to date remains the largest dealer and service network among premium luxury automotive players with 27 establishments strategically located across the country, up from 18 in 2003.
In conjunction with the occasion, we rewind the clock and highlight some of the company's defining moments over the last ten years.
2003
– January: Formed as DaimlerChrysler Malaysia. Launches W211 E-Class CKD.
– June: Delivers first Maybach in Asia to a Malaysian customer.
2005
– March: First roll-out of W211 E-Class from DRB-Hicom plant in Pekan.
– July: Second-generation W169 A-Class launched.
– September: First-generation C219 CLS-Class launched.
2007
– October: W204 C-Class debuts
2008
– January: Renamed as Mercedes-Benz Malaysia
– November: Launch of CKD S 500 L – the first locally-assembled V8-powered passenger car in Malaysia.
– Total sales: 6,146 units
2009
– October: Third-generation Actros truck launched. Starts 'Proven Exclusivity' pre-owned car business.
– November: W212 E-Class sedan and coupe launched.
2010
– February: W221 S-Class facelifted
– March: CGI engine debuts in the W204 C-Class – the C 250 CGI. SLS AMG launched.
– April: All-new Mitsubishi Fuso Canter debuts.
– Total sales: 6,940 units
2011
– May: Historic Mercedes-Benz Concours organized in Mines Resort to mark 125th anniversary of Mercedes-Benz.
– July: W204 C-Class facelifted. New engines for the W221 S-Class
– Total sales: 7,467 units.
2012
– January: Simultaneous launch of C-Class Coupe, all-new SLK-Class, and all-new CLS-Class.
– Total sales: 8,085 units