MAA: Record year of sales in 2012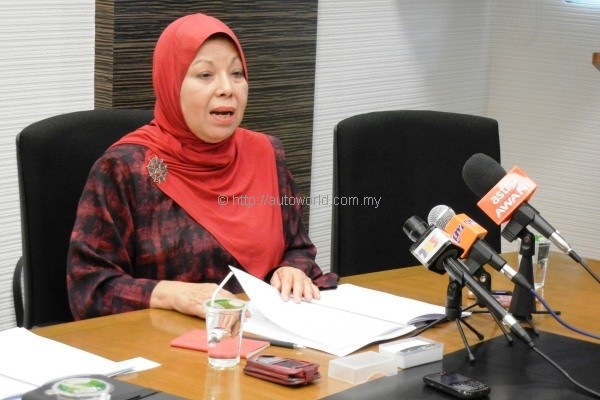 The Malaysian Automotive Association (MAA) has announced the country's total sales and production figures of new motor vehicles in a media briefing held at the association's headquarters in Petaling Jaya earlier today. The figures were presented by MAA president Datuk Aishah Ahmad, who announced that the forecasted total industry volume (TIV) of 615,000 set early last year was exceeded with a total of 627,753 new vehicles sold.
Summarizing the year's ups and downs, Datuk Aishah said, "2012 had indeed been a very challenging year for the local automotive industry. It was the aftermath of the massive floods that hit Thailand during the last quarter of 2011, which had a big impact on the regional automotive supply chain including our own country. Then in the early part of 2012, uncertainty set when Bank Negara Malaysia's Responsible Financing Practices Guidelines were implemented. The implementation of these guidelines from 1 January 2012 had a major impact on new vehicle registrations especially during the first quarter of 2012."
The final total of 2012 represents the third successive year in which the TIV breached the 600,000-unit mark. It exceeded the previous record of 605,156 units charted in 2010. In 2011, the final total stood at 600,123 units. Overall growth of TIV from 2011 stood at 4.6%, and there's a substantial growth of 16.2% to report amongst commercial vehicles, whose sales totaled 75,564 units. Passenger cars accounted for 552,189 units of sales.
Perodua continues to lead the sales charts, with its final total of 189,137 vehicles accounting for 30.1% of TIV. Proton is a distant second, with 141,121 vehicles sold to account for 22.5% of TIV. Toyota leads the way for non-national cars, with 105,151 vehicles sold, not including the 1,471 luxury vehicles sold under the Lexus brand. A big gap separates Toyota from fourth-placed Nissan, which sold 36,271 vehicles, 7,953 of which are commercial vehicles such as the Urvan, Frontier, and Navara. In fact, fifth-placed Honda actually sold more passenger cars, its final total at 34,590.
Other notable performers are Volkswagen with 13,003 units in sixth-place, outselling even the value-laden Korean brands. BMW leads the luxury car market with 6,318 vehicles sold, amazingly higher than even Peugeot (6,114) and Kia (4,374 – this is not a complete figure, as some models such as the Forte are sold under the Naza brand). Arch-rivals Mercedes sold 5,905 vehicles, although that figure is bolstered by 88 commercial vehicles, not including the 2,180 units it sold under the Mitsubishi Fuso brand.
As pointed out by Datuk Aishah, the market had in fact started slowly with manufacturers still recovering from the devastating floods in Thailand that particularly impacted the Japanese manufacturers. At the same time, the tightened loan guidelines by Bank Negara scuppered the purchasing plans of many low-income consumers. Sales in January, March, and April were therefore consistently lower than the corresponding months of 2011, but sales rebounded strongly from May onwards.
MAA's analysts attributes 2012's strong performance to a variety of factors including a strong national economy, stable employment, and increased disposable income (really? we could use some extra disposal income ourselves…) Also, as the year progressed, manufacturers and suppliers had overcame the disruptive effects of the Thai floods, and the respective sales teams have also better adapted to the stricter financing guidelines. The recent spate of new models and aggressive sales campaigns by companies chasing targets were also instrumental in stirring buyer interest.
Looking ahead, MAA is anticipating continuous growth in the industry for 2013 and the years to come. The association is projecting continuous growths until 2017. The targeted TIV for 2013 is being set at 640,000, which would represent a 2.0% growth over 2012. By 2017, MAA anticipates that the TIV will reach 699,300 units, with annual growths of 2.1-2.4% in the intervening years. The association foresees a continued assault of new models from the car makers, and aggressive promotional campaigns to further boost sales.