Harley-Davidson KL opens pre-owned motorcycle centre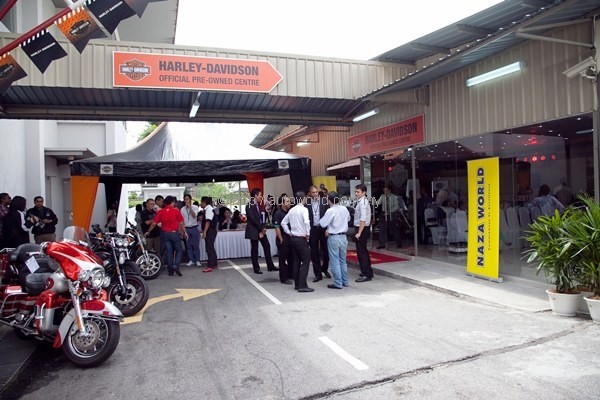 Harley-Davidson Kuala Lumpur has officially launched a new Harley-Davidson pre-owned motorcycle centre behind its existing showroom at Naza World Petaling Jaya. A simple opening ceremony was held to mark the occasion together with a key handover ceremony to the centre's first customer, Mr Raj Thangavelu.
"The centre provides an alternative for Harley enthusiasts looking to own a Harley-Davidson bike – one that is attractively priced, has seen a fair few adventures and is primed for many more. Harley enthusiasts will look at these bikes, knowing that they have been pre-loved, rather than just pre-owned," said Datuk Wira SM Faisal Tan Sri SM Nasimuddin.
All pre-owned units are genuine local units (acclimatised to suit local conditions) and come with high specifications (upgraded exhaust system, wind shield, saddle bags etc.), low mileage, factory warranty (where applicable) and free service maintenance (where applicable). The pre-owned units consist of trade-in bikes, demo units as well as pre- registered units used for promotional events. The centre, which is fitted with the proper tools and equipment approved by the Harley-Davidson Motor Company, also offers a variety of parts and accessories on special discounts.
"Harley-Davidson Kuala Lumpur understands and greatly appreciates the value and technical artistry of Harley-Davidson motorcycles and as always ensures the quality of each bike. Customers making purchases at the authorised H-DKL Pre-owned Motorcycle Centre can revel in the knowledge that their investment not only gains them a high-specification bike, but also the Harley Owner Group lifestyle that accompanies Harley ownership, as well as the benefit of top-notch services we provide," added Datuk Wira SM Faisal.
Pre-owned bikes currently lining up the facility's showroom floor include units of the Sportster 48, Sportster XR, Dyna Wide Glide, Softail Fatboy, VROD 105th Anniversary Edition, VROD Nightrod and CVO Ultra Classic. Harley-Davidson anticipates that the pre-owned centre will contribute 100 sales to bring its total volume of 2013 to a targeted 600 units.
Pictures: Official Harley-Davidson Kuala Lumpur release.