Record sales for Perodua in 2012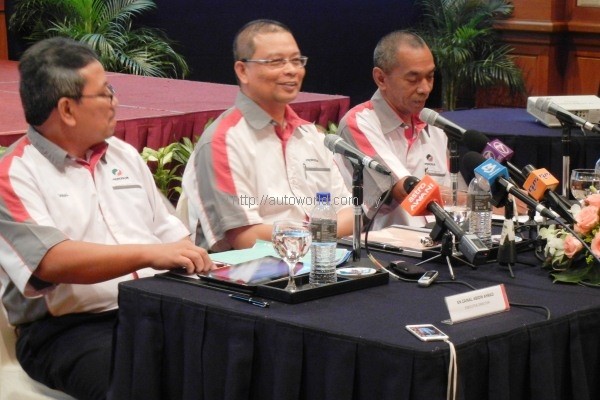 As 2012 drew to a close, there was danger that Perodua would not hit its targeted 188,000 sales for the year. The company was still 30,000 cars away from its target as of October but at a media briefing held in Kuala Lumpur yesterday it was revealed that Perodua not only met but exceeded its target, ending the year with over 189,000 sales closed, capturing 30.2% of the total market share.
Perodua Managing Director Datuk Aminar Rashid Salleh attributed the achievement of this record figure to the success of aggressive promotional campaigns launched at the end of the year and also a healthy demand for vehicles.
"The demand for vehicles this year has been very encouraging as competition is heating up – especially from the foreign car makers. Nevertheless, we wish to thank all Malaysians for making us the most preferred compact car company for seven years in a row," Aminar said during the briefing.
Looking forward, Aminar announced a sales target of 194,000 vehicles for 2013, accounting for an estimated 30% market share. Explaining the numbers, Aminar said, "This target is based on expected strong economic performance of above 4% this year; in addition we are also improving our sales as well as our after sales strategies and operations to ensure that we are able to meet with our customers' motoring needs."
Over the four years between 2012 and 2016, Perodua will be spending some RM2.32 billion boosting the efficiency of its manufacturing, sales, and after sales operations. More than RM68 million will be spent this year alone to upgrade and modernize the machinery, equipment, and facilities of its existing plant, whilst a further RM54 million has been allocated to further grow the sales and after sales network.
Recently, Perodua also announced plans of a new RM790 million plant scheduled for completion in 2014 that is expected to give Perodua an instant boost in terms of technology and efficiency. The new plant, which would conform to the strictest standards set by the best plants of its technical partner Daihatsu, will allow Perodua to achieve global standards in a shorter time span compared to a gradual process of modernizing its existing facility.
On the company's after sales business, Perodua's network of 170 service centres nationwide took in a record 1.78 million vehicles in 2012 – a 5% increase from 2011. Sales of spare parts raked in RM240 million, an increase of 17% from the RM205.1 million earned in 2011. Looking forward, the company targets 1.88 million vehicles in sales intake and a revenue of RM255 million in sales of parts.
In December 2012, Perodua held a soft-launch of its pre-owned vehicle business to assist with trade-in for new vehicle customers. The business is currently in its early stages with its office is situated at Subang Permai.
At the media briefing, Perodua also announced its 20th Anniversary Celebrations – unveiling a celebratory logo for the occasion and announcing a raft of various CSR activities to line the year.