Track thrills for customers at Audi Driving Experience 2012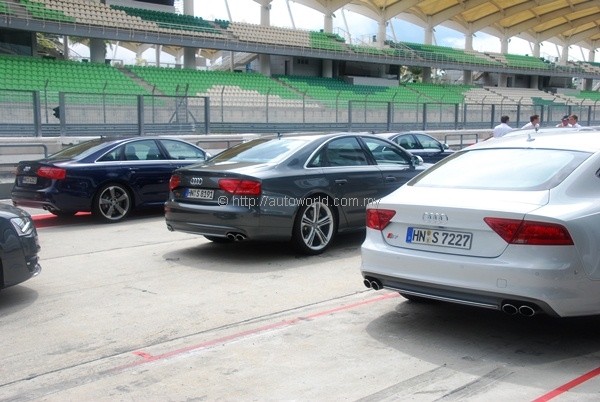 Although track events are a staple in our line of work, they are less common of an occurrence in the lives of most people on the street. Whilst we won't pretend that a few laps around Sepang do not excite us anymore, it is not a far-fetched conclusion to say that customers for whom such experiences are a novelty will enjoy these events far more than those us in the media can ever would.
Whilst we don't deny that life in the media has its privileges, we most certainly have not forgotten our lives in our previous jobs. During my days as a student and subsequently as an office worker, every motoring event, no matter how small, was of great excitement. I recall spending whole days at public test drive events testing car after car after car.
I never had the chance to try it then, but I reckon that back in those days, if I had received a call from Audi to spend a day driving the S6, S7, and S8 around Sepang, I might have lost a week's worth of sleep. Whilst I didn't need a lot of persuasion to participate in the ongoing Audi Driving Experience 2012 currently happening in Sepang International Circuit, I can certainly remember a time when my excitement levels would have been ten fold higher.
At the paddock level of the SIC where we had our lunch, tea breaks, and briefings, I had the opportunity to mingle with Audi personnel and other guests that were invited to the event, and I was quite pleased to see that same kind of excitement in the faces of the customers that Audi invited to participate in the event. Although everyone was looking forward to the occasion, the added zest and excitement that I saw in the faces of customers compared to my media colleagues as they discussed their anticipation of the experience to come was most uplifting.
Held over four days from Monday, 17 Dec, until Thursday, 20 Dec, participation in the Audi Driving Experience 2012 is on an invitation-only basis to Audi customers and media from Malaysia and neighbouring countries. Our session today was a half-day session in the afternoon, although we've been told that sessions in other days were full day events.
There was a fleet of European-registered LHD units of the S6, S7, and S8 to try out alongside a pool of Singapore and Malaysia-plate vanilla-flavoured Audi models. Time constraints meant we had to pick and choose our models to drive, and over the half-day course, I found myself behind the wheel of the S6, S8, and a pre-facelift bare-spec Singapore-registered A4 1.8 TFSI. I was in the S6 for a slalom course, and then in the other two vehicles for track runs.
The Audi S models are powered by a 4.0-litre twin-turbocharged V8, with the S8 getting a more potent 562hp / 650Nm state of tune. The S6 and S7, meanwhile, makes do with a more modest, if you can call it modest, 420hp and 550Nm. The different states of tune are paired with different gearboxes – the S6 and S7 gets a 7-speed S-tronic dual clutch gearbox, the S8 uses an 8-speed torque converter automatic. The reason of this difference could be due to the torque converter being smoother and also capable of handling greater amounts of torque than the dual clutch.
Quattro all-wheel drive is standard on each of the three models, and benefits of the added traction inherent to this setup were immediately obvious as we witnessed the two-tonne S8 tackle the corners of Sepang with barely believable levels of grip. No doubt there were obvious amounts of body roll, but traction generated from the quattro system allowed the S8 to extract itself from corners with great speed and overall composure. The smaller S6 also proved impressively agile on our slalom runs, but its rear end is noticeably soft. When watching other drivers doing their runs, the S6 lifted its nose very noticeably whenever it powered off from stand still.
At this stage, if you're wondering if Audi has plans to bring any of the three models in, the simple answer is no, and we don't recommend that you head to your local grey importer for your fix either. In either guise, the 4.0-litre V8 that powers these vehicles are highly-tuned engines, and they require Euro V fuel to run. Pumping our local Euro II into them is asking for trouble. Using higher octane fuel does not help, as the sulphur levels of our fuel are still high, be it RON 95 or 97. As a matter of fact, Audi arranged for higher grade fuel from Singapore to be shipped in for these cars to facilitate this particular event.
The Audi Driving Experience is not the only event of its kind, but regardless of brand, the opportunity to try out track driving on demo cars provided by a company is certainly worth attending, and we would recommend it to each and everyone of you. As stated earlier, participation in the Audi Driving Experience is by invitation only, and we highly recommend it if you are invited for the next round.