Hino launches upgraded 500 and 700 Series trucks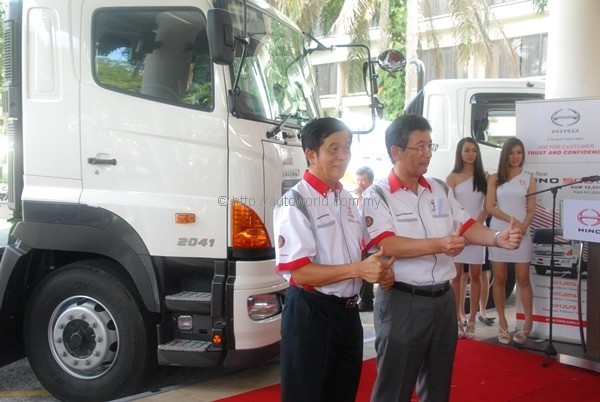 Hino Motors (Malaysia) Sdn Bhd today introduced a number of key upgrades to its 500 Series medium commercial vehicles and 700 Series heavy commercial vehicles for the Malaysian market. Commendably, the upgrades are focused on improving safety with the introduction of airbags, ABS, and uprated brakes – a rarity amongst commercial vehicles.
The 18-tonne gross weight Hino 500 Series GH range consist of three models, namely the GH1JRPA, GH1JLPD, and GH1JMPA. If those collection of alphabets appear confusing, the nomenclature differentiation is in the last three alphabets of the model code – RPA, LPD, and MPA. The three 500 Series models are powered by an 8.0-litre inline-6 Euro 2 turbodiesel engine producing 256hp @ 2,500rpm and 745Nm @ 1,500rpm. Transmission is model dependent – the LPD model gets a 9-speed gearbox, whilst the other two gets a 6-speed unit.
Key upgrades to the 500 Series include the introduction of full air brakes, as opposed to previous model's air over hydraulics system. The advantage of a full air brake system is improved durability and without a need for brake fluid replacement, maintenance costs – a key consideration for commercial vehicles – are accordingly reduced. Parking brake now operates on the rear wheels rather than the transmission output shaft, and the long haul RPA model is now equipped with anti-lock brakes (ABS).
The bigger 55-tonne gross weight 700 Series SH line-up, meanwhile, consists of two variants, namely the SH1EERG and the SH1EERA. The two variants are differentiated by their rear suspension design – the RG model operates air suspension to facilitate transport of sensitive goods such as petroleum or electronic devices, while the RA model gets conventional leaf springs.
Powering the 700 Series is a massive (from the perspective of a car reader) 12.9-litre six-cylinder Euro 3 turbodiesel rated to produce 414hp @ 1,800rpm and 1,903Nm @ 1,100rpm. It operates a 12-speed transmission with two reverse ratios. Equipped with a full floating cabin, the 700 Series is designed for improved cabin comfort over a long distance drive.
Enhancements of note in the 700 Series include driver's airbag, ABS, and all-wheel parking brake for improved safety. The rear view mirrors are now power operated for greater convenience and more effective adjustment.
"Hino Malaysia is always at the forefront in promoting road safety. It is our goal to help support the government's initiative on road safety campaign. In order to meet the highest safety requirement, Hino have conducted many surveys and tests among users and transportation companies prior to the introduction of our upgraded SH and GH models. I believe that we're setting a new benchmark for the entire industry," said Mr. Nobuyuki Tanaka, Managing Director, Hino Motors (Malaysia) Sdn. Bhd.
Following the introduction of the upgraded 500 and 700 Series, Hino aiming to further strengthen their market leader position. In year 2011, Hino enjoyed a 51% market share within the mid-heavy commercial vehicle category to become the market's the best-selling brand. The company is targeting a 10% increase in sales for the coming year.
In a separate development announced during the launch, Hino Motors Ltd. (Japan) has recently entered a joint-venture agreement with long-time partner, MBM Resources Berhad, to inaugurate its first manufacturing plant in Malaysia. This expansion move will open a new chapter for Hino to provide full-fledge services from manufacturing to sales and a demonstration of the company's long term commitment to the local market.