Nissan Almera joins the Fray in B-Segment Cars in Malaysia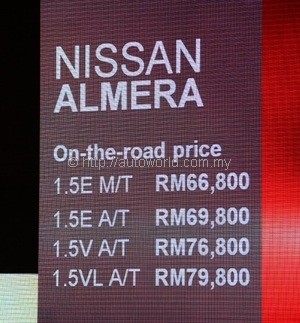 Petaling Jaya Tuesday, 30 October 2012 – Today may well be the day that a new era in the history of Tan Chong, first established in 1955 – the Nissan Almera, a B-segment sedan was officially launched today, and from what we have been presented with at the elaborate launch, the Almera looks set to give the incumbents in the B-segment a run for the consumers' money.
The Nissan Almera is a 1.5 litre car, sized externally to compete directly with the Vios and Honda City, but comes with an exceptionally large cabin, and is geared for outstanding fuel economy. The 1.5 litre automatic is claimed to give 14.9 kilometres per litre while the 1.5 litre manual is supposed to give 15.9 kilometres per litre.
The Almera is Nissan's best selling global sedan, and since its debut in US, Thailand and China, has garnered an impressive 500,000 units sales figure. Dato' Dr. Ang Bon Beng, Executive Director of Edaran Tan Chong Motor is confident that the same level of success will be mirrored here. As of launch time, a total of more than 2,000 bookings have been collected.
Four different variants with a multitude of options, priced from RM66,800 for the manual, to RM69,800 for the automatic, to RM76,800 and RM79,800 respectively for the upper scale models will enable the potential buyer to make the selection that best fits their pocketbooks. This pricing strategy appears to have been well-thought out, and looking at the available competition, the Almera will find itself a place, or at least be considered by customers looking for a family car in this price range.
The Almera is actually the long awaited replacement for the Nissan 130Y of the 1980's, which was then a top seller, based on the same attributes of being more car in terms of size per buck, and the Sunny back then also was known to be extremely economical to run.
Tomorrow, some key media from the motoring fraternity will be participating in a drive organized by Edaran Tan Chong from Kuala Lumpur to Melaka and back – Stay tuned to hear what we have to say about the new Nissan Almera.